While white water rafting can be an incredibly fun adventure, it's also important to remember what it takes to stay safe. Prior to going out for the first time, you need to make sure you're fully prepared and ready to hit the water. Most rafting companies provide you with the essential safety equipment, such as a helmet and a personal flotation device (life jacket). However, it's up to you to make sure that you're wearing the proper clothing to ensure your rafting adventure is as fun and smooth as it can possibly be. Here's a list of what to wear rafting.
What You Wear Rafting Depends on the Weather
The biggest factor in deciding what to wear rafting is the weather. If it's warm, you'll want to wear fewer layers than in the colder spring or fall months.
As a general rule though, avoid wearing anything cotton while white water rafting. Cotton is highly absorbent and will stay wet once it is soaked. This will make you colder on the water and will be uncomfortable to wear for any lengthy rafting trips.
The best fabric to wear while rafting are ones that dry quickly, which are mainly synthetic fabrics such as polyester.
What to Wear Rafting in Warm Weather
A swimsuit is great for this application, but nylon shorts can work just as well. In addition, athletic shirts work very well for white water rafting trips in the summer, as they're designed to keep moisture away from your skin.
One of the most recognizable brands is Under Armour, but you can find many variations of the same fabrics from less expensive brands like Champion, which you can find at your local Target for a great price.
What to Wear Rafting in Cooler Weather
If you're rafting in the cooler months or on an unusually cold day, layering is the way to go. Aside from wearing your extra jacket, wear polyester fleece, shirts, or socks made of wool, as well as a wool cap.
Wool is a natural material that will keep you warm even while wet.
In colder temperatures, you may be tempted to wear those cotton sweaters, but again, make sure to avoid cotton at all costs. Go with wool or synthetic fabrics
Bring an extra layer with you in case it gets cold, like a waterproof jacket, to help keep you dry and for extra warmth if needed. Padded pants will also help you keep spray off your legs. Having extra layers helps you to regulate your temperature with ease.
The temperature is likely to either rise or drop throughout your route, especially if you're rafting through canyons where you'll be in and out of the sunlight.
Being able to stay warm when it gets cold or cool off when it's too hot is important. Your warm weather clothes can form the base layer on cold days. Wear a mid-layer or a thicker layer over those, as well as leggings to warm your legs.
When in doubt, ask your rafting company – they'll know the conditions you're likely to encounter on your trip.
Be Ready to Wear a Wetsuit
Whether or not you'll need a wetsuit will depend on what type of rafting you'll be doing.
A wetsuit won't always be necessary when white water rafting, and will most likely only be needed on more intense routes. Often, the rafting company will provide them, as well as a helmet for added safety.
That said, different outfits work better than others when worn under a wetsuit. Tank tops are nice when it's hot, but they also run the risk of exposing your shoulders to sunburn.
A t-shirt may be preferred and if it's synthetic material, it's less likely to bunch up under a wetsuit.
If you're particularly worried about sunburn, then a thin long-sleeved shirt would work as well.
If it's colder out, wear an additional mid-layer under your wetsuit.
Pick the Right Footwear for Rafting
Choosing what shoes to wear rafting is incredibly important.
Make sure what you're wearing will stay secured to your feet and that you won't mind them getting your footwear wet. Sandals that strap onto your feet or tennis shoes are good. Flip-flops aren't great for sports like rafting – especially in white water.
If you use old tennis shoes, double check that they still have good traction. Avoid wearing Crocs or loose sandals, as well as shoes with heels or anything made of leather. Don't wear cowboy boots or dress shoes (what kind of rafting trip do you think this is anyway?).
Just as important in colder weather are a good pair of socks. Wool socks are great for staying warm and will stay warm even when wet. Alternatively, wetsuit booties will help you stay dry and warm when it's cooler.
Take Precautions When Determining What to Wear
Wearing a swimsuit when rafting is always a safe bet since they dry quickly without taking away any of your body warmth.
Pack waterproof bug spray and wear long hair back in a ponytail for extra safety. Cotton will keep moisture against your skin and will make you colder by lowering your body temperature, so opt for man-made fabrics like polyester instead.
You shouldn't wear jeans or cotton sweaters.
Additionally, heavy clothing like leather or tight, constrictive clothing shouldn't be worn either.
You'll be exposed to a lot of sun while rafting, so make sure you're prepared for that.
If you're wearing short sleeves or a tank top, then you'll want to put on at least 30 SPF sunscreen to keep from getting burnt. Remember to re-apply sunscreen after rafting if you're staying outside.
You could also buy a synthetic shirt that blocks the sun's harmful rays like this one on Amazon.
Wearing a baseball hat can help keep the sun out of your eyes. If you wear sunglasses, make sure that they have a strap or retainer string attached so you don't lose them in the water.
When on the water in your raft, make sure you leave your valuables back on land. Don't take any jewelry, keys, smartphones, or wallets with you. Especially in rough rapids, there is a high risk that they will get lost or ruined.
If you're concerned and want to keep a phone with you for emergencies, then you can buy a waterproof case to put it in. These cases come on a strap, so you can wear them under your shirt to make sure you don't lose your phone, even if you end up in the water.
Final Thoughts About What to Wear Rafting to Stay Comfortable
White water rafting is a thrilling adventure and there's enough variety that riding waves is a consistently unique experience.
That's why it's so important to take the proper precautions. If you're not dressed properly, your great adventure could be cold and miserable.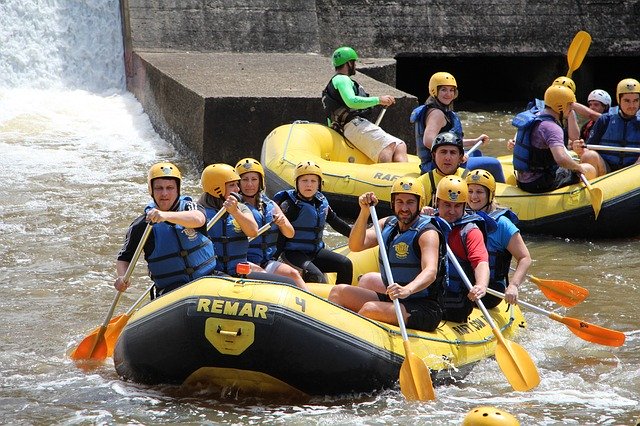 Check with the rafting company before you go is the best advice to make sure you're dressing appropriately for your rafting trip.
Most tour companies have a list of clothing and equipment they specifically recommend to take with you.
What you'll need will depend on the weather, which is largely dependent on what time of the season you go rafting. During the summer months, you likely won't need a wetsuit. It will be too hot during most of the season to wear a wetsuit. However, for the most intense routes, you'll need a wetsuit at any time of the year.
Helmets are only needed for the most intense routes, but there are risks in white water rafting, and you need to take that into account and decide for yourself how much safety equipment you want to wear. Don't be afraid to wear a helmet even if it's not required.
I always recommend a PFD (life jacket). Regardless of how easy the trip may seem, flotation devices can save your life and are a necessary piece of equipment on any rafting trip.
Often, your rafting company will require a life jacket, provide one to you, and teach you how to secure it properly for a safe and wonderful adventure.