Did you know that the first rafters sailed down wooden rafts before the rubber raft was invented? Sometimes they'd even fall apart. Yikes! Luckily, today we have sturdy white water rafts that are made for safety. Today, I'll answer the question: how much does white water rafting cost?
Most people will pay for a guided white water rafting package that doesn't involve them having to buy a raft, so that is what I'm going to focus on here. You will usually pay per person and for at least one full day.
Rates vary, but white water rafting usually costs around $55 to $200 per person, per day. Several factors impact the cost of white water rafting, but the location will usually make the biggest difference.
I will talk about the factors that influence the price of a whitewater rafting trip. Also, I will provide average prices for whitewater rafting, so you can plan a trip that sticks to your budget.
So, let's get to it!
Factors Affecting White Water Rafting Costs
Some of the elements that affect whitewater rafting prices include:
Trip Duration
A whitewater rafting trip can vary from as short as a few hours or a day-long, to more than 20 days.
Of course, a long several days long trip will cover miles of river and will include stopovers, perhaps several.
For obvious reasons, the longer the trip, the more it will cost. You also have to factor in additional expenses such as meals, accommodations, and a guide's services.
Location and River Classification
Rafting in famous locations may come with a higher price tag.
Demand is higher, and that drives up the cost. When it comes to once-in-a-lifetime type of experiences, many people are willing to pay big.
The classification of the river you're rafting on will also be a factor.
For example, Class IV to VI rapids require experienced guides, more specialized equipment, and additional accessories, increasing how much you need to pay.
Season and Peak Times
The time of year affects the demand for whitewater rafting adventures. Most rafting companies have peak times when the weather is favorable in the summer. If you book during those times, there will be a larger price tag.
It attracts more people, increasing demand and thus the price. However, peak season, with its ideal weather and water levels, is when you'll have the best best rafting experience.
On the other hand, off-peak times may come with discounted offers to encourage more rafters to participate.
Off-season is in the fall and winter. Many rafting companies will be closed at those times of the year anyway, but depending on where you want to raft, you might find some excursions still available.
Group Size and Private Tours
You'll have to think about how large of a group you want to go white water rafting with.
Some rafting companies offer discounts for larger groups encouraging participation from families, friend groups, and corporate teams.
If you want a private tour or an executive experience, you'll probably find higher prices. However, you get personalized attention from the guides, access to exclusive routes, and an overall premium experience.
Additional Activities and Amenities
Some companies offer additional activities and amenities that could contribute to higher costs.
For example, buffet lunches, snacks, transportation to or from the river, camping gear, swimming facilities and accessories, hiking trips, and fishing equipment make the experience more enjoyable and convenient.
But these perks will mean you pay extra.
How Much Does White Water Rafting Cost On Average?
The duration of the trip is the biggest factor when determining how much you'll pay for a white water rafting trip. There is a lot of variation in the length of these excursions, ranging from just a few hours to a few weeks.
Other elements of the rafting package you choose will also impact the total cost.
Let's take a look at the average prices of white water rafting excursions of different durations.
Half-Day Trips
If you want to go on a half-day whitewater rafting trip, you can usually expect to pay between $30 to $65 per person.
A half-day excursion usually lasts up to four hours, but it might be as short as two.
Full-Day Trips
Expect to spend between $50 and $120 on full-day whitewater rafting trips. Full-day trips go on for five to eight hours, as the specific company provides.
The cost often includes lunch, snacks, and water, as most companies provide these amenities for longer trips.
Multi-Day Expeditions
You can spend an average of $250 to $500 on a multi-day whitewater rafting trip. Multi-day trips start from 2 days and can last up to 21 days.
These costs usually include accommodation, food, access to amenities, a guide, and additional activities.
Private Tours And Customized Experiences
Customized and private whitewater rafting tours cost between $75 and $130 per person. The cost depends on the number of people and the duration.
Private tours offer a premium experience, usually including food, transport, and access to exclusive routes.
They may also offer customized experiences, such as team-building exercises, fishing, photography and videography, night rafting, and wine tasting.
White Water Rafting Cost in Popular Destinations
The US has some of the best whitewater rafting locations in the world, promising Class I to VI rapids. Here are some of the most frequently visited locations and their average rates:
Colorado River, Colorado
Colorado River whitewater rafting trips cost between $60 and $90 for half-day trips. The cost primarily depends on the type of trip, amenities and accessories, guide, and rapid class.
Snake River, Wyoming
Snake River whitewater rafting costs between $80 and $150, including guides, food, and equipment. The costs may also vary according to the river's sections and rapids.
Salmon River, Idaho
Expect to spend between $950 and $2,800 for six days of rafting on the Salmon River. The cost covers camping expenses, food, and other amenities.
The exact price depends on the section of the river you embark on.
Nantahala River, North Carolina
The Nantahala River is a fantastic destination for families and groups.
If you visit the river, expect to spend $42 to $60 on whitewater rafting for a half-day trip. The cost is inclusive of a guide.
Most places offer lower prices for groups of 25+ people. In addition, the trips accommodate families with children seven years and older.
Also, most locations do not require you to have previous rafting experience for the trip.
Budget-Friendly Tips for White Water Rafting
Ready to book your trip? Here are some tips that can help you get the best prices no matter which area you want to go white water rafting.
Always compare prices
Before settling on a package, look up well-reviewed providers within the area and compare prices for the same experience.
Ask about group discounts
Most places lower the price per person if you show up in a large group. So, ask about discounts based on your crew.
Also, ask about student, military, and veteran-type discounts.
Bring your snacks
Most places charge extra for snacks or food but allow you to bring your own. Therefore, you can save money by carrying your own food.
Choose short trips
Shorter trips cost less yet offer a thrilling experience with the promise of unforgettable memories.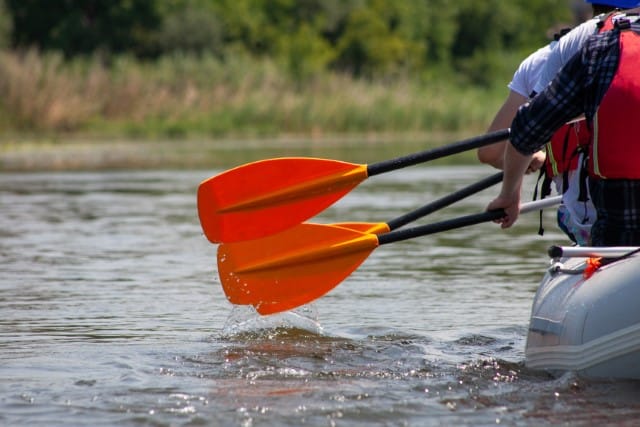 Sign up for lower rapid classes
Lower rapid classes are more affordable since they do not require specialized equipment or a guide. You can save money with Class I to III rapid trips.
Frequently Asked Questions
Here are a few questions I often get about budgeting for white water rafting trips:
Are tips included in the cost?
Tips are not part of the costs but are usually considered optional according to your overall experience. I recommend budgeting for a tip and seeing how your trip goes.
Do rafting companies charge cancellations?
Most companies have canceling and rescheduling policies, which may see you incur a charge if you cancel or reschedule late. The charge is usually a percentage of the total cost or a fixed fee.
Are there age restrictions or special limitations?
Some rafting outfitters have age restrictions for various classes of rapids. Similarly, there may be experience and fitness limitations, which are in place for your safety.
Can I bring my own gear?
Some companies allow you to bring your rafting gear. However, you should check with the provider first, as they have safety standards for rafting equipment.
Final Observations About the Cost of White Water Rafting
In conclusion, the cost of a whitewater rafting trip varies widely depending on factors such as season, river classification, and additional accessories.
Be sure to compare prices when planning your trip, so that you can find options that fit your budget without sacrificing the thrill and adventure.
Before you go, learn about what to wear on your white water rafting excursion. Visit my article on what to wear rafting (and what not to wear).