Explore Tips, Information & Guides About Kayaking
If you're interested in learning more about kayaks and kayaking, these blog articles are a great place to start. On this page you can browse the most recent articles I've published about paddling a kayak, and if you'd like to find something else you can explore our blog.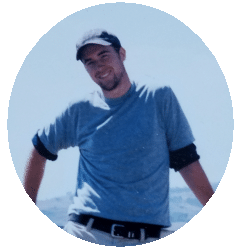 My name is Joe, and on this site I share tips, information, and guides about different types of paddling and paddle sports, including canoes.
I grew up in Maine, and in my youth I mostly used canoes with my dad and brother.
When I was a teenager I got my first taste of kayaking on a 100+ mile sea kayaking trip, camping on islands off the coast of Maine. It was an amazing introduction to the sport, and imbued me with a deep love of paddling a kayak.
I recall mornings paddling in calm waters with jellyfish and curious harbor seals, and the thrill of cresting large swells as I rounded Pemaquid Point – one of the more daring moments of our trip as novice sea kayakers.
A photograph of Pemaquid Point on the coast of Maine
It offered me a unique, sea-level view of the Maine coast that I'm not sure I'd ever have been able to appreciate quite the same way if I explored it in a larger boat.
My Latest Articles About Kayaking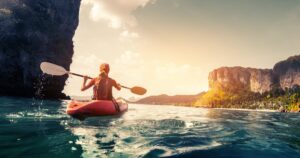 There is something so freeing about exploring by yourself. You get to be alone with nature and your thoughts, away
Read More »
A Brief History of Kayaking
Kayaking is not a new form of paddling, and kayaks have been used since ancient times. The first known kayak was constructed more than 4,000 years ago by native peoples living in Arctic regions.
In the early days kayaks were constructed from animal skins and driftwood. They were used primarily to hunt for large marine animals, including seals and whales.
Over the years kayaking has evolved from an essential tool for survival to the recreational activity we know and love today.
In the 1970s, modern plastic kayaks were produced, allowing for these boats to be available at a lower price-point.
Today, kayaking is popular in locations across the globe – an ancient tool for survival now used by people from all walks of life for exercise, fishing, exploration, and fun.
Basic Equipment and Gear Needed for Kayaking
The equipment used for paddling a kayak has evolved and improved over the years. 
Go to a kayak shop or outdoor supply company today, and you'll find state-of-the-art paddles, wetsuits, spray skirts, and more to improve your experience in a kayak.
Of course, the most important piece of equipment you'll own if you want to kayak is the boat itself. 
Today, kayaks are available in a wide range of sizes and styles to suit  every type of paddling you can imagine. From the urban weekend paddler short on space who wants an inflatable yak that can tuck into his or her closet, to the avid fisherman who needs a stable paddle kayak to take on ocean waves and surf, there's a kayak that's just right for your use case.
Beyond your boat, kayakers will need safety gear such as a coast-guard approved life jacket or PFD, and if you do white water kayaking, you'll also want a helmet. 
I also recommend every kayaker invests in a paddle leash, and a quality waterproof first aid kit for their boat.
And of course, you'll want to find a high quality paddle that's the right size for your frame.
Regardless of your particular needs and preferences when it comes to kayaking equipment, I recommend investing in quality gear that's built to last.
Over the long-term, you'll find that you save money if you spend a little more on quality gear up-front.
Finding a Good Spot to Kayak
Of course once you have your kayak and equipment, the fun begins. Deciding where you'll go first!
Locating a good location to launch your kayak and enjoy some time paddling your boat is usually not too difficult.
Many lakes and rivers have designated areas for the activity.
If you aren't sure where to start, I recommend that you check with your local park or outdoor recreation center. They can usually point you in the right direction. 
Seek out online forums to find local, like-minded paddlers who can tell you where to go (and where not to) for a great experience. 
Here is what you should remember when selecting a body of water to kayak on:
weather conditions,

water currents, and

wind patterns of the area.
It's also important to recognize the type of boat traffic that is typical on any given body of water, and to note if any wildlife frequents the area. 
If a lake is filled with high-speed boats, you may want to stick to calmer waterways where you won't be disturbed, and where you may be less at risk of a collision.
Finally, check local regulations or restrictions  to confirm that you're allowed to kayak in that area.
Shopping for a New Kayak? Let Me Help.
If you're shopping for a new kayak, it's easy to feel overwhelmed by the options. Below, you'll find some in-depth buying guides where I explain exactly what you should look for (and avoid) when buying a kayak.
The exact criteria you'll use to select the best boat for you will vary depending upon how you plan to use your kayak, and what features and qualities you value most, so you'll see that I have created kayak buying guides with specific kayak recommendations in a variety of categories.
I hope these are helpful to you as you shop for a kayak or kayaking gear.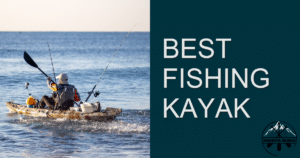 If you want to be a kayak angler, you should know that you need to have a fishing kayak. Having
Read More »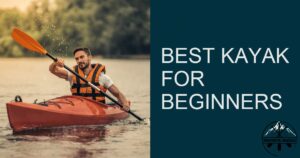 One of my favorite things about kayaking is how it lets you spend time and make memories in the great
Read More »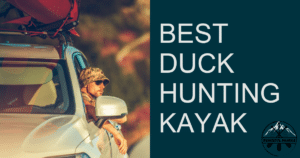 Gearing up for your next duck hunting expedition? If you are, there's one crucial decision you'll have to make and
Read More »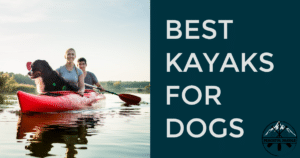 Have you ever gone kayaking with your dog in tow? If you have, you probably had an exciting, even unforgettable
Read More »
Some people prefer solo kayak fishing as it allows them to focus on the activity at hand and not get
Read More »
Lightweight kayaks are the go-to vessel for kayaking beginners. You may be looking for a lightweight kayak that's easy to
Read More »
Types of Kayaks You Can Buy (and how to choose the right one)
As I've mentioned – there is a wide variety of kayaks available to purchase, and the type of paddling you hope to enjoy should guide you toward the best type of kayak for you to own.
I cut my teeth on a tandem ocean kayak as a teenager – paddling 100+ miles along the rugged coast of Maine and camping on unpopulated islands near Vinalhaven. The kayaks we paddled had large storage hatches, and a pedal-controlled rudder. They were stable, but narrow enough to track well when paddling into large swells and against tough currents.
There are white-water kayaks (short and easy to maneuver), fishing kayaks (more stable), and recreational kayaks (wider, good for general paddling at slow speeds).
Recreational kayaks are the most common type and these are ideal boats for beginners who are new to kayaking and want to learn how to kayak with a stable, middle-of-the-road kayak that won't be too expensive. 
If you plan to paddle with a friend or partner, choose a tandem kayak. These can be tricky to steer as you're learning (due to their length), so I recommend choosing one with a pedal-controlled rudder for stress-free paddling.
If you want to try kayaking, but are nervous about getting into and out of your boat, then choose a sit-on-top kayak. These are stable, and will put your mind at ease about the possibility of a wet-exit should you capsize.
Kayaking Terminology You Should Know
If you're brand new to kayaking, it's important to learn some of the basic terminology used to describe parts of the boat and paddle. Here are a few key terms every kayaker should be familiar with:
Bow

: The front of the kayak.

Stern

: The rear of the kayak.

Blade

: The end of the paddle that touches the water.

Shaft

: The long skinny section of the kayak paddle.

PFD

: Personal flotation device (lifejacket).

Cockpit

: The section of the kayak that you sit in.
A Primer on Kayak Paddling Strokes
Of course, the way you'll move (most) kayaks through the water is by paddling your boat. Gaining familiarity with a few of the most common strokes you'll need to master is a good place to start.
Here are a few strokes you'll use regularly while kayaking:
The Forward Stroke

: This stroke will help propel the kayak in a straight line. It's the most commonly used stroke.

The Reverse Stroke

: Designed to help you stop quickly. Do this by setting the blade of your paddle at an angle and pushing away from the stern.

The Sweep Stroke

: A great way to turn your kayak when paddling it forward in a straight line.

Draw Stroke

: A more advanced paddling move that will help you to move your kayak sideways .
These four basic kayak paddling strokes can help you navigate through most waterways safely. 
Safety Tips & Guidelines for Kayaking
Any sport or activity you engage in on the water has some degree of risk inherent in it. Kayaking is no different.
In my view every kayaker should observe some basic safety rules that can help to keep you and others safe while paddling a kayak. 
The first (and most obvious) piece of advice I can offer you is that you should always wear a well-fitting, USCG approved PFD or life jacket.
Wearing a life jacket can be annoying – they can be bulky, interfere with your range of motion, and keep you from getting that amazing tan.
But they can save your life, and for many, it's the law in your state to wear one.
If you're doing wood working you need to wear safety glasses, and if you're on the water, you need to wear a life jacket. It's common sense, and the inconvenience you may feel is a small price to pay for the safety you'll have with a proper PFD.
Even strong swimmers can tire quickly in open water, and if you hit your head on an underwater obstacle, game over.
Another important safety tip I have for kayakers is to be aware of the weather before you set off on any kayaking trip (short or long).
Even the most innocuous-seeming bodies of water can turn dangerous if the weather goes south in a hurry.
It's common sense to  Keep tabs on the local forecast to make sure you know what's coming. This will let you plan your trip accordingly, and prepare for the best (or the worst) that mother nature has on tap.
Finally, I recommend that you check the condition of all your gear. Make sure your kayak, paddle, and any safety equipment you have on board are in good repair before launching. 
And finally, I recommend kayaking with a friend whenever possible. Kayaking solo is fun (I love to do it), but it's always safer to travel with a buddy. This is especially important for beginners.
The Life Jacket I Use and Recommend
In most states, wearing a life jacket or PFD is the law when you're out on the water.
If you're like me, you want a safe, effective PFD that doesn't limit your range of movement when paddling. That's why I highly recommend this one from Onyx. 
It offers great range of motion, can keep me afloat in the water (I'm 6'2″), and it is very comfortable.
PeacefulPaddle.com is reader supported. If you make a purchase after clicking a link, I may earn a commission at no additional cost to you.
We are a participant in the Amazon Services LLC Associates Program, an affiliate advertising program designed to provide a means for us to earn fees by linking to Amazon.com and affiliated sites.
Learn more by reading: Our Privacy Policy and Our Advertising Policy