The first step to learn to paddle board will be buying a paddle board. The first thing you'll need to do while shopping for a board is to learn about the different kinds available. Understanding how paddle boards are constructed, and the pros and cons of each type of construction will help you choose a SUP that best fits your lifestyle and how you intend to use your new board. When you purchase a paddle board, you can choose a solid or inflatable variety. You can also choose paddles board made of different types of materials. For example, there are solid boards available in epoxy, thermoplastic, and soft top varieties. Inflatable paddle boards are popular as well. In this article I'll answer the popular question what are paddle boards made of, and help you determine which type of board will work best for you.
Stand-up paddle boards are sometimes referred to as SUPs, and they're easier to use than you might think.
Paddle boards are also available in a variety of sizes, construction materials, and designs.
The type that is best for you will often depends on your needs and preferences.
So, What Are Paddle Boards Made Of?
Paddle boards aren't as expensive as a boat, but they aren't cheap either. If you're buying your first SUP, then you want to make sure you buy the right kind.
In this article I'll answer the question What are paddle boards made of? and give you some tips to help you choose the best paddle board material for how you plan to use your new board.
While a paddle board shop will tell you about countless nuances and different categories, the truth is that paddle boards are typically available in four basic categories. These include:
Epoxy Fiberglass Paddle Boards,
Thermoplastic Boards,
Soft Top Stand Up Paddle Boards, and
Inflatable SUPs.
Below I'll tell you a little about each type of paddle board.
Epoxy Fiberglass
Epoxy fiberglass paddle boards have a core comprised of EPS foam that is wrapped with epoxy and fiberglass.
This type of SUP is quite lightweight, rigid, and stable. They are also known for their durability, and these factors have made epoxy paddle boards one of the most popular types of SUP on the market.
The epoxy resin and fiberglass that wrap the board help to ward off damage. For greater strength and rigidity, a stringer (wood spine) is often included.
Epoxy fiberglass paddle boards have efficient travel times and move smoothly through the water. They are excellent for control, tracking, and glide.
When shopping for an epoxy stand up paddle board You can look for a variety with a surf-style keel if you want something suitable for more general paddling. These offer great stability.
Alternatively, you can choose a displacement keel that has more of a point and has a superior ability to cut through waves. This creates more effective steering.
Why a Fiberglass Board Might Not be For You
One of the potential drawbacks of epoxy fiberglass paddle boards is the fact that they might be quite tricky to transport and store, depending on your circumstances. And while I consider them to be durable, they're not quite as durable as some other varieties, such as thermoplastic.
In addition, epoxy fiberglass paddle boards tend to be more expensive to produce than some other types of boards because of the need for more intricate painting and other types of labor during manufacturing.
Nevertheless, epoxy fiberglass boards are often an excellent choice for adults with experience as a recreational paddler. They're especially good for those who are more serious about the sport. This type of paddle board tends to be the best choice for longer journeys and expeditions, and most users will consider this construction material an upgrade, and they purchase these boards after a plastic or inflatable entry-level paddleboard.
Thermoplastic
Thermoplastic paddle boards are equipped with a thermoplastic molded shell that is formed around either a hollow or foam core.
Boards made with this material are usually heavier and less likely to perform as well in the water as other types of boards. Their strength and durability, however, gives them an advantage.
They're hard to damage and hold up well to abuse, making them popular for beginners.
The heaviest types of thermoplastic SUP tend to be the rotationally molded PE. However, these do tend to be very durable and will last a long time. You're less likely to end up with scratches and dings with plastic SUPs too.
Thermoplastic paddle boards are especially popular at rental locations and camps. This is because they stand up so well to daily use.
A drawback of the thermoplastic SUP is the fact that they're heavy and tricky to transport (another reason why they're a great option to buy and leave at your camp or lake-house).
These boards are typically much more affordable than other types.
Soft Tops
Another type of solid paddle board is the soft top. The soft top has some similarities to the epoxy fiberglass board, but it has soft and spongy material covering the top. This helps to protect against damage and scuffs.
The soft top is potentially a good choice if you are a new to paddle boarding. They are also popular with families. They tend to be an effective option for those worried about rocky shorelines, docks, and other potential dangers.
One reason why soft tops are so popular with families and beginners is the fact that it doesn't hurt as much if you fall down.
However, there are some drawbacks to this type of paddle board. One disadvantage is that the padding on the top makes the board heavier to carry than epoxy fiberglass paddle boards.
Additionally, soft tops aren't available in as many designs and sizes.
Even more significantly, the bottoms are comprised of a polyethylene sheet that does not hold up well against punctures.
Inflatable Paddle Boards
For obvious reasons, inflatable paddle boards are a popular option for people with limited storage space. This is because you can deflate them when not in use, making them easier to store in a small space and transport to and from the water in a small car.
If you're short on space in your vehicle, an inflatable paddle board will probably be right for you.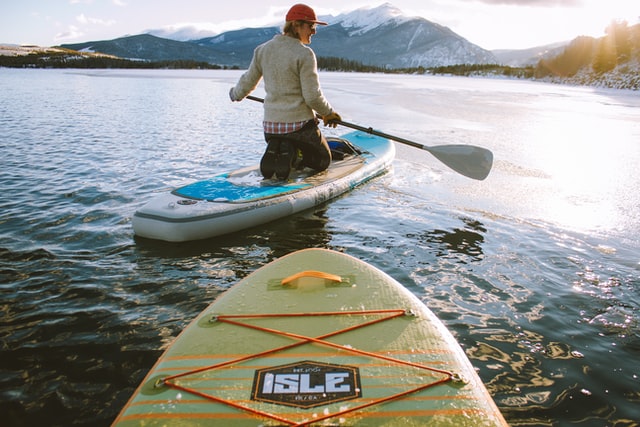 Inflatable paddle boards are made from commercial-grade heavy duty PVC. They feature a drop-stitch construction that gives them an air core.
Keep in mind when inflating your paddle board that it should be as rigid as a basketball before use.
Of course, the possibility of punctures is something you'll need to keep in mind if you get an inflatable paddle board, but in my experience these boards are quite durable and they handle better than you'd expect.
A few years ago I bought this top-rated one from Amazon and I absolutely love it (but eventually you'll want to upgrade the paddle that comes with it).
Paddle Board Length
Once you've decided on a material for your paddle board, you will also need to think about what kind of length will best suit your needs.
Short: Boards under 10′ in length are usually considered a good choice for surfing or for kids. If you're getting a board for a child (who should be a proficient swimmer and must always wear a personal flotation device), then look for one under 8 feet in length. These are often made especially for kids.
Medium: Boards between 10′ and 12′ are a popular size for many different kinds of use, such as SUP yoga. It's possible to find a displacement-hull SUP in this length, but most medium-length paddle boards have planing hulls.
Long: Long boards (12'6″ and over) can be an appropriate choice for long-distance touring and fast paddling. If you're very tall, a longer board may be more comfortable. I'm 6'2″ and find both medium and long paddle boards comfortable.