Not enough room for your buddies in the canoe? A drop-in canoe seat is an easy and convenient way to add extra seating. You can use the seat when you need it and store it away when you don't. But what is a drop-in seat? Why would you want one? Are drop-in seats easy to install? And most importantly, is a drop-in canoe seat appropriate for your boat and lifestyle?
I think my drop-in canoe seat is one of the best purchases I've ever made. It's an easy way to enhance your canoe and make it better to use with friends and my growing family. Let's discuss the different types of drop-in canoe seats and how they work.
How Do You Add a Drop-In Seat to a Canoe?
How you add a seat to your canoe depends on the kind of seat you buy. There are drop-in seats available that make installation quick and easy, and some don't even require drilling or tools. Choose a seat type that best meets your needs and satisfies your preferences.
Your canoe size is another important factor. Measure your canoe, especially at its widest point. You'll need this information to select the right drop-in canoe seat size. Check the information the seat manufacturers provide on choosing the right size.
Follow the instructions that come with your new canoe seat. Have tools at hand if it requires drilling and more complex installation. If you're not comfortable with a lot of DIY, avoid canoe seat models that require this kind of hands-on work.
In some cases, you'll have to take out your canoe's center thwart to put in an additional seat. This is because of the extra room required for the seat, not to mention the legs of the person sitting in it!
That said, make sure you think about the structural integrity of your canoe before removing that thwart. Placing a drop-in canoe seat right in front of or behind it may be a better choice.
It's better not to try adding extra seats until you have experience paddling a canoe. Canoeing isn't particularly hard, but you need to know how to keep correct balance in your canoe at all times. Drop-in seats can change the balance and tracking of your canoe, and they often sit higher than the standard canoe seats, which can make paddling different.
About Adding a Drop-In Canoe Seat to Your Canoe
Consider your canoe's design and weight limits when deciding whether an extra seat is possible. Find out your canoe's maximum weight capacity. You'll have to know the seat's weight (as well as the weight of whoever will sit in it) and whether your boat will be able to handle that.
If you already own your canoe and don't know where to find this information, contact its manufacturer, or do a quick search online. You'll need to know the specific model you have, as well as the length of your canoe.
If you find you can add a third seat to your canoe and go ahead with it, make sure you know the weight of each person you allow to sit in the middle seat.
Picking the Right Drop-In Seat (width & height explained)
The dimensions (specifically the height and width) of the extra canoe seat are extremely important before you order any third-party canoe seat. Fortunately, there are drop-in canoe seats with different dimension profiles available on the market, so you'll be able to find one that fits your watercraft.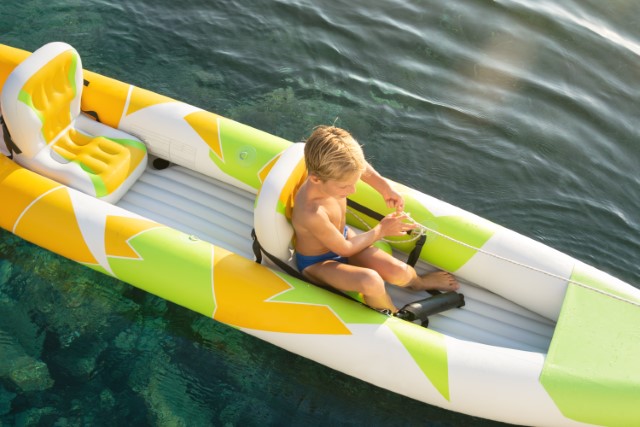 As well as the width and height, ensure you have the right kind of seat in terms of its weight and amount of padding. Also, know the weight of the seat and calculate whether your boat can handle it (as well as the weight of the person sitting in it).
Maybe you want as much padding as possible, but there's a downside. The seat may be too thick, potentially throwing off your stability while on board. It's the change in its center of gravity. A thick padded seat makes it higher.
Drop-In Canoe Seat Products to Consider
Not sure where to start? Here are a few good options that may work for your canoe:
One of these three options should work for most of you, but I'll share a little more information about each of these drop-in canoe seat options below.
PeacefulPaddle.com is reader supported. If you make a purchase after clicking a link, I may earn a commission at no additional cost to you.
Spring Creek Manufacturing Drop-In Seat
The Spring Creek Manufacturing Drop-In Seat may be an investment, but it's one well worth making.
This is a long-lasting and durable drop-in seat for your canoe. It's also lightweight. And you don't have to do any drilling for installation.
This drop-in seat comes in two sizes too, so it will work for pretty much any canoe.
If your canoe's widest point measures between 30 and 34 inches, you should get the small size.
Go with the Regular size if your canoe measures between 34 and 40 inches at its widest point.
GCI Outdoor SitBacker Adjustable Canoe Seat with Back Support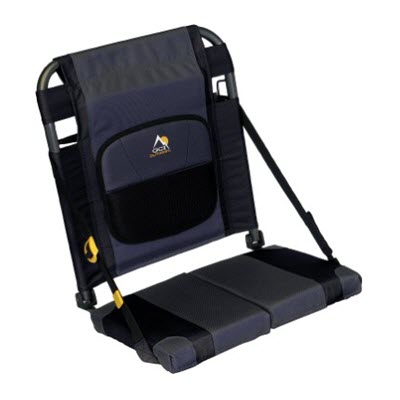 There's a good reason this GCI Outdoor SitBacker Adjustable Canoe Seat with Back Support is one of the most popular canoe seat upgrades. It's reliable and durable, and the manufacturer has done extensive field testing.
While it isn't a drop-in extra canoe seat, per-se – I find that it's a great way to upgrade a DIY option made from a simple wood plank attached to the gunnels with clamps, or simply to upgrade your existing seats – that's why I'm including it here.
The SitBacker from GCI Outdoor is designed with comfort in mind. If you like long canoe trips, this is a great seat upgrade to use and an excellent way to enhance a DIY drop in canoe seat project.
Read some of the reviews online and you'll find that most people who own the GCI Outdoor SitBacker rave about it.
It's made with top-quality materials, and it's easy to pick up and fold.
Personally, that portability and the ability to easily store it is why I'm a fan – I'm a huge proponent of "less is more" when it comes to the equipment I have to carry to and from the water.
Attwood 15700-3 Seat Mount, Clamp-On with Swivel
You can use the Attwood 15700-3 clamp-on swivel seat mount for certain kinds of canoe. Make sure it fits your watercraft's size and shape, and you'll also need to order a comfortable swivel chair (like this one on Amazon) to go with it.
The Attwood 15700 features swivel action and great adaptability.
It's a nice way to upgrade an existing canoe seat or to add a seat to a canoe – especially if you do some fishing from your boat.
This drop-in seat is made of sturdy aluminum, and it features a powder-coated finish in black and pairs well with most swivel seats you can order online.
Is an Extra Canoe Seat a Good Investment for You?
As I mentioned earlier, your canoe size and design are key to figuring out whether you should buy and add an extra canoe seat.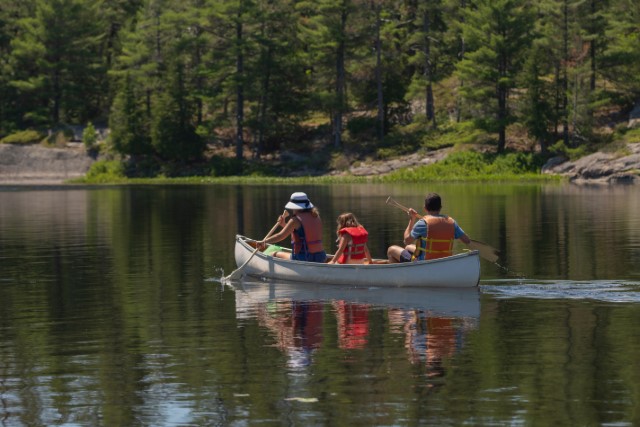 If you don't have your canoe's product directions, contact the manufacturer to ask for information. Ask them for information on weight capacity. Explain you want to add an extra seat.
If your canoe's weight capacity is too low to fit an extra person, you shouldn't add an additional seat to your watercraft. If your canoe has a high enough weight capacity and you want to bring an extra person in your watercraft, an extra canoe seat may well be one of the best investments you can make.
Final Thoughts – Why You Need a Drop-In Canoe Seat
When I was paddling our tandem canoe with my wife, I had no need for a drop in seat. We could go for a paddle comfortably with our dog in the middle (when he wasn't jumping out to swim).
But now that I have kids, I appreciate the option to add a temporary canoe seat or two as needed to keep the whole family in the same boat. Sure, you can use a few flotation seat cushions on the floor of the canoe for the kids (and we've done that), but giving them a seat of their own makes them feel special, and allows them to practice paddling along with us and feel like part of the team.
That's why I think a drop-in canoe seat is a fantastic investment for your canoe if you want to accommodate an extra friend or family member. Just be aware of your canoe's weight capacity before you decide to buy and install a drop-in seat. Overload it, and it's easy to swamp a canoe.