Even the most exciting purchase gets old eventually. Or maybe it feels old and you just want an upgrade. I've had this feeling plenty of times, especially with my kayak. If you've had your boat for a while or just want an awesome new seat, it's probably time for an upgrade. But what kind of seat is for you? Are third-party kayak seats even safe? At what point does your kayak seat need to be replaced? Let's learn all about kayak seat upgrade and replacement.
I'll talk about why you should upgrade your kayak seat and the four different kinds of kayak seats. These are:
Basic
Deluxe
Inflatable
High back
Choosing the wrong kayak seat is not only a waste of money but can be a hazard. I'll talk about how to select the right kayak seat upgrade and replacement below.
PeacefulPaddle.com is reader supported. If you make a purchase after clicking a link, I may earn a commission at no additional cost to you.
Why Upgrade Your Kayak Seat?
There are several reasons to upgrade your kayak seat.
To increase your kayak's value
So you're more comfortable
To be a better kayaker
Cheaper than buying a new kayak
It's easier than you think to upgrade your kayak seat. There are many outstanding kayak seats available on the market that make installation a breeze. Always choose a kayak seat that's a right fit for your type of kayak.
Is It Bad to Keep an Old Kayak Seat?
It's tempting just to keep your old worn-out kayak seat and save money.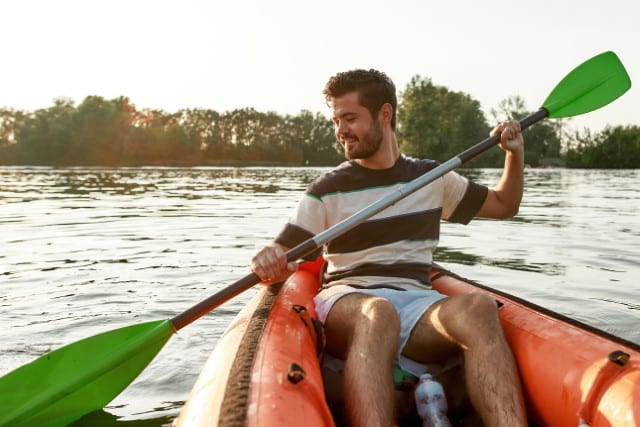 But getting a kayak seat replacement is an investment in your watercraft, as well as your well-being and safety. There are significant drawbacks to keeping an old kayak seat.
It won't give you the right support
It may affect your paddling
Muscle strain is more likely
You can't handle long trips
Serious about kayaking? Get ready for some serious muscle pain if you don't have the right seat. How much you'll work the different muscles depends on the kind of kayaking you're doing and how long you're doing it.
Researchers have found that fast kayaking over short distances tends to concentrate on the shoulder muscles.
Longer distances, however, tend to give your arms more exercise.
But the back and core also play an enormous part in powering you forward in the water. It's incredibly important to have the best possible seat.
So now you know, keeping your old kayak seat isn't a good option. Now it's just a question of choosing the right seat upgrade.
Different Kinds of Kayak Seats
You know your kayak but the seat always seemed like an afterthought. It's time to learn about the different kinds of seats below:
Basic
Beginner and recreational kayakers often do well with basic seats, often just padding in cushions that you sit on.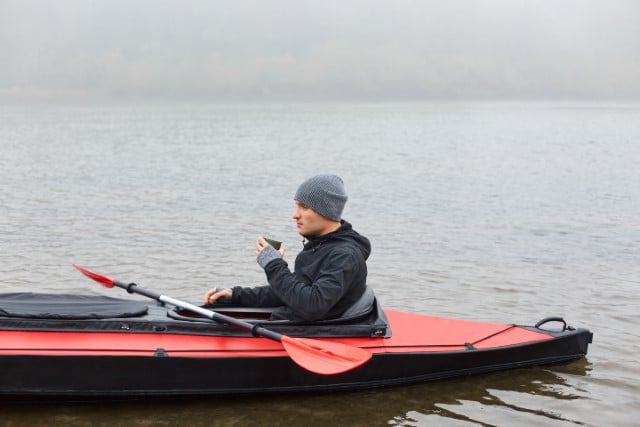 Do you have a sit-inside or sit-on-top kayak? There are different seat designs for each kind of kayak, so make sure you get the right one.
Many kayak cockpits are quite uncomfortable. Is that what you're dealing with? A new seat will add comfort and support while you're kayaking. And it means cutting down on muscle strain and aches.
Deluxe
Upgrade to a deluxe seat if you want something a bit better than the basic. You get better padding and superior comfort with this higher-end option.
Do you have problems with keeping your basic seat properly secured in the kayak's cockpit?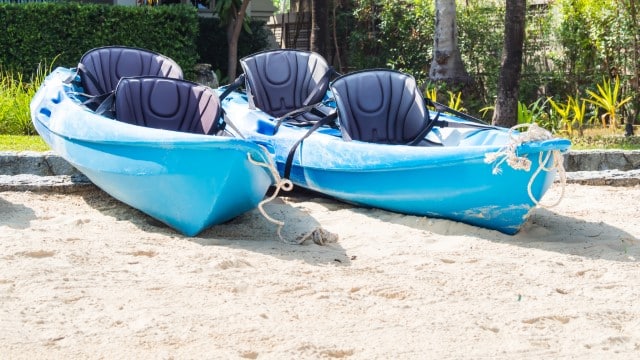 A deluxe seat is much better at staying in place.
Make sure the seat you're thinking about getting will fit your kayak. Not every kayak seat is compatible with the full range of kayak designs.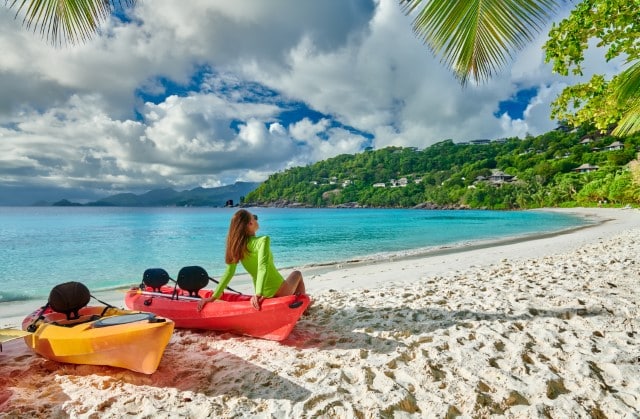 Do you have a sit-on-top kayak? Be even more careful when choosing a deluxe seat. You'll find finding an appropriate deluxe seat a bit trickier.
If you have a sit-inside kayak, check the backrest height. This is a key measurement when selecting a deluxe seat.
Inflatable
Inflatable kayak seats have both advantages and disadvantages. In general, this kind of seat will only work for casual kayakers. If you're a serious kayaker, don't even think about buying an inflatable seat.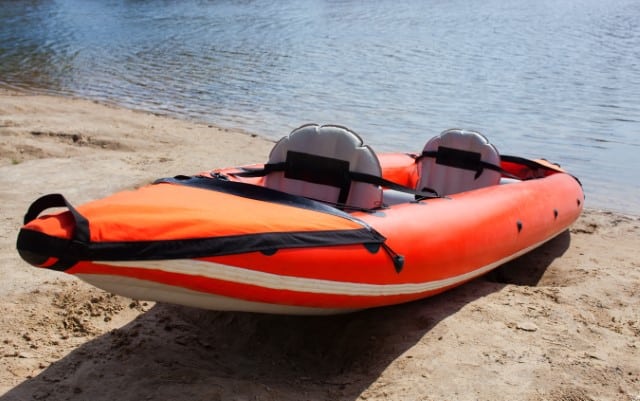 They just aren't reliable enough. I tried one of these seats a few years ago and it was a no-go. The back support was inadequate and I ended up with pain at the end of my day on the water.
Eventually, a hole appeared and it wasn't worth my while to fix it. The end result? My deflated kayak seat ended up on the trash heap!
Of course, an advantage of inflatable kayak seats is their portability. It's also easy to find a place to store them if you ever take them off your watercraft.
High Back
Looking to use a kayak for angling? If so, a high back seat is the best choice. This kind of seat offers superior back support and will help you keep the right body position for casting.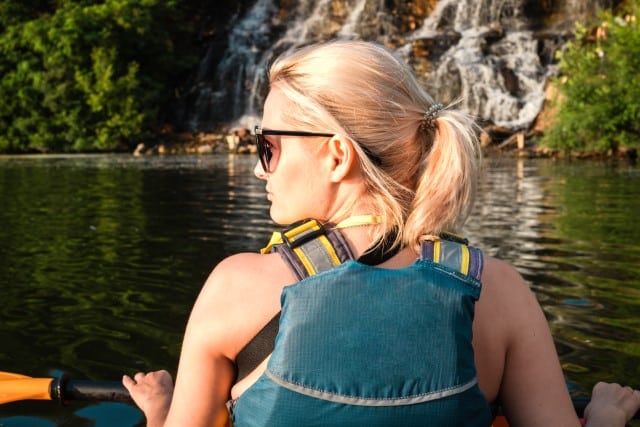 It will also prevent muscle pain. After all, angling often requires sitting in your seat for a longer than average period of time.
Are you taller than average? You should probably go for a high back seat. Other seats won't offer the kind of support and positioning you need.
How to Choose a Kayak Seat Upgrade
Like with any other purchase, you've got to know exactly what you need and want before you go shopping. Make decisions about stability, comfort, and portability before purchasing.
Let's go over some of the factors to consider when choosing your kayak seat.
Reliability and Stability
You're using your lower body's torsion for movement and maneuvering when kayak paddling. If you're going whitewater kayaking, it's even more important. Ensure you choose a stable and reliable kayak seat.
The more advanced your kayaking and the more challenging the environments you choose, the more you have to think about this factor.
With a stable seat, you make your kayak's cockpit more stable.
This creates better maneuverability, and you stay safer. With a high back and/or deluxe seat, you have much better stability than you would with a basic seat.
Stability becomes especially important if you will be making tight turns while kayaking. If you have a lower-quality seat, you will find this difficult.
Comfort and Support
Comfort is pivotal when you're in a kayak for long periods of time. For example, you may be a fishing and touring kayaker.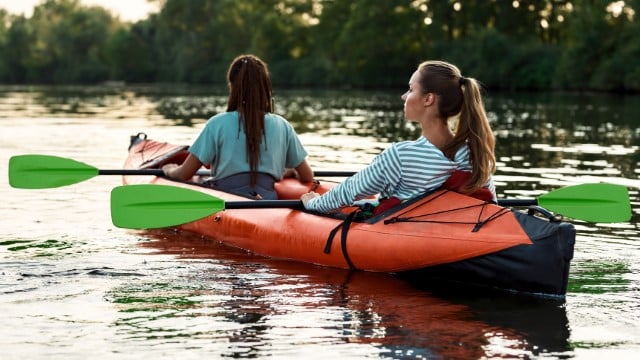 Or maybe you're a recreational kayaker but you want to kayak frequently and for long trips. Look for a kayak seat with an ergonomic design.
Portability and Storage Options
Of course, the more portable something is, the easier storage tends to be.
There is a different element related to the idea of storage: some kinds of kayak seats offer storage inside or underneath them. For example, maybe you're an angler and need space for your fishing equipment.
Look for kayak seats with additional storage space built-in. It's more common for high-backed seats to come with this kind of design.
Can You Put a Higher Seat in a Kayak?
Yes, you may be able to put a higher seat in your kayak. As touched on earlier, the kind of seat you use and how high it is should be must be appropriate for your kayak design.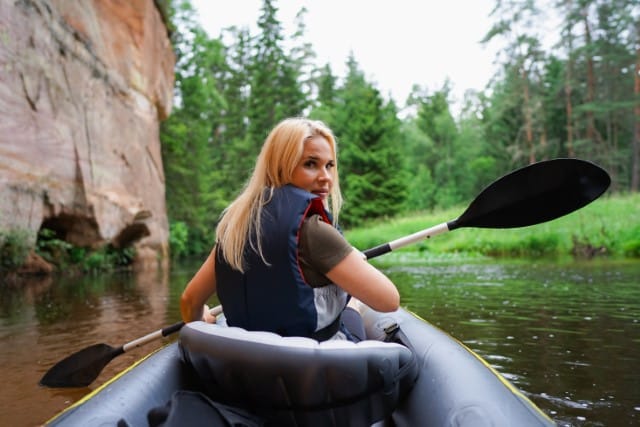 If you're new to kayaking and/or you don't know what kayak design you have, ask the experts at a local boating store. You can also contact the manufacturer of your watercraft.
A higher kayak seat is sometimes called an elevated seat. The opposite seat type (or position) is called a low or lower seat.
There are certain advantages attached to having a higher, or elevated, kayak seat. For one, it may give your watercraft better balance and stability.
But elevated kayak seats also have their drawbacks. In certain circumstances, you may end up with more muscle strain and fatigue. This is especially a problem if you're going on a long kayaking adventure or going angling.
Are Third Party Kayak Seats Safe?
A third-party kayak seat is made by a manufacturer other than the one that made your kayak. If you want to add new seats to your kayak, you'll probably have to go with seats made by a third-party company.
A third-party seat's safety depends on several different factors. The most important? Whether the seat's design is compatible with your kayak.
If you're not sure about this, contact your kayak's manufacturer, as well as the manufacturer of the seat you want to add. Ask them for information and find out whether the third-party seat would be safe to add to your boat.
Correct installation is essential to keep you safe and secure on the water.
How Do I Upgrade My Kayak Seat?
Have you decided to go ahead and upgrade your kayak seat? Great job! Start by knowing your kayak design. Do you have a sit-inside kayak or a sit-on-top kayak? Shop for a seat made for your type of kayak.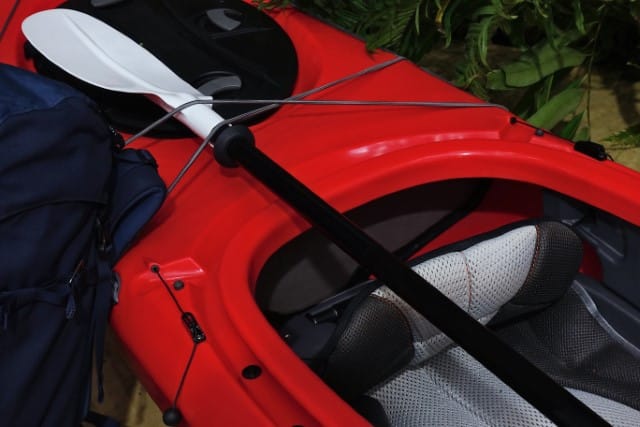 How to Replace a Sit-Inside Kayak Seat
Here are the steps for replacing many kinds of sit-inside kayak seats. Follow the instructions that come from the manufacturer.
1. Remove your existing seat
Take your current seat out of the kayak. The procedure may vary by kayak design, so get information from the manufacturer.
2. Prepare your new seat to install
Begin by finding and organizing the elastic straps. Most people like to temporarily remove the front straps. It will make the process easier.
Figure out where each strap gets attached to the kayak. Get the straps ready to attach by pulling and positioning them. Do this with both back straps you will attach first.
3. Start attaching the straps
Find the clasp on the lower strap at the back of the seat. Attach this to the mounting point on the appropriate side of the kayak.
4. Repeat these steps for the strap on the other side
Go through all the above steps, but for the other side of your kayak.
5. Weave the straps through the slot
Look inside the kayak seat. You'll see there is a slot for weaving the straps through. Go ahead and loop the straps through, weaving them back upwards.
Find the buckle on the seat where you need to re-attach the straps, and re-attach them this way.
6. Pull the straps through the back
Take each buckle and pull them through the straps behind them. This will keep your seat in place. Tighten your straps, by pulling at the loose ends.
7. Attach the front straps to your kayak
Find the front straps that you took off earlier. Attach the front buckles to the mounting points at the front of the kayak. With one end of the strap, get it attached to the buckle on the lower part of the side of the seat.
8. Attach the strap on the other side
Do the exact same steps for the other side.
9. Tighten the straps and pull them to the back
Get everything tightened up by pulling on the straps. Take the ends of the straps and pull them to the back. After that, cross them over.
Get everything secured by looping through the buckles. Remember to follow all the right steps when upgrading your kayak seats.
Follow the directions that came with the product. Keep yourself safe out on the water!
How to Upgrade a Sit-on-Top Kayak Seat
Find a seat designed for sit-on-top kayaks. Verify it's appropriate for your specific sit-on-top kayak design.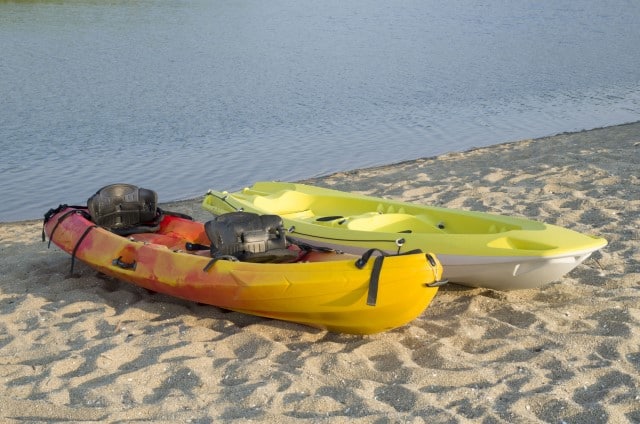 You're upgrading the seat for greater comfort, right? I don't blame you. Too many sit-on-top kayaks come with hard-as-a-rock seats!
Go ahead and treat yourself to cushioned seats for your sit-on-top model.
Find a sit-on-top seat that comes with tie-down straps. That means easy installation. Find the tie-down points, which are handles or loops, that are included on your kayak exactly to help you put on a new seat.
Attach the clips to the tie-down loops. Then, use your muscle power to adjust the seat into the position you want.
Different Seat Styles and Seat Materials Available on the Market
But what about materials? Your seat will probably include different materials for the exterior (shell) and the interior (the comfy cushioning you're after).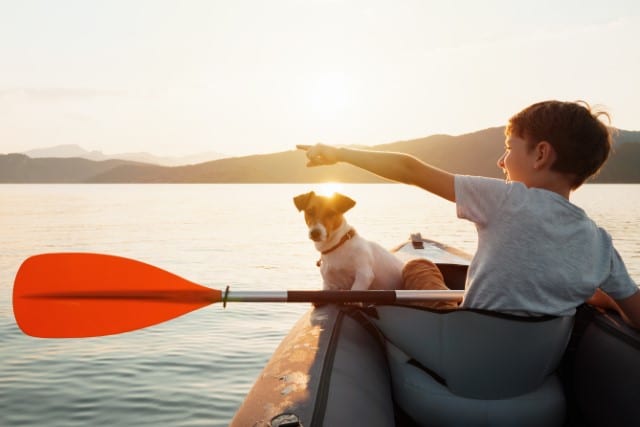 Get a kayak seat with a waterproof exterior or shell. If it doesn't, your kayak seat isn't going to last for long, for obvious reasons. When you're out on the water, water is bound to splash on your seat.
Dura-Foam/Nylon
Many great kayak seats are made from dura-foam and nylon. The waterproof nylon is for the outer shell or exterior of the seat, and the dura-foam is included on the inside of the seat, to cushion you and provide support. Dura-foam and nylon is a top-notch combination in a kayak seat.
EVA Foam
EVA foam is commonly found in premium kayak seats.
When it comes to seat styles, the major distinction is between high-back seats and regular seats.
Should You Choose a High-Back Seat?
Kayakers who spend a lot of time on the water, especially for long periods at a time, should have high-back seats. Do you enjoy angling in your kayak, or do you want to start this activity? You ought to invest in a high-back seat.
This kind of seat will give you better ergonomic comfort and support. Tall kayakers should also always have a high-back seat. If you're a very tall person and you try to use a regular seat, you probably won't be comfortable.
5 Best Kayak Seat Upgrades Available Online
Let's take a look at the five best kayak seat upgrades available online, including the pros and cons for reach.
If you like paddling for long periods at a time, this KERCO Angler-x Adjustable Sit on Top Kayak Seat with Back Pad is a great choice for you. This seat features molded dura-foam/nylon fabric.
One of its many advantages is how it comes with a zipped backpack that you can detach and re-attach. Many kayakers find this comes in handy for keeping important items safe when they're out on the water.
The seat's straps, both front and back, are fully adjustable. That means it's easy to get your seat securely positioned so it won't move. The clips on the end of the straps are made of anti-corrosion metal, so you won't have to worry about them getting ruined and undependable over time.
One of the major selling points of this KERCO kayak seat is how it has a contoured padded set. The backrest is high, giving you extra support in many situations.
Works with most kayaks
Soft cushion seat for comfort
Adjustable straps
Anti-slip seat
Pocket zipper may be flimsy
WOOWAVE is another padded kayak and canoe seat that provides deluxe comfort and adjustability. That's why it's made our list of the best kayak seat upgrades.
This is a high-back kayak seat, an added attraction.
It comes with a detachable storage bag in the back, too.
Don't worry about a difficult installation process with this seat. Like other great easy-to-use kayak seats, this kayak seat offers straps, connecting snaps, and other features for your convenience, though some users have complained about the clips on this product.
With the upper straps, you will be able to finely adjust how the back panel is positioned, and once installed it is very comfortable to sit in.
Provides excellent comfort
Is durable and reliable
Features a high back
Contoured padding backrest
This kayak seat from YakGear SSR offers one-inch-thick EVA foam on the bottom, keeping you comfortable on longer trips on your kayak.
A great feature of this seat is its compatibility with pretty much any kind of kayak.
It comes with D Rings. I can tell you from experience these are helpful when it comes to additional connections.
The bottom cushion is designed to be non-skid, an essential (but often overlooked) feature that you'll want to use in your selection criteria when choosing a kayak seat upgrade for your boat.
If you're looking for a high back, you'll get it with this kayak seat. It's 17 inches in height, and it has one-inch thickness. It's also adjustable.
High back (17 inches)
Adjustable
Non-skis bottom cushion
Universal compatibility
May need extra connection points on a sit-on-top kayak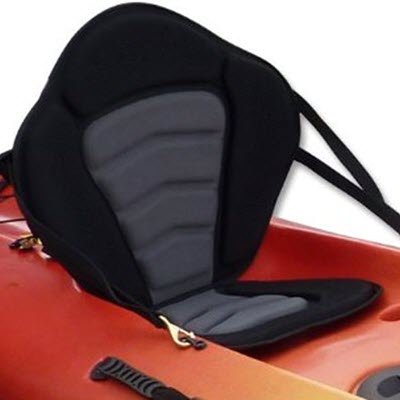 It's a little bit more of an investment, but many kayakers choose the Pactrade Marine Adjustable Straps kayak seat.
This seat has a sturdy aluminum frame, so it's a little more complex. The fully adjustable straps have a webbing style.
Many kayak anglers I know enjoy using this kayak seat.
It's durable, comfortable, and helps give you better support. It features a top-quality backrest with textilene mesh fabric construction.
The manufacturer explains that this eat is easier to install than you might think, but in my experience most of these seats are pretty easy to install with some basic DIY skills, so take that for what it's worth.
Outstanding comfort and durability
Includes an aluminum frame
Easy to install
Great for anglers
More expensive than other options
This deluxe kayak seat is a little more expensive than some other options, but serious kayakers make the investment. It's lightweight yet extremely durable and comfortable.
The foam cushion is deluxe molded and thick in width. If you go kayaking for long periods or are an advanced kayaker, you will probably love this kayak seat.
The hooks included with this kayak seat are extremely dependable, so you won't have to worry about them giving out or breaking. In fact, they have a different design than many types of hooks you find available on kayak seats.
They have an outstanding level of corrosion resistance, which is key to resilience. This kayak seat's exterior is made from 210D polyester, and the interior is durable EVA foam.
This makes the seat perfect for intensive watersports. This top-quality seat comes with padded supports for both your back and rear-end, as well as a high-back design.
It's designed with ergonomics in mind, so it's always comfortable over the long haul. This seat also helps you store and keep safe items you want to keep on your kayak trips. It includes a detachable storage bag that is fully waterproof, and it's attached to the back of the seat.
Molded foam construction, with EVA foam inside
Outstanding quality hooks
Straps are fully adjustable
High back design
Installation may be more challenging for beginners
What is the Most Comfortable Kayak Seat?
The most comfortable kayak seats tend to have padding, and they must correctly fit your kayak design. A seat may seem comfortable in itself, but if it's inappropriate for your type of kayak, it won't add to your comfort. And it'll ruin your kayak's maneuverability.
A comfortable kayak seat must be durable and be made with ergonomics in mind.
Final Thoughts: Kayak Seat Upgrade
As we've seen here, replacing and upgrading your kayak seat is a great idea. Have you found yourself with back pain or muscle strain on the water? Go ahead and upgrade your kayak seat.
Now you understand how to choose a kayak seat and the basic steps for installing it. So what are the benefits of upgrading your kayak seat?
It's an upgrade without the cost of a new kayak
It improves your performance as a kayaker
You get superior comfort
It's an investment in your boat's value
Let's review the steps before upgrading your kayak seat.
Know what kind of kayak you have.
Decide whether you want a basic, deluxe, inflatable, or high back seat.
Make sure the seat is compatible with your kayak.
Follow the product directions for installation.
Enjoy your new seat!
So what are you waiting for? Go out and get your new kayak seat for exciting days on the lake.
And if you're interested in improved stability – check out my article about adding a kayak outrigger.