Whether you are new to kayaking or have been away from the sport for a while, you may have some questions about how to dip your paddle back into the water. One of the most common questions I get is "how much does it cost to rent a kayak?" After all, renting is a great way to test out kayaking and understand if you'd like to plunk down the money to buy a kayak to own.
There is a lot of variation in how much it costs to rent a kayak. It may cost as little as $10 to rent a kayak, or it may be as much as $70 for a kayak rental. Several factors impact how much renting a kayak will cost. For example, how many hours you need to use the kayak for will affect how much you pay. Other factors include:
the location (popular tourist locales typically charge more),
who is renting the boat (some companies just charge more than others), and finally
the type of kayak you rent (larger or more expensive kayaks typically cost more).
Some kayak rental outlets will also charge extra for accessories and equipment (like life jackets).
However, this shouldn't discourage you from enjoying all that the activity offers. Unfortunately, some first-timers spend way more than they should on renting a kayak.
Others need to invest more in paddling equipment.
Either experience could discourage you from kayaking in the future, and you could miss out on all the benefits and joys of this thrilling sport/hobby.
That's just one reason you should know about the cost of renting a kayak and other facts, so that you can get ready for a great experience.
Factors Affecting Kayak Rental Prices
The following are some of the factors that could affect kayak rental prices:
Type of Kayak
There are different types of kayaks based on style and function.
Basic recreational kayaks are typically cheaper to rent than specialized kayaks. They're less expensive to purchase for the rental company, and easier to replace. Similarly, a single kayak may be more affordable than a tandem (two-person) kayak.
Sit-on-top kayaks are more common at rental shops and often cost less since they are suitable for beginners and recreation purposes.
On the other hand, specialized ones, such as fishing kayaks, often cost more as they offer customized functions.
Duration of Rental
How long you will need the kayak (the duration of the rental) is the most significant factor when planning for a kayak rental.
Kayak rental prices are by the hour or day.
If you rent by the hour, you'll find the rates are usually between $10 and $30. It may be a better deal to rent the kayak for a half day or full day.
Half days are 4 hours long and cost $30 to $55. Full days are 8 hours, costing $45 to $90.
Location
The location where you plan to rent the kayak will also affect how much you pay.
Factors such as demand, local currency, and availability tend to vary from place to place.
Kayak rental rates at tourist spots, including National Parks, tend to be higher. Also, beaches and coastal areas often have premium prices for ocean paddling.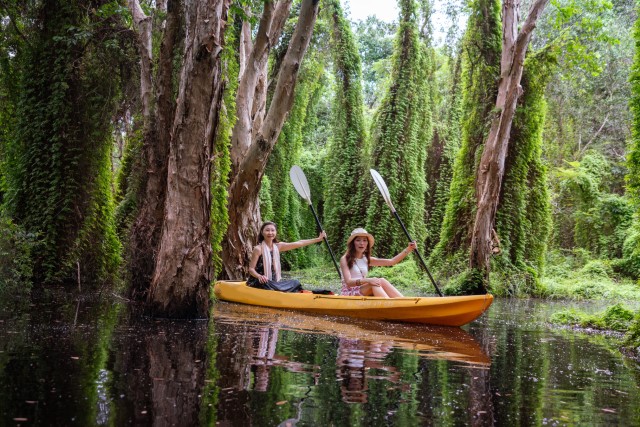 By contrast, local lakes and rivers tend to be more affordable.
Similarly, top kayaking destinations have different renting prices. For example, California rental prices are about $20 per hour for a single kayak, while Colorado prices are $25 to $30 for 1 to 2 hours.
Equipment and Accessories
Some rental places may charge extra for necessary equipment, such as paddles and life jackets. In addition, rental places offer optional gear for convenience.
Accessories such as spray skirts, dry bags, fishing gear, and bilge pumps are not necessary but improve the experience.
Kayakers should also consider additional costs such as tipping etiquette, kayaking lessons, and transportation fees.
Company Rates
Each company has different business management systems, as well as costs and employee numbers. These factors impact how much they will charge you to rent one of their kayaks.
While higher rental costs don't always mean better services, be wary of unusually low ones. You may end up with an unsatisfactory experience.
So, How Much Does It Cost To Rent A Kayak?
Location is one of the most significant factors that influence kayak rental prices. As I touched on before, popular places such as national parks and certain lakes and rivers attract more tourists, and that demand will drive up prices.
However, these kinds of places are more likely than others to provide kayaks appropriate for beginner and expert kayakers alike.
Speaking of lakes and rivers, kayak rental prices also vary depending on what kind of body of water you want to kayak on.
The specialized kayaks required for sea and ocean kayaking are usually more expensive to rent.
For example, if you want to rent a kayak in Santa Barbara, California, you can expect to pay about $75 for a single kayak. In Lake Tahoe, it's usually a bit cheaper, at about $50.
But then again, it also depends on the duration, another factor most rental places use to set prices.
Durations are one hour to a few days. Hourly rental prices cost the least for short trips.
However, the half or full-day prices are more practical past five hours. Daily prices are also favorable for longer trips.
Depending on location, the hourly rate for a single kayak ranges between $10 and $30.
Half-day trips are usually four to five hours, costing an average of $30 to $55. Some rental places may charge these prices for trips over 2 hours long.
For a fully-day kayak rental, expect to pay between $45 to $90 in many places. A full-day rental is often 8 hours in duration.
Some rental places give kayakers the same price for overnight trips, while others charge extra for additional hours or simply for keeping the kayak during nighttime hours.
Additionally, some rental places offer 2 to 7-day prices for longer trips. Overall, you can expect to pay at least between $150 and $300 for a 2-day to week-long kayak rental.
Be aware that some places don't offer specific price packages for longer trips. Instead, they may charge for each additional hour or day individually.
Seasonal Variations in Pricing
Kayaking seasons differ depending on the location. For example, May to June is pre-season in Alaska, offering stable weather and flat water ideal for paddling.
In many places, peak kayaking season stretches from mid-June to August, when the weather is warm.
Overall, prices tend to fall after mid-August when demand decreases because weather and sea conditions become more unpredictable.
Most kayaking locations have peak seasons in the summer when the weather is warm.
Therefore, summer kayaking is more popular and may demand higher prices, especially in warm climate locations with accessibility to water bodies.
Of course, there is much less demand for kayaks in the fall, and especially in the winter. Most recreational centers close kayaking season at the beginning of the fall.
If you're an experienced kayaker and feel comfortable going out on the water in the off-season, you can get significant discounts on kayak rentals (if you can find a kayak rental business that is still open).
If you go on the water in these challenging conditions, make sure that you have extra equipment, such as insulated paddle gloves and wetsuits.
Additional Costs to Consider
It is worth preparing for the additional costs of renting a kayak.
The following are common additional costs you may pay for:
Tours – Rental places charge extra for guided tours. Kayaking tours usually last one to two hours, costing $55 to $150. The cost covers the kayak and other equipment.
Cancelation Fees – Rental companies charge a fee if you cancel within a specific time. For example, some charge for less than 24 or 48 hours' notice or one to 30 days for longer trips. Cancellation fees are $10 to $15. They could also be a percentage of the total cost, usually 10% to 50%.
Lessons – Beginners need to start somewhere, and the best place to start is with a lesson. Rental places charge for professional training lessons as part of the rental package. Depending on the company, one session can last 45 minutes to two and a half hours. Additionally, the location and water body affect the prices further. Lessons costs range between $45 and $120, inclusive of rental.
Deposit and Insurance – Some rental places include a refundable security deposit as an extra charge. The security deposit covers repairs, damages, and lost equipment. You should get the security deposit back after confirming all the equipment is present and damage-free. Security deposits are usually 50% of the total rental cost. On top of this, you may pay for rental insurance to secure the deposit and other costs. Rental insurance costs vary depending on the company. It could be a flat fee, per rental basis, daily rate, or a percentage of the rental cost, usually 10% to 20%.
Tipping – Finally, it is worth considering tipping etiquette costs. While not mandatory, you may tip your service provider any amount based on your experience. However, the general guideline is 10% to 20% of the total cost.
Tips for Finding Affordable Kayak Rentals
You will find many rental options for kayaks within a local area. So, how do you choose the best one?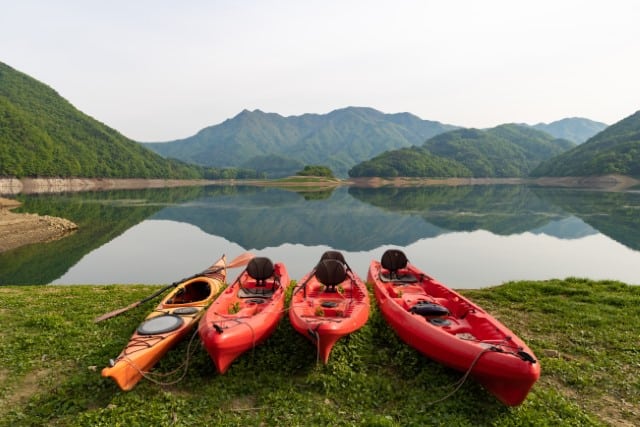 Here are a few tips to ensure you get your money's worth:
Check online forums and kayaking blogs – Online forums and kayaking blogs contain information about affordable kayak rentals in the area. In addition, the blogs may have discount codes for local rental companies.
Check online reviews – Online reviews contain guidance on the services you can expect from a rental company. The reviews may also provide a price range.
Ask the locals – Residents of the area have insight into lesser-known kayaking spots and rentals which offer more affordable prices.
Compare local rental companies – Check the prices of various rental companies through websites and social media accounts.
Ask about group discounts – Rental places may also provide discounts for large groups and specific groups such as students, veterans, and military personnel.
Final Thoughts on The Cost of Renting a Kayak
So, now you know everything about the cost of renting a kayak, including determining factors such as duration, company rates, and the type of kayak. Before you settle for a rental company, remember to:
Ask about group discounts.
Check multiple local companies online and their reviews.
These tips help you to enjoy a kayaking trip without spending too much. So, now that you have a cost range, you can plan your next great adventure on a friendly budget!
The Life Jacket I Use and Recommend
In most states, wearing a life jacket or PFD is the law when you're out on the water.
If you're like me, you want a safe, effective PFD that doesn't limit your range of movement when paddling. That's why I highly recommend this one from Onyx. 
It offers great range of motion, can keep me afloat in the water (I'm 6'2″), and it is very comfortable.
PeacefulPaddle.com is reader supported. If you make a purchase after clicking a link, I may earn a commission at no additional cost to you.