One of my favorite things about kayaking is how it lets you spend time and make memories in the great outdoors. If you've never tried kayaking before, you will need to get a kayak that is appropriate for beginners. Today, I'll reveal my picks for the best kayak for beginners.
The best kayaks for beginners are stable, durable, easy to maneuver and reasonably priced. One kayak that checks most of these boxes, and my "best overall" pick for the best kayak for beginners is the Wilderness Systems Pungo 120.
Although it's a sit-in kayak, it has a gigantic cockpit. So, it offers paddlers the best of both worlds.
You get excellent protection from external elements and still enjoy the spacious legroom that sit-on-top yaks are revered for.
That said, this beginner kayak is a little bit pricey. If the Pungo 120 is not within your budget range, there are cheaper options available.
Read on to learn about the best kayaks for beginners.
---
My Favorite Kayaks for Beginners
The Pungo 120 is hands down the best yak for a beginner. This sit-in yak is stable and I find it super easy to navigate. Plus (perhaps most importantly) the Phase 3 AirPro seat will keep you comfortable for hours.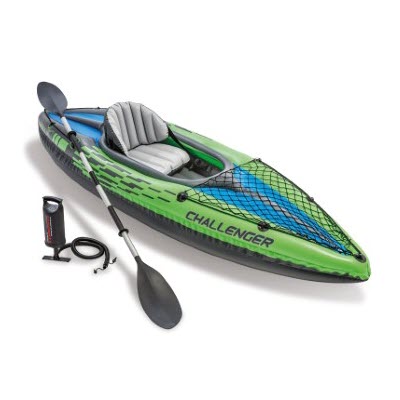 Is money tight? Then the Intex Challenger K1 is a superb choice. This inflatable yak is light as a feather and easy to put together. Plus, it's available in a tandem version in case you'd like to bring company along.
Pelican Sentinel 100X Sit On Top Kayak
For a beginner kayak with cutting-edge features, you can't go wrong with the Pelican Sentinel 100X. Its 31-inch width means it has excellent stability. And thanks to its short length, it turns very easily as well. A great option.
---
PeacefulPaddle.com is reader supported. If you make a purchase after clicking a link, I may earn a commission at no additional cost to you.
How to Buy the Best Beginner Kayak for You
Beyond simple product recommendations, I want to provide some insight based on my experience to help you select the best kayak for you and how you plan to use it. Like most things in life, there isn't a single "one-size-fits-all" approach to buying a kayak.
Sure, there are some good models that will work well for most people, but everyone is unique. So, my goal in this article is to help you know what to look for (and what to avoid) to purchase the perfect first kayak.
Let's get into it!
What to Look For When Buying a Kayak as a Novice
The main points you should consider when buying beginner kayaks are:
Types of Kayaks and Their Applications
There's a wide range of kayaks on the market. Their applications range from occasional recreational paddling to vigorous whitewater rafting.
So, in this next section, you'll find a detailed breakdown of different types of kayaks based on their design and intended application.
DESIGN
Sit-on-Top Kayaks
As the name suggests, this type of kayak contains a seat on top. This means the paddler sits above the water's surface.
Here are the pros of this kayak design:
Quick entry and exit – since this vessel has an open cockpit, it's incredibly easy to enter and exit. This is a particularly important feature for beginners.
It means that if you ever lose your balance and fall overboard, you can climb onto the vessel with ease. This feature is also helpful if you plan to get into the water to swim.
Self-bailing – another trait that's beneficial to newbie kayakers is the fact that it's self-bailing.
Put simply, sit-on-top yaks come fitted with scupper holes to drain any water that enters the vessels. With a sit-inside model, you'd have to empty the water manually.
Ample storage space – as a beginner, you're probably planning to carry several attachments to maximize your safety on the water. Fortunately, the open cockpit design of an SOT offers a ton of storage space.
Added weight – sit-on-top yaks are typically heavier than their sit-inside counterparts. Although this makes them difficult to transport, it also increases their primary stability.
Primary stability is the kayak's ability to remain steady when resting on flat water. This means SOTs are less likely to flip over, which is crucial for those with minimal paddling experience.
Limitations
Slow – as already mentioned, SOTs have ultra-wide decks. And while this improves their stability in calm water, it also makes them slower. Plus, navigating the wider hull calls for a longer paddle, which requires more effort to use.
Exposure to external elements – in a sit-on-top yak, you'll be sitting directly on top of the deck. Unfortunately, this leaves you completely exposed to the external elements, from water splashes to wind, sun to aquatic animals.
Sit-In Kayaks
This kayak is characterized by an enclosed cockpit that positions the paddler at or below the water's surface. Like SOTs, this vessel has its fair share of merits and demerits as described below:
Better secondary stability – one benefit of a sit-inside yak is that it has better secondary stability- a kayak's capability to remain stable when tipped on its side.
By positioning you below the water's surface, it lowers your center of gravity, which subsequently increases the secondary stability. So, how is this helpful to beginners? Well, this makes it easier to stay upright if you encounter choppy conditions.
Maximum protection – with a sit-on-top model, your entire body is exposed to external elements. As a result, you're more likely to get wet, especially when you're paddling in choppy waters.
Although this might be tolerable in warmer seasons, kayaking in cold weather is a different case. In fact, if you get wet when paddling in colder climates, you risk getting hypothermia.
Conversely, a sit-inside yak covers the entire half of your lower body. This minimizes the chances of getting wet.
Greater control – another advantage of this yak is that it offers greater paddling control. Depending on the design, you'll be able to brace your knees against the interior walls of the hull.
As a result, you're able to deliver more power into your strokes through the knees while also maintaining excellent control of the yak overall.
Faster – if you're looking for speed, then a sit-inside yak is the best choice. This kayak is typically narrow, enabling it to slice through water effortlessly, which means that it will travel faster.
Another benefit that stems from the narrow design of this yak is the fact that it can be paddled with a shorter paddle. Using a shorter paddle helps you save quite a bit of energy.
Limitations
Feeling of confinement – the enclosed design of a sit-inside yak can make you feel confined. This isn't necessarily a deal-breaker.
But, if this is your first time in the water, it can exacerbate your fear of kayaking. Moreover, the enclosed cockpit is more difficult to exit and reenter, which be catastrophic if you fall overboard.
Limited primary stability – the lightweight and narrow profiles of sit-in kayaks reduces their initial stability. So, if you're kayaking in calm water, you might find it difficult to keep the vessel steady.
Not self-bailing – unlike SOTs, this kayak doesn't have scupper holes. This means that if water enters the vessel, you'll have to remove it manually using a bilge pump.
Less onboard storage – the enclosed cockpit in a sit-in yak occupies a significant amount of space. As a result, there's less space for gear storage.
Which Kayak Design Is Best for Beginners?
As a beginner, you might be wondering which kayak design works best for you. The truth is, you can choose either one based on your needs and preferences.
If you don't want to feel confined, then a sit-on-top yak offers greater freedom of movement. However, if you'd rather have maximum control of the vessel, consider a sit-inside option.
At the same time, consider the water conditions of the area you'll be paddling. Beginner kayaks are further classified into four based on their applications:
APPLICATION
Recreational Kayaks
Have you ever rented a kayak for the purpose of exploring a river or lake? If you have, there's a good chance that it was a recreational kayak.
This vessel is wide and short, featuring an average length of 10 feet. This length means that it moves at a rather leisurely pace.
However, it provides a ton of stability, which is crucial when you're going for short trips through flat water. Recreational yaks are generally suitable for:
Slow-moving rivers
Lakes
Quarries
Ponds
A recreational sit-on-top kayak would be perfect for a beginner. Its wide, open cockpit means that you won't feel confined.
Plus, most of these yaks are spacious enough to accommodate a toddler or pet. Granted, these vessels track poorly.
However, they're easy for newbie paddlers to steer.
Touring Kayaks
Touring kayaks are popularly referred to as sea kayaks, as they're used primarily in open water. Compared to the standard recreational yaks, the touring models tend to have a much sleeker look.
More importantly, they're narrow and long, averaging a minimum length of 12 feet. This gives them speed while also enabling them to cover longer distances faster.
Another distinct of touring yaks entails their compact cockpits. The good thing about this design is that a paddler can easily use their hips and thighs to roll it over in case they capsize.
Overall, these kayaks are best suited for:
Multi-day excursions
Ocean trails
River racing
This is the perfect vessel to use when you want to explore a vast body of water. If you live close to the sea, a big lake or river, you'll get extensive use from this type of kayak.
That said, I wouldn't recommend touring kayaks to beginners. They present a steeper learning curve than other kayak types.
Whitewater Kayaks
As the name implies, whitewater kayaks are designed specifically for whitewater rafting. Whitewater yaks fall within four categories: creek boats, playboats, river runners, and long boats.
Playboats are the shortest, averaging just 6 feet in length. Although they're suitable for standing waves and holes in rapids, they're not designed for rafting down rivers.
For the latter, you need a river runner which is a tad longer than a playboat.
You should get a creek boat if you're planning to take on drops and waterfalls. They are longer and sturdier than river runners.
Materials and Weight
Once you've established the type of kayak to buy, the next thing you should do is examine the material.
Here's the deal. The material dictates the kayak's weight, which impacts its ease of use.
If you buy a very heavy kayak, you'll struggle hoisting it onto your car roof and getting it up to speed.
This will also limit the amount of gear you can bring on your trip. Here's a breakdown of the most common materials used in kayak construction:
Polyethylene plastic – nearly all entry-level yaks are made of this material, and for good reasons. It's cheap and somewhat durable, especially when it comes to abrasion resistance. However, kayaks made of polyethyethylene are quite heavy and prone to degrading with prolonged sunlight exposure.
ABS plastic – this material has a slight edge over the polyethylene plastic. It's lighter and offers a modest amount of UV resistance. Taking these benefits into account, it's not surprising that ABS kayaks cost slighly more than their polyethylene counterparts.
Composites – these yaks are made of materials, such as fiberglass, carbon fiber, aramid fiber or a combination of synthetic fabrics. These composite materials are not only more durable but also lighter. These traits make them an attractive option for beginners. Unfortunately, the composite construction also drives up their cost, making them the most expensive option.
Weight Capacity
Another factor to pay attention to when buying a beginner kayak is its carrying capacity. Also known as weight limit, it determines how much weight the kayak can support without sinking.
The easiest way to figure this out is to work backwards. In other words, add the weight of your paddling gear to your individual weight.
Then, look for a kayak capable of supporting more than the combined weight you found. The rule of thumb is to get a kayak that accommodates at least 25% more than the combined weight.
Size
Last but not least, check the size of the kayak before purchasing. Specifically, you'll want to pay attention to its length and width.
When it comes to width, wider kayaks offer better stability than narrower ones. However, a kayak with an overly wide deck can also be challenging to paddle, especially for newbies.
To get the best of both worlds – easy maneuverability and stability – aim for a width of 26 to 32 inches.
As for length, this depends on how much gear you plan to carry, the storage space available, and speed.
Longer kayaks can cover a long distance in a shorter time and accommodate more gear. However, they're bulkier, and require a bigger storage area.
Additional Features
Seat – you'll be spending a a considerable amount of time sitting. So, you'll want to get a kayak seat that offers maximum comfort. The best kayak seats have a mesh back for ample breathability and a padded sitting area to offer cushioning.
Skeg – although not mandatory, this is a nice feature to have in a beginner yak. It's a drop-down fin that keeps the vessel from going off-course when blown by strong winds.
Rudder – this long and narrow fin-shaped blade that serves a similar function of keeping your kayak moving straight. The only difference is that it's not limited to one spot. Its position can be readjusted regularly to help you steer the yak in a particular direction.
Tracking fin – like the skeg, this fin helps your kayak to travel in a straight line. However, it's not retractable. So you'll need to decide whether to install or leave it before you start paddling.
My List of the Best Beginner Kayaks This Year
Are you thinking of exploring some waterbodies in your forthcoming outdoor excursion? If you are, one of these beginner kayaks will come in handy. These yaks are stable, durable, and easy to navigate. And while their prices differ, the majority are cheap enough that any kayaking enthusiast can afford them.
---
As a beginner, you're probably eager to explore different areas using your brand new vessel. If this is what you have in mind, you'll want a versatile yak that can handle anything you throw at it.
The Wilderness Systems Pungo 120 fills this gap perfectly. That is why it's my Best Overall pick for the best kayak for beginners.
Its reasonably wide deck and long hull provide an excellent balance between speed and stability. Here's what to expect from this yak:
Size and Carrying Capacity
As the title implies, this beginner kayak is 12 feet long. This is a moderate length that works well for beginners.
It's not so long that it's difficult to carry. But it's also not so short that it compromises on speed.
Its 49-pound weight makes transporting this kayak a breeze.
Furthermore, the kayak can support up to 325 pounds, which is a pretty modest offering.
Maneuverability
The ease of maneuvering the Pungo 120 is the no.1 reason why I choose this kayak for beginners. The combination of a 12-foot length and V-shaped hull allow it to glide effortlessly at top speed.
And you don't have to worry about its stability either. The 29-inch wide hull and low-profile seat provide a decent balance of primary and secondary stability.
This really comes in handy for individuals who don't have a ton of kayaking experience.
Comfort
For first-time kayakers, comfort plays a key role in paddling efficiency. Thankfully, the Wilderness Systems Pungo 120 has several features for maximizing user comfort.
For one, the kayak seat has multiple adjustment points. This allows you to position it in the best angle so that you have ample leg room.
Two, this kayak has thigh pads, guaranteeing a comfy ride for your feet and legs. The adjustable foot pegs also contribute to this kayak's comfort.
Storage Space
As is the case with sit-inside kayaks, the Pungo 120 has rather limited storage onboard. It has a watertight hatch that's about 9.5 inches wide and 15.5 inches long.
My greatest concern is the oblong shape of the hatch as it limits the nature of items you can put in it. On the brighter side, there's extra storage space right behind the seat along with an on-deck bungee area for securing additional gear.
WILDERNESS SYSTEMS PUNGO 120 SPECIFICATIONS
| | |
| --- | --- |
| Length | 12 ft. |
| Width | 29 in. |
| Weight | 49 lbs. |
| Carrying Capacity | 325 lbs. |
| Hull Material | Polyethylene (PE) |
| Type of Vessel | Hard-shell |
12-foot length and V-shaped hull offer impressive tracking and speed
Adjustable seat to maximize paddler's comfort
Footpegs are easy to adjust
Easy to paddle
Carrying capacity could be more
Lowly-positioned kayak seat increases risk of taking in water
Most Important Take-Away: If you're looking to buy a well-rounded kayak, the Wilderness Systems Pungo 120 won't disappoint. Featuring a V-shaped hull and 12-foot length, it glides and tracks exceptionally well. Plus, it's relatively stable so you don't have to worry about capsizing in your yak.
Where to Buy Wilderness Systems Pungo 120
You can purchase this product at the following retailers:
---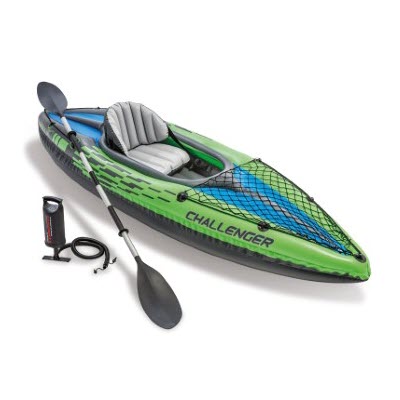 Two of the most important features to look for in a beginner kayak are portability and affordability. The Intex Challenger K1 checks both of these boxes and then some.
It's priced at less than $200, which is one reason it's my Best Value pick for the best kayak for beginners.
And thanks to the inflatable design, transporting it is a piece of cake. Here's a more in-depth look at the features that make the K1 ideal for newbies.
Design and Setup
One thing that sets this kayak apart, it's the inflatable design that makes it super easy to transport. Once you finish kayaking, all you have to do is deflate it then pack in the included carrying bag.
Since it weighs a measly 23.9 pounds, you'll find it very easy to carry around. No need for a kayak cart or trolley.
It's easy to set up this inflatable vessel as it comes with a hi-output pump.
Simply remove the kayak from the carrying bag, unfold it and inflate the chambers to anything between 1 and 3 PSI.
Even if this is your first time inflating a kayak, the entire process won't take you more than 5 minutes.
When fully inflated, the kayak is 2 feet 6 inches wide and 9 feet long.
Maneuverability
When it comes to maneuverability, the Intex Challenger K1 delivers a modest performance.
Its 2.6-foot width makes it somewhat stable. And thanks to the addition of a removable skeg, it tracks relatively well.
But because it has a much shorter length, this kayak won't be winning any racing competitions.
It's also not designed for choppy water conditions. So, be mindful of the areas you choose to explore in the K1.
Comfort and Storage Space
Given its low price, you'd think that it doesn't offer as much comfort as higher-priced models.
Contrary to this, the Intex Challenger K1 offers unmatched comfort. The inflatable kayak seat is oversized and adjustable, enabling you to get into a comfortable paddling position.
Better yet, the cockpit is quite spacious, and this translates to ample legroom even for taller paddlers.
The best kayaks offer sufficient storage space onboard, allowing you to carry all the gear you need for your trip. Intex achieves this by incorporating a cargo area at the front and a rear accessory line.
The front compartment has a bungee cord to help you secure your items. Plus, it's positioned close to the kayak seat, giving you quick access to anything you need.
That said, this kayak isn't designed for long kayaking trips. Since it's just 9 feet long, the storage compartments aren't as roomy as those found on longer kayaks.
Besides, its weight limit is rated as 220 pounds, which leaves little wiggle room for your paddling gear.
INTEX CHALLENGER K1 KAYAK SPECIFICATIONS
| | |
| --- | --- |
| Length | 9 ft. |
| Width | 2.6 ft. |
| Weight | 23.9 lbs. |
| Carrying Capacity | 220 lbs. |
| Hull Material | PVC |
| Type of Vessel | Inflatable |
Equipped with a detachable skeg for easy tracking
Constructed with two air chambers for maximum buoyancy
Lightweight and compact; hence, easy to carry and store
Comes with its own pump for a quick and easy setup
Maintains modest stability
Affordable
Not designed for rough conditions
Most Important Take-Away: If you're looking for a beginner kayak that's fairly priced, the Intex Challenger K1 Kayak fits the bill.
Going for less than $200, it's the most affordable option with a decent selection of features. Although it has a smaller carrying capacity, it's stable, it tracks well, and it's easy to control in flat water conditions.
Where to Buy Intex Challenger K1 Kayak
You can purchase this product at the following retailers:
---
If you're searching for a kayak that has all the bells and whistles, the Pelican Sentinel 100X is it. Whether it's storage space, comfort, stability or durability, this vessel has it all. Here's a comprehensive review of this yak's features:
Design and Size
Like the Intex Challenger K1, this one also comes in multiple colors. You'll get to choose from Night Wave, Turquoise, Neptune EXO and Fade Fireman.
Another thing I love about this kayak is its size. It's 9 feet long, which is a pretty decent size for a hard-shell kayak.
It means the kayak is compact enough to store in your yard without compromising on the amount of storage space available.
It short length also explains its lightweight profile. The Sentinel 100X tips the scales at 40 pounds.
Compared to other hard-shell kayaks, it's significantly lighter. That is why it is so easy to carry around by yourself.
Comfort and Storage Space
The Pelican Sentinel 100X is also revered for its comfort, and rightly so.
It's fitted with the manufacturer's proprietary ERGOLOUNGE seating system to offer paddlers unparalleled comfort. It achieves this by using extra-thick padding, a high backrest and seamless adjustments.
To add to this, the kayak's floor contains multiple scupper holes. These allow water to drain easily so that your feet remain dry and cozy. This also minimizes the risk of slipping on the deck.
Buyers will also love the fact that this kayak offers heaps of storage space. In the rear, you'll find one big tank well complete with bungee straps to secure your gear.
Another storage area can be found at the bow. This one is much smaller but still roomy enough to hold a dry bag. Lastly, there's a molded-in cup holder, handy for keeping your water bottle close.
Stability
One other feature that sets this kayak from the crowd is its remarkable stability. Pelican has incorporated a double-arched, multi-chine hull to maximize the vessel's stability.
What this means is that there are two deep channels that run along the length of the kayak's underside. This design makes the hull more stable, which is a particularly welcome feature for beginners.
PELICAN SENTINEL 100X SIT ON TOP KAYAK SPECIFICATIONS
| | |
| --- | --- |
| Length | 9.5 ft. |
| Width | 30 in. |
| Weight | 42 lbs. |
| Carrying Capacity | 300 lbs. |
| Hull Material | RAM-X |
| Type of Vessel | Hard-shell |
Lightweight and compact profile makes for easy portability and storage
Has scupper holes for easy water drainage
ERGOLOUNGE seating system provides maximum comfort
Double-arched multi-chine hull makes the kayak super stable
Not suitable for open water
Most Important Take-Away: The Pelican Sentinel 100X checks most of the boxes of what beginners look for in kayaks. It has a double-arched multi-chine hull that guarantees maximum stability. Meanwhile, the ErgoLounge seating systems ensures that you're comfortable- which is helpful for those long paddling sessions. To top it all off, it has a mid-range price, making it affordable for the majority of buyers.
Where to Buy Pelican Sentinel 100X Kayak
You can purchase this product at the following retailers:
---
Since their invention, pedal kayaks have always been pricey with the majority costing upwards of $2,000. In recent years though, cheaper options have become available, which means even newbies can afford them.
The Perception Crank 10 is a good case in point. With a price tag that hovers around the $1,600 mark, it's among the cheapest pedal yaks. Here's a closer look at its features:
Design and Construction
If you're big on color, you'll be pleased to learn that the Crank 10 comes in three choices: Déjà vu, Dapper and Sunset. Whichever one you pick, you can rest easy knowing that you're investing in a sturdy vessel. The polyethylene build makes this kayak virtually indestructible.
Stability and Maneuverability
The Crank 10's ease of maneuvering is one of the key reasons that makes it fit for beginners. Its 10-foot length makes it super easy to control while enabling it to turn on a dime. Meanwhile, the 35-inch width delivers unmatched stability.
The one-handed rudder control is another feature that contributes to the kayak's easy maneuverability. It ensures that it doesn't go off course, regardless of the conditions you encounter.
However, the greatest highlight of the Perception Crank 10 is the Pilot Drive pedal system. Designed with ease-of-use in mind, this helps you reach top speed of 10 mph.
What I love about this pedal system is the fact that it offers a completely hands-free operation. You can go in reverse and forward directions while engaging in other activities, such as fishing.
Storage Space
Another feature that's sure to impress beginners is the amount of storage space. It has a massive tank well in the rear that is spacious enough to hold a crate, cooler or tackle box.
You can also put your gear in the bungee-rigged cargo area in the front and the side-positioned paddle parks.
Moreover, Perception incorporated two solo mount recesses. These are handy for attaching extra equipment – like a fish finder – without having to drill into the kayak.
PERCEPTION CRANK 10 SIT ON TOP PEDAL KAYAK SPECIFICATIONS
| | |
| --- | --- |
| Length | 10 ft. |
| Width | 35 in. |
| Weight | 87 lbs |
| Carrying Capacity | 350 lbs. |
| Hull Material | Polyethylene |
| Type of Vessel | Hard-shell |
Pedal drive makes for easy navigation
10-foot length makes the yak fast and agile
Heaps of storage space, including two solo mount recesses
Extra-wide deck for optimal stability
No video tutorials on how to install the pedal drive
Pedal drive makes the kayak heavy; hence, difficult to transport
Most Important Take-Away: If you want a beginner kayak that will help you reach your destination fast, the Perception Crank 10 is your best bet. It's equipped with a pedal drive that's not only easy to install but also use. Also, despite what you might expect, it's not as highly-priced as other pedal kayaks.
Where to Buy Perception Crank 10
You can purchase this product at the following retailers:
---
Although you can use just any kayak for fishing, it's better to buy one tailored for this particular activity. That's because fishing kayaks offer increased stability, more storage space and higher carrying capacities.
If you're planning to go kayak fishing in your new vessel, the Lifetime Tamarack Angler 100 will be perfect. It's chock full of features that are beneficial to anglers. However, it's still easy to maneuver and suitable for beginners. Here's what to expect from this beginner kayak for anglers.
Design
This kayak's design means that it will make your kayak fishing experience easier and more enjoyable.
Also, it has a stylish yet functional camo color that blends in well with the natural environment.
Another advantage of this kayak is its modest size. It's 10 feet long, 31 inches wide, with a weight of about 52 pounds.
Granted, it's heavier than some of the kayaks reviewed earlier. However, it comes fitted with four carry handles to make portability a little bit easier.
You'll find these handles on the bow, stern and one on either side.
I particularly like the side handles, which double up as handholds in case you fall overboard.
Water Performance
Kayak fishing involves a ton of movement. You'll be standing on the deck frequently as you cast your fishing line or reel in fish.
Thankfully, the Lifetime Angler 100 is designed to offer maximum stability. It achieves this in two ways.
For one, it has an ultra-wide 31-inch deck that improves the initial/primary stability. Secondly, it has very well-rounded edges at the section where the bottom intersects with the side of the kayak.
The edges help to soften the transition, so the water can roll more smoothly underneath.
The result is a kayak with impeccable secondary stability.
Storage Space
If you plan to use your kayak for fishing, you need way more storage space than a standard model can offer.
Fortunately, the Lifetime Tamarack Angler 100 excels in this area. It has two storage compartments in the middle and front.
Each of these is 6 inches in size, offering a decent amount of space to store your gear.
The paddlekeeper is another welcome feature for anglers. It serves as a safe spot to store your paddle as you engage in your fishing activities.
The only drawback is its 275-pound carrying capacity. While this might be sufficient for novice anglers looking to catch small fish species, it's not enough for advanced anglers looking to catch bigger fish.
LIFETIME TAMARACK ANGLER 100 FISHING KAYAK SPECIFICATIONS
| | |
| --- | --- |
| Length | 10 ft. |
| Width | 31 in. |
| Weight | 52 lbs. |
| Carrying Capacity | 275 lbs. |
| Hull Material | Polyethylene |
| Type of Vessel | Hard-shell |
Wide deck and rounded edges provide a great balance of primary and secondary stability
Multiple storage units, including a paddlekeeper
Camo color blends in nicely with outdoor settings
Carry handles for easy portability
Carrying capacity could be higher
Most Important Take-Away: If you're searching for a fishing kayak suitable for novice anglers, the Lifetime Tamarack Angler 100 is an excellent choice. Its rounded edges and wide deck provide a ton of stability. This means that you can stand comfortably on the deck and cast your line without worrying about tipping over.
Where to Buy Lifetime Tamarack Angler 100 Fishing Kayak
You can purchase this product at the following retailers:
---
Frequently Asked Questions About Buying Kayaks for Beginners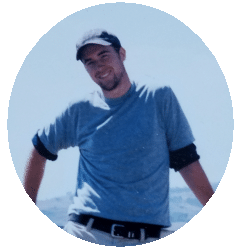 If this is your first time purchasing a kayak, you probably have a couple of questions lingering in your mind.
That's normal!
In this next section, I'll share my thoughts and answers to frequently asked questions about beginner kayaks.
Hopefully, this will put you at ease and help you make an informed decision as you purchase your first kayak.
Let's dig in:
What type of kayak is best for beginners?
Sit-on-top kayaks are the most recommended for beginners. They have wide decks that not only provide better stability but also increased freedom of movement.
That said, it's important to consider the type of activity you'll be using the kayak for.
For instance, a recreational yak is great for casual exploration that lasts for a couple of hours. But if you're planning a multi-day kayaking trip, you should consider a touring kayak.
How much should you spend on your first kayak?
The cost of beginner kayaks varies widely depending on factors, such as brand, type and intended application.
So, it's best to figure out your ideal budget and needs, and then work from there.
Are you just looking for a basic kayak without many bells and whistles? You may be able to spend as little as $200.
On the other hand, if you'd like the convenient, hands-free operation offered by pedal kayaks, expect to spend at least $1,500.
Is kayaking difficult for beginners?
Like any watersport, kayaking has a learning curve. However, if you're just going on calm waters, you won't find it difficult to learn how to kayak.
You should take a kayaking course from a professional instructor to get you started with this watersport.
The most important part of learning to kayak is understanding paddling. The paddling motion is what propels the kayak forward. Your instructor will teach you the forward stroke and sweep stroke.
You should take a kayaking course to learn how to enter and exit the kayak in case it capsizes, as well as safety tips.
Which kayak is easiest to paddle?
In most cases, sit-on-top kayaks are easier to paddle than sit-inside models. That is because the former have wider decks, and this can make it easier to move around and paddle.
As a beginner, you should get a basic recreational kayak with ample width, which will give you the best stability. This is important because beginners need a kayak that will stay stable even when they're still learning how to paddle.
Make sure that you get a paddle that is long enough for your specific kayak.