Just imagine the ambient sounds of water racing past rocks and obstacles, chauffeuring you down a river on your adventure, cool water splashing on your skin. You and your companions are bracing unpredictable currents to conquer the white water. Excited yet? Keep reading to discover the best white water rafting in the US.
White water rafting is a great team-building opportunity that gets your adrenaline flowing. The summer is the best time to take part in this exhilarating water sport.
So, maybe it's time to grab a few friends and embark on an unforgettable adventure. But where to?
A bit like real estate, white water rafting is all about location, location, and location. Well, preparation and knowledge are vital, too. But today, location will be our focus.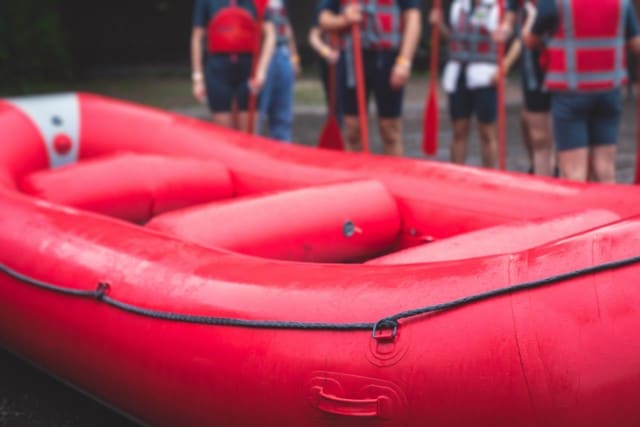 Well, there are hundreds of places all over the United States to go white water rafting.
But I'm going to narrow down that list to the best locations. I'll also talk about the ideal time to visit, and what you can expect from the experience. But first, here's some information you need to know about white water rafting.
What is White Water Rafting?
As you probably know (since you're looking for the best locations to go rafting in the US), whitewater rafting is a super-fun recreational sport where groups of four to eight people use paddles to guide an inflatable raft down a trail of whitewater. The course is usually a river or stream with rapidly moving water and obstacles, such as rocks.
So, why is it called whitewater rafting? Well, white water is a river characterized by shallow but fast-moving stretches of water known as rapids.
The rapids gush against obstacles, trapping air in the water and thus forming unstable currents that froth, making the water appear white.
White Water Rafting Safety Precautions
Whitewater rafting is great exercise and can help relieve stress. It's also wonderful for bonding with friends and family, as well as for helping you build confidence and make amazing memories.
But there are certain steps you need to take in order to stay safe while white water rafting. You must have the right equipment and know what safety precautions to take.
As well as the raft and a paddle, each rafter requires a helmet, a properly fitting PFD (personal floatation device) lifejacket, a wetsuit for thermal insulation, a waterproof jacket, a dry bag, and other optional equipment.
In addition, you should follow safety precautions, such as:
Hold the paddle correctly – You don't want to lose your paddle midstream, so ensure you use the guide's recommendations to hold the paddle.
Learn proper swimming techniques – Whether you fall out of the raft accidentally or jump in the river for the thrill, applying the appropriate swimming techniques is vital. Therefore, take a few swim lessons specifically for white water rafting.
Listen to your guide – If you go rafting with a guide, listen to everything they say and participate as they suggest.
Finally, you should plan ahead, understand the cost of white water rafting, and make sure that your trip is organized and relaxed by preparing what you need in advance.
What to Consider When Choosing a White Water Rafting Location
You have to choose the right white water rafting location if you want to have a good time, stay safe, and stay within budget out on the rapids.
Below I'll list the essential factors to consider when deciding on the ideal white water rafting location.
River Class or Difficulty – Remember the white water you'll be navigating? Rapids are categorized into classes based on their speed, vigor, and how difficult it would be to raft through them. There are six rapid classes. Class I has few rapids, small waves, and minimal obstructions. On the other hand, Class VI has the most rapids, difficult routes, and large waves. Consider your crew's experience when picking a difficulty level. The maximum difficulty is for experts, so start with the lower classes if you are a beginner.
Weather and Water Level – The water level and weather can impact the difficulty and overall experience. Some rivers may be too high for rafting, so call ahead to confirm. In addition, some locations close the rafting season during certain months because temperatures are too low.
Experience and Fitness Levels – Experience and fitness help you decide the river class to embark on. Higher classes require better physical fitness, endurance, and expertise in rafting through challenging routes. Rafting requires coordination and endurance, so if your group has little experience, you are better off with the lower classes. In addition, if you do not exercise regularly, consider lower classes for a more enjoyable experience.
Duration – Consider the length of the trip, as locations have varied trip lengths. Some only provide a few hours, while others offer multi-day adventures. Choose a spot that fits your preferences and schedule.
Accessibility – Is your rafting location far? Do you have transportation to get there? Will you have sufficient accommodation if it is an overnight trip? Consider the accessibility of the site to ensure it accommodates your budget and schedule.
Budget – While you can't put a price on fun, setting a budget is a good idea. Consider the rafting cost inclusive of renting equipment, a guide, accessories, transportation, and additional expenses.
Minimum requirements – Some rafting locations have minimum weight and age restrictions for participants. Therefore, you should review the requirements and ensure your group meets them fully before booking a trip.
Facilities – Finally, you should look up the availability of amenities and facilities the rafting location or company offers. Ensure you have access to bare minimums such as changing rooms and restrooms.
Top White Water Rafting Locations in the US
Here's a list of what I consider to be the best locations to go white water rafting in America.
Colorado River, Arizona/Utah
The southwestern part of the United States plays permanent host to the Colorado River. The river has shaped life, facilitating exceptional population growth and agricultural development. The river also offers boatloads of fun through the fast-moving waters.
White water rafting on the 1,450 miles of white water is a bucket list item for adventure enthusiasts. The primary appeal of whitewater rafting on the Colorado River is the proximity to the Grand Canyon.
The full Canyon trip usually starts at Lee's Ferry and ends at Diamond Creek. Depending on the trip's length, some rafting companies may end it at Pearce Ferry.
Expect to explore about 225 miles of the Colorado River in Class I to Class V waters. Most rafting companies stretch the trip over more than a week, so you can explore the canyon at a leisurely pace.
Multi-colored rock walls, rock layers, ancient cliffs, and stunning rock formations will surround you. Also, the riverbanks and canyons are home to diverse ecosystems. You may see Condors, Mule Deer, and Bighorn Sheep.
Canyonlands National Park in Utah also provides a renowned whitewater rafting section called the Cataract Canyon. The trail is moderately challenging but promises an adventure ideal for the whole crew. The trip lasts about six days, with the first half consisting of scenic flatwater stretches.
The Cataract Canyon trail offers towering red rock cliffs, breathtaking canyons, and awe-inspiring sandstone formations. If lucky, you may encounter diverse wildlife and nature, including various bird species, bighorn sheep, cacti, and wildflowers.
Gauley River, West Virginia
West Virginia is home to the Gauley River within the Appalachian Mountains. The river flows through the Gauley River National Recreation Area.
It is a rugged, picturesque area promising spectacular landscapes and breathtaking views. Most rafters start their journey here.
The Gauley River is a whitewater rafting location separated into two sections, Upper and Lower Gauley. The Upper Gauley section is the most popular, best known for the challenging Class IV and V rapids.
The Big Five Rapids, consisting of Lost Paddle, Iron Ring, and Pillow Rock, are notorious for rigorous waters with multiple obstacles. That means that they demand precise navigation.
The rapids drop you over 335 feet in a little under 12 miles, promising a truly thrilling experience. These rapids make the Gauley River a world-class whitewater rafting destination.
On the other hand, Lower Gauley is legendary in its own way, with impressive scenery and the benefit of fewer tourists. It is ideal for Class III to V rafters who enjoy exploring remote areas. The section has numerous rapids, including Back Ender, Chainsaw, Fuzzy Box of Kittens, Junkyard, and Rocky Top.
Gauley River is one of the unique locations renowned for a fall rafting season. Why? The waters are most challenging between September and October per the Summersville Dam control.
The controlled waters draw in enthusiasts and thrill seekers. Therefore, you can expect fall foliage in the lush forests against picturesque rocky cliffs.
Most rafting experiences on the Gauley River last four to eight hours, with access to experienced guides.
Salmon River, Idaho
The Salmon River is a stunning location with a diverse ecosystem that attracts visitors every rafting season. The iconic river presents two sections for rafting, Middle Fork and the Main Salmon River.
The Middle Fork Salmon River trip puts you on a 3000 feet descent, exploring the surrounding area. Most trips last six days, allowing you to enjoy the sights and learn more about the surroundings.
The journey passes through the Frank Church River of No Return Wilderness, promising a pristine, quiet rafting experience. You will see natural hot springs like Sunflower, Loon Creek, and Sheepeater.
In addition, you may encounter wildlife such as mule deer, river otters, bald eagles, and Rocky Mountain bighorn sheep. Finally, the Middle Fork presents evidence of Native American cultures through pictographs and petroglyphs.
On the other hand, the Main Salmon River trip floats you along 80 miles of the beautiful river. The classic 'pool and drop' trip takes you through multiple Class III rapids, followed by tranquil waters.
Most trips along the Main Salmon River take six days, so you will enjoy the comfort of white sandy beaches along the camps. In addition, the trip is perfect for swimmers, offering numerous swimming holes characterized by enchantingly clear waters.
Expect to see black bears, otters, and a variety of bird species. Native American cultures have a deep link to the river, so you may see signs of their presence, making the trip a historical and cultural exploration.
Chattooga River, Georgia/South Carolina
The famous and scenic Chattooga River flows along the border of South Carolina and Georgia in the southeastern part of the US. The river is a National Wild and Scenic River, protected and preserved for future generations.
Chattooga first gained significant fame and recognition thanks to the 1972 film 'Deliverance.' The John Boorman film shares the story of four urban men on a weekend canoeing trip in Northern Georgia.
While the Chattooga River was an unpaid actor, the film's release brought it into the spotlight, popularizing it as a must-go destination for outdoor adventurists.
Today, whitewater enthusiasts visit the location for the exhilarating Class III and IV rapids. Section III has the Class III rapids such as Bull Sluice and Ravens Chute. Section III is an adrenaline-pumping experience characterized by swirling currents and dramatic drops.
The section is ideal for family trips and groups of any skill level. The trip lasts four to seven hours and gives you access to swimming holes to celebrate your victory.
Section IV has Class IV rapids, including the famous Five Falls, a sequence of five rapids stretching over 1/3rd of a mile along the river. Even the most seasoned rafters admit that the section is an incredible challenge.
Arkansas River, Colorado
Yes, the Arkansas River starts in Colorado, just North of Buena Vista, plunging over 5,000 feet in the first 125 miles. This beautiful section is where you can enjoy gentle to vigorous rapids.
The river has multiple popular whitewater rafting sections, including Bighorn Sheep Canyon, Numbers, Browns Canyon, and Royal Gorge.
Browns Canyon presents family-friendly experiences suitable for beginners and experienced rafters. The canyon promises picturesque views of surrounding rock formations and mountains.
The rapids spread throughout the section allowing ample enjoyment, minimal effort, and aesthetic pictures.
On the other hand, Royal Gorge presents dramatic and narrow canyon walls towering up to 1,000 feet above the river. You will experience the huge Class IV and V rapids while enjoying the beautiful scenery.
Rogue River, Oregon
The Rogue River attracts beginners because of the friendly Class II and III rapids.
The scenic iconic river presents stunning beauty characterized by abundant wildlife and lush forests. The river offers a wide range of rafting options divided into different sections.
The Upper Rogue River has Class II and III rapids that attract families and beginners. If you choose this section, expect stunning beauty against the views of Crater Lake National Park and surrounding mountains.
The Nugget Falls to Gold Hill section is perfect for intermediate rafters, presenting Class II and III rapids. Hellgate Canyon is best for thrill seekers, offering Class II to IV rapids and narrow, deep gorges. The section attracts people looking for half to full-day trips.
All rafting sections of the Rogue River offer scenic views of remote wilderness. You may spot wildlife such as black bears, eagles, deer, and river otters.
In addition, the river's emerald waters nourish the verdant vegetation on the river banks, creating a lush green corridor of Douglas firs, Ponderosa pines, and conifers.
New River, West Virginia
Virginia's New River attracts rafters from all over the nation for the New River Gorge. The premier destination promises an unforgettable adventure extended over multiple days.
You will venture within the New River Gorge National Park and Preserve, surrounded by over 70,000 acres of vegetation.
The river carves its way through ancient rock formations that are millions of years old. These rock formations are some of the most photographed across the globe.
In addition, the Gorge has deep canyons, cliffs, and diverse ecosystems. The rugged exciting rapids balance the Gorge's enchanting scenery for a mix of fun and wonder.
Expect mild to wild rapids catering to different skill levels. Class III to V whitewater rapids mean continuous waves, tight drops, and challenging maneuvers– everything you need for an adrenaline-pumping adventure!
Most rafting providers stretch the trips over multiple days, providing the opportunity to camp along the riverbanks. It is a truly unique and immersive outdoor experience.
Ocoee River, Tennessee
Last but in no way least, the Ocoee River is Tennessee's whitewater rafting jewel with Olympic history. You could say that the 1996 Summer Olympics gave the river international recognition.
The historic event put the river on the map, with spectators immensely impressed by the challenging rapids on the Middle Ocoee section. In addition, the Upper Ocoee's riverbed presented a narrow passage that required professional maneuvers.
Today, Middle and Upper Ocoee receive enthusiasts looking to raft as Olympians did in 1996. Middle Ocoee stretches for about half a day, where you can paddle through five miles of Class III and IV rapids such as Double Trouble, Powerhouse, Table Saw, and Broken Nose.
Expect stunning views of the Smoky Mountains and lush forests breaking through the gorges. Alternatively, you could sign up for a combination of Upper and Middle Ocoee, enjoying five extra miles of cascading Class III and IV rapids.
And if you truly want to immerse yourself in the experience, sign up for the readily available guided tours for insight into all the best routes and titbits about the scenery. After the 2022 fire, there is no time to visit the location than the present!
Final Observation: The Best White Water Rafting In The US
It's clear that the United States is a treasure trove of exciting and scenic whitewater rafting locations.
Each river offers unique features and experiences– from the breathtaking rapids of the Colorado River surrounded by the Grand Canyon to the Gauley River adventure made for experienced enthusiasts.
You could raft as the Olympians did along the Ocoee River or recreate your 'Deliverance' story along the protected Chattooga River. Whichever you choose, expect the rapids to mark an infinite memory of thrills, scenic landscapes, and lots of water fun!
And before you go, learn about what you should wear (and not wear) when going rafting.