Have you ever gone kayaking with your dog in tow? If you have, you probably had an exciting, even unforgettable experience. In fact, this is one of the best ways to bond with your furry friend while also enjoying the great outdoors. If you're looking for a kayak to use with your dog, you're in the right place. Keep scrolling to find my in-depth guide to shopping for the best kayaks for dogs.
Is this your first time kayaking with a canine? There are a few things you'll want to keep in mind. For starters, you'll need to train your dog and get your pooch water-ready. And of course, you'll need to buy a kayak that is suitable for dogs.
Ideally, this kayak should be stable, comfortable and capable of supporting both you and your pup. One kayak that checks these boxes and more, and my pick as the best kayak for dogs is the Pelican River Gorge 130X.
It comes in a gorgeous blue color, and it has a ton of space to accommodate you and your dog. But if you decide that this kayak isn't for you, there are other options to choose from.
---
My Favorite Kayaks for Dogs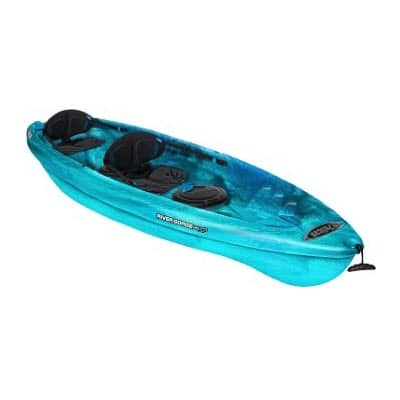 Pelican River Gorge 130X Tandem Kayak
The Pelican River Gorge 130X is a top choice for many dog lovers, and it's easy to see why. With a length of 13 feet and a weight limit of 500 pounds, it can accommodate any size of dog. It's also super comfortable and has a stunning design.
Driftsun Teton 120 Recreational Kayak
The Driftsun Teton 120 may be one of the most expensive yaks on my list, but, it's a kayak that will serve you for the long haul. The best part is the the extra seat that's been added specifically to accommodate your furry friend.
If you're looking for a kayak that won't break your bank, the Intex Explorer K2 is perfect. Despite the low price, it has a nice set of features that include a detachable skeg, high-end kayak seats and a sturdy build. Will handle abuse from most dog nails.
---
PeacefulPaddle.com is reader supported. If you make a purchase after clicking a link, I may earn a commission at no additional cost to you.
Before You Choose A Kayak for You and Your Dog
If you've been shopping for a while, you may have come across kayaks advertised as dog-friendly. However, only a handful of them are given the label "kayaks for dogs".
If you really want to find a kayak that's suitable for you and your fur buddy, you have to dive into the features of each one. This can be pretty intimidating, especially if you have no prior knowledge of 'yaks.
To help you make the right decision, below I've provided a detailed guide to the features you should look for. Let's dig in!
What to Look For When Buying Kayaks for Dogs
Here's a list of points to keep in mind when searching for the best kayaks for dogs:
Type of Kayak
Not every type of kayak is suitable for that expedition you're planning for your pup. The following breakdown will guide you on choosing the most suitable ones:
Solo vs. Tandem Yaks
Choosing between solo and tandem kayaks depends on the size of your dog.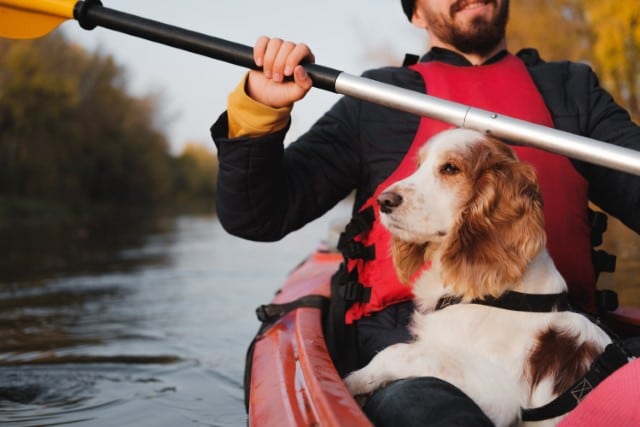 For large dog breeds like the Great Dane, Irish Wolfhound or German Shepherd, you're better off buying a tandem kayak.
This ensures that your dog has ample room to stretch and relax. This also puts them at ease.
Dogs can get scared and anxious if you put them in a confined cockpit.
Conversely, owners of small-to-medium size dog breeds can get away with a solo kayak. Just ensure that it has enough room to accommodate your pet and cargo.
Sit-Inside vs. Sit-on-Top Yaks
Another decision you'll have to make is choosing between sit-inside and sit-on-top kayaks. All factors considered, I find that sit-on-top kayaks are the best option for paddling with four-legged companions.
With a sit-on-top kayak, your canine friend can walk around without feeling restrained. Also, they can easily get into the water and hop back into the water.
Another thing I like about sit-on-top 'yaks is that most of them have scupper holes. This allows water to easily drain from the kayak's floor. So, you and your pup stay dry.
To add to this, these kayaks have better stability than their sit-inside kayaks.
Still, there are a few instances where a sit-inside kayak might be a better option. If your dog is small or timid, he might feel safer sitting inside the cockpit.
In this case, they can rest cozily on your lap or in the cavity by your feet. Some dogs will even be content to curl up in your kayak's storage compartment.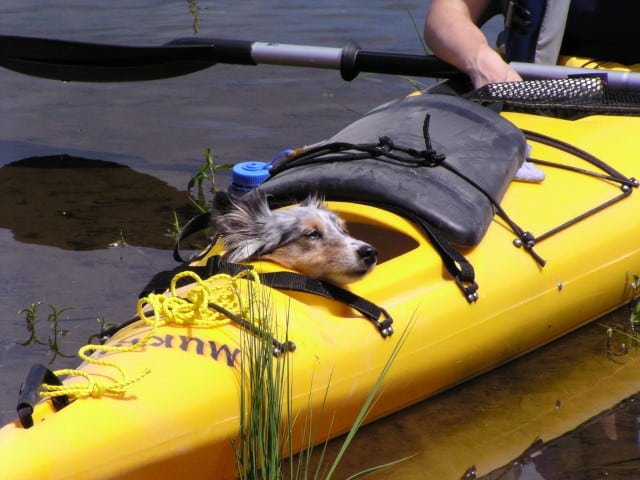 Remember, you should consider your pup's personality, breed and size before buying a kayak.
Carrying Capacity
Once you've figured out the type of kayak to buy, the next step is to examine the kayak weight limit. Think about how many individuals will accompany you on your kayaking trips.
Is it just you and your dog? If so, a tandem or solo 'yak with a 400-pound weight limit will suffice.
But if it's two adults and a dog, you should look for a 3-seater kayak with a much higher weight limit.
To make sure you and your pooch stay safe, make sure that you sum up your weight, your dog's weight, and the weight of all your gear. You need a kayak that can safely deal with all of this weight.
Mistakes to Avoid When Buying Kayaks for Dogs
There are certain mistakes you should avoid when buying a kayak that you'll want to use with your dog. I'll list them below.
Neglecting safety features
When buying a kayak for your dog, it's important that you invest in one that has safety features.
For instance, scupper holes help to drain water from the kayak's floor, ensuring that you and your pooch stay dry during your expedition.
On the same note, an anti-slip deck provides a stable platform where your dog can roam about without worrying about slipping and ending up in the water.
But just in case they fall into the water, ensure you have a life jacket to prevent them from drowning.
Choosing the wrong type of kayak
Earlier, I mentioned that a sit-on-top kayak is the best option when kayaking with dogs. However, there are certain types of 'yaks that you should steer clear from.
For instance, whitewater yaks are not suitable for these situations. They tend to be too short, meaning your dog will feel too confined.
Sea kayaks are also not as well suited for this activity. Although they fare well in open water, they are too narrow, providing just enough space for the paddler.
You should also consider the manufacturer. While kayak brand name isn't everything, the most ubiquitous and recognizable brands are usually popular for a reason.
My List of the Best Kayaks for Dogs
Ready to buy a brand new kayak for you and your dog? If you are, you should check out this list of top-rated yaks. Some are large enough to fit giant dog breeds, and yet others are a bit more compact and suitable for just medium breeds. With such a diverse selection, you're guaranteed of finding a 'yak that meets your needs. Let's dig in:
---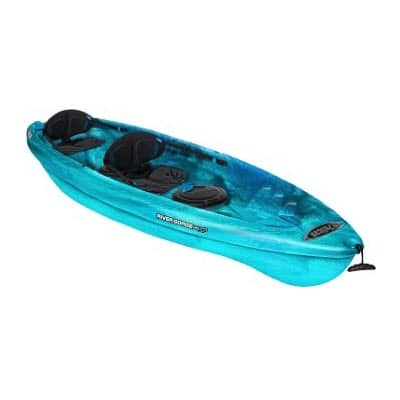 Your and your furry companion will enjoy kayaking in the Pelican River Gorge 130X. Boasting a RAM-X construction and multi-chine hull, this 'yak is not only durable but also extremely stable. Here are a few more reasons why I choose this as my top pick:
Construction
The first thing you'll notice is the sturdy build of this kayak. It gets this sturdiness from the RAM-X material – a special kind of polyethylene with a higher molecular weight. The result is a stiffer, more durable yak that's not overly heavy.
Also worth mentioning is the exceptional design of the hull. The duo-arched, multi-chine hull not only improves the kayak's stability but also provides an easy entry and exit.
Size and Storage Space
By now, you're probably wondering how big the River Gorge 130X is. Well, it's 13 feet long and 34 inches wide, which translates to a lot of space on the deck.
Essentially, there's enough room for your pup and all your gear. And since the kayak has a carrying capacity of 500 pounds, it can support a ton of weight without a hitch.
Furthermore, the storage compartment is one of the biggest on the market. It's a 4-inch dry hatch that comes complete with a storage bag and Quick Lock.
In addition, the kayak has a rear tankwell with bungee cords, two bottle holders and 4 eyelets to attach extra accessories.
Comfort
A deep dive into this kayak's features reveals that the manufacturer made user comfort a top consideration in its design. It comes fitted with the legendary ERGOFIT G2 seating system.
This simply means that each kayak seat has thicker than average padding, which provides better cushioning. Moreover, Pelican incorporated a third seat in the middle, providing a cozy seating area for your dog.
Safety
When you invest in the Pelican River Gorge 130XP, you can rest easy knowing that your dog is safe. This is thanks to the array of safety features onboard the kayak.
For instance, the kayak's floor has several scupper holes to drain water. This keeps you and your dog from sitting in a pool of water.
Secondly, the hull contains a floatation device to ensure the kayak always stays afloat.
PELICAN RIVER GORGE 130X TANDEM KAYAK SPECIFICATIONS
| | |
| --- | --- |
| Type | Hard-shell |
| Length | 13 ft. |
| Width | 34 in. |
| Carrying Capacity | 500 lbs. |
The hatch has a Quick Lock to keep your items secure
The mult-chine hull provides exceptional stability
The ErgoFit G2 systsme provides utmost comfort
Has an extra seat for pets
More expensive than other kayaks
Most Important Take-Away: If you're looking for a kayak that is feature-packed, the Pelican River Gorge 130X is it. For storage, you'll have access to a 4-inch dry hatch with a Quick Lock, as well as four accessory eyelets and bottle holders. Meanwhile, the ErgoFit seating system provides a ton of comfort thanks to its thick padding. Also, there's even a molded-in seat for your pup.
Where to Buy Pelican River Gorge 130X
You can purchase this product at the following retailers:
---
Looking to invest in a kayak that has cutting-edge features? If so, the Driftsun Teton 120 is exactly what you need. Even though it comes with a hefty price tag, it's worth every penny. Here's a closer look at the features that set it apart:
Design
Are you a dog owner who's particular about the design of your watercrafts? If so, you'll love the Teton 120, as it comes in three color choices: blue/ white, green/blue and pink/white.
Aesthetics aside, this kayak's size is the primary reason why I recommend it to dog owners. Its 12-foot length and 500-pound weight capacity means it can accommodate one adult and a dog of any size.
Important to note though is that it weighs a whopping 72 pounds, which makes it a tad difficult to carry. The manufacturer makes up for this by providing four carrying handles.
Although it's still on the heavy side of things, this is a kayak that can comfortably support you, your dog, and all your paddling gear.
Durability and Storage
Once you invest in this kayak, you'll never have to worry about durability issues. It's constructed using rotomolded polyethylene.
Factor in the single-piece design and you have a kayak that's almost indestructible.
Yet another feature that makes this kayak unique is the heaps of storage space. From watertight storage hatches to rod holders, cup holders and a bungee storage unit, the Teton 120 has it all.
This means you can keep your paddling/ fishing gear in one hatch and your dog's gear in another.
DRIFTSUN TETON 120 RECREATIONAL KAYAK SPECIFICATIONS
| | |
| --- | --- |
| Type | Hard-shell |
| Length | 12 ft. |
| Width | 32 in. |
| Carrying Capacity | 500 lbs. |
Rotomolded polyethylene build for optimal durability
High carrying capacity makes it suitable for any size of dog
Multiple storage compartments
Has 4 carry handles for easier portability
Heavy; hence, difficult to carry
Most Important Take-Away: For a kayak that has the best features, you can't go wrong with the Driftsun Teton 120. Measuring 12 feet by 32 inches, it's spacious enough for your furry friend. Also, thanks to the assortment of storage areas, you'll have ample space to store your dog's treats, toys and more.
Where to Buy Driftsun Teton 120
You can purchase this product at the following retailers:
---
Just because you're buying a kayak for your dog doesn't mean that you have to spend a fortune. There are a couple of affordable kayaks suitable for these pets, and the Explorer K2 is a good case in point. Here's a more detailed look at its features:
Size and Carrying Capacity
One thing I love about the Explorer K2 is its compact structure. When fully inflated, it measures 10 feet 3 inches by 3 feet by 1 foot 8 inches. This makes it fairly easier to maneuver. However, Intex recommends using this kayak only on small water bodies.
Despite its compact size, this kayak has enough space to fit two. In fact, it comes with two seats, meaning there's enough space for you and your dog. Just be careful not to exceed the 400-pound weight limit.
Setup
The Explorer K2 is an inflatable kayak, which means it needs to be inflated and deflated after use. Thankfully, the manufacturer provides everything you need for its setup, that is, a manual and an electric pump.
The only thing that I have a problem with is the position of the floor valve. It's a bit difficult to access as the side tubes usually inflate over it. For this reason, I'd recommend inflating the floor chamber first before moving to the side chambers.
Safety
I love that the Explorer K2 is designed with the user's safety in mind. First off, it comes in a bright yellow color that makes it easy to spot from a distance.
Secondly, it boasts a multiple chamber design. So, if the first chamber suffered a puncture, the 'yak would be kept afloat by the remaining chambers.
EXPLORER K2 KAYAK SPECIFICATIONS
| | |
| --- | --- |
| Type | Inflatable kayak |
| Length | 10.25 ft. |
| Width | 3 ft. |
| Carrying Capacity | 400 lbs. |
Inflatable design makes for easy portability and storage
Yellow color scheme and multiple chambers enhance its safety
Has both manual and electric pumps for easy inflation
Affordable
Comes with a repair patch kit for easier maintenance
Inflating the yak can be tricky due to the placement of the floor valve
Best suited for small water bodies
Most Important Take-Away: If you've been searching for a kayak that's suitable for dogs and also affordable, the Explorer K2 is the ultimate pick. An inflatable 'yak, the K2 has a modest carrying capacity of 400 pounds. Better yet, it's 3 feet wide, resulting in excellent stability.
Where to Buy Explorer K2 Kayak
You can purchase this product at the following retailers:
---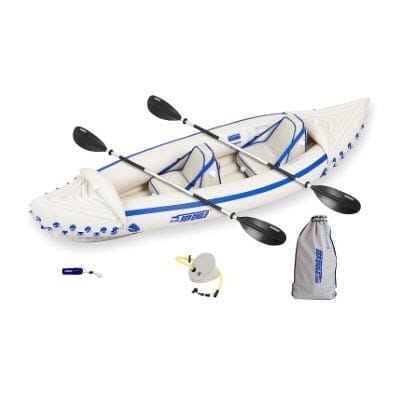 There's no denying that kayaking with dogs is fun. However, your furry friend won't be able to help you with much. They can't help you paddle or transport the kayak.
This is why most dog owners prefer inflatable 'yaks. Their ease of transportation and exceptional stability makes the perfectly-suited for such expeditions. The Sea Eagle SE330 is particularly great for kayaking with dogs. Here's why:
Design and Size
The SE330 is a kayak that's guaranteed to keep you and your dog safe. It consists of three independent air chambers known as the Starboard Side, Floor and Portside. This ensures that your kayak stays afloat even if one of the chambers gets punctured or damaged.
This kayak is just 10 feet long, which is relatively shorter than other tandem models. But since your paddling partner is a dog, this shouldn't be too big of a deal.
It would only be a problem if you were carrying another adult since they would need just as much as legroom. If it's just you and your dog, the space this kayak gives you will be enough.
Water Performance
The ideal kayak for a dog is not only spacious but also easy to handle. This way, you won't find yourself worrying about your dog's safety and paddling at the same time. Thankfully, the SE330 was designed with easy handling in mind.
Once inflated, it sits quite high in the water – a factor that helps it to stay afloat. Furthermore, the package includes two detachable skegs meant to be attached to the kayak's base.
The skegs ensure the kayak tracks in a straight line so that it doesn't drift off-course.
I also love the scupper hole this 'yak comes with. It drains water from the vessel so that you and your pup don't end up sitting in a pool of water.
Setup
Some inflatable kayaks come with vague instructions, which makes setting them up difficult. But this is not the case with the Sea Eagle SE330.
The instructions here are crystal-clear and straightforward. The manual even includes images to illustrate how each step is done. The icing on the cake is the foot pump that makes quick work of inflating your kayak with minimal effort.
The foot pump isn't the only accessory you'll find onboard. You will also find a pressure gauge, two-piece paddles and a carry bag.
The gauge helps you inflate the 'yak to the correct pressure. Meanwhile, the bag offers enough space to fit the deflated yak and all its accessories.
SEA EAGLE SE330 TWO PERSON INFLATABLE SPORT KAYAK SPECIFICATIONS
| | |
| --- | --- |
| Type | Inflatable |
| Length | 10 ft. |
| Width | 34 in. |
| Carrying Capacity | 500 lbs. |
Multiple chambers enhance its safety
Scupper hole helps to drain water hence keep you dry
Foot pump makes it easy to inflate the kayak
Comes with a carry bag for easy transportation
The two skegs improve tracking and speed
Lacks tie-down straps to secure cargo
Most Important Take-Away: Have you always wanted to buy an inflatable kayak? If so, the Sea Eagle SE330 is perfect for you and your canine buddy. It's roomy enough to accommodate your pup and it's made of several chambers, resulting in maximum safety.
Where to Buy Sea Eagle SE330 Inflatable Kayak
You can purchase this product at the following retailers:
---
Best for Medium-Size Breeds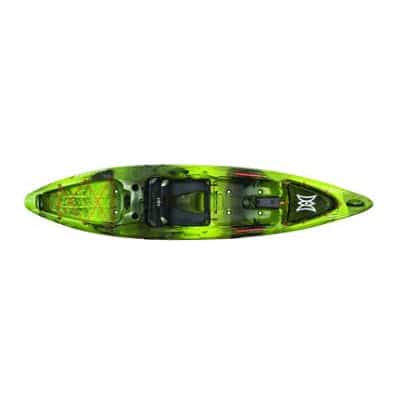 Do you own a small or medium-sized dog breed? If you do, there's no need to spend tons of money on a tandem kayak. A single, moderately-sized yak will suffice. The Perception Pescador Pro 12 fits this description to a tee.
It's not too big or too small. And since it's designed with anglers in mind, it provides a great balance between stability and storage space. Here's a comprehensive review of this kayak:
Size
One of the biggest selling points of the Pescador Pro 12 is the fact that it's spacious. Thanks to its 12-foot length, there's enough space for you and your pup to sit comfortably.
In fact, you can have your dog sit in the sunken area that's right in front of the seat. Speaking of the seat, it offers multiple points of adjustment to ensure you're always comfortable.
You'll be able to recline or erect it upright.
Storage Area
If you want a ton of storage space, I'd recommend removing the kayak seat entirely. But even if you keep the seat, there's plenty of space for storing gear.
These include a rear tankwell with a bungee cord for securing items, as well as a console at the front. The console is handy for rigging fishing equipment like fish finders and rod holders.
Although the kayak has several storage compartments, it has a smaller carrying capacity of 375 pounds. This is why I recommend it to owners of small or medium-sized dog breeds.
On the plus side, the hardshell vessel weighs just 64 pounds, which makes for easy portability.
Water Performance
The Pescador Pro 12 is not only spacious but also surprisingly easy to maneuver. The 32-inch wide beam and multi-chine hull result in exceptional secondary stability.
Plus, the hull is designed with long channels, and this feature improves its tracking significantly.
The fact that it's constructed with highly-durable polyethylene is another plus. It makes the kayak capable of withstanding choppy water conditions.
PERCEPTION PESCADOR PRO 12 SPECIFICATIONS
| | |
| --- | --- |
| Type | Hard-shell |
| Length | 10 ft. |
| Width | 32 in. |
| Carrying Capacity | 375 lbs. |
Sports a multi-chine hull design to improve stability
12-foot length results in enough sitting area for you and your dog
Polyethylene material provides a long-lasting performance
Hull design results in easy tracking
Narrow profile allows it to reach top speeds
The carrying capacity could be better
Most Important Take-Away: If you're planning to buy a single kayak, the Perception Pescador Pro is a great option. It's stable, tracks well, and travels faster than other kayaks. More importantly, it has a spacious cockpit to accommodate you and your pup.
Where to Buy Perception Pescador Pro 12
You can purchase this product at the following retailers:
---
If you own a giant dog breed, getting a bigger kayak is in your best interest. One kayak that meets this criterion is the Perception Rambler 13.5. It's heavy and large, providing a decent amount of space for your pup. Here are more details about this kayak.
Size
As you might have guessed from the description, this kayak's enormous size is its biggest selling point. It's 13.5 feet long, resulting in a roomy cockpit and big storage compartments.
While this ensures that larger dogs can sit comfortably, it also contributes to the kayak's heavy weight. It tips the scales at 78 pounds, making it one of the heaviest yaks in this review.
Unfortunately, this means that you'll need help hoisting it onto your car's roof and when transporting it to the launching point.
On a more positive note, the Rambler 13.5 comes in two color choices dubbed 'dapper' and 'sunset'.
The color scheme isn't necessarily a deal breaker. However, kayakers who are big on design will love being able to choose their preferred color.
Comfort
I like that the Perception Rambler 13.5 is designed with pets or kids in mind. Being a tandem kayak, it comes with the standard two kayak seats.
However, the manufacturer takes things up a notch by providing a third molded-in seat – perfect for your pooch.
As if that's not enough, the 'yak has a large storage compartment in the rear, which comes complete with a bungee cord to secure your gear. Just be careful not to exceed the recommended weight limit of 550 pounds.
Safety
Are you worried about your dog's safety when you're out on the water? Well, you don't have to with the Rambler 13.5 kayak as it has several safety features.
First off, the kayak constitutes a one-piece roto-molded design, making it extremely durable. This enables the kayak to hold up well against different water conditions.
Secondly, it's fitted with up to six scupper holes to prevent water from pooling inside. It also has a pretty wide deck, which enhances its stability.
Lastly, the kayak has built-in buoyancy to ensure that it always remains afloat.
PERCEPTION RAMBLER 13.5 SPECIFICATIONS
| | |
| --- | --- |
| Type | Hard-shell |
| Length | 13.5 ft. |
| Width | 34 in. |
| Carrying Capacity | 550 lbs. |
The one-piece design and built-in buoyancy guarantee maximum safety
Has a molded-in seat specially designed for your dog
Scupper holes allow for easy water drainage
Offers a large storage compartment in the rear
Backed by a 5-year warranty
Large and heavy; hence difficult to transport and store
Most Important Take-Away: If you're looking for a kayak that can accommodate a large dog, the Perception Rambler 13.5 is a great fit. Measuring 13.5 feet long and 34 inches wide, this kayak has plenty of space for your dog as well as paddling/ fishing and hunting gear.
Where to Buy Perception Ramber 13.5
You can purchase this product at the following retailers:
---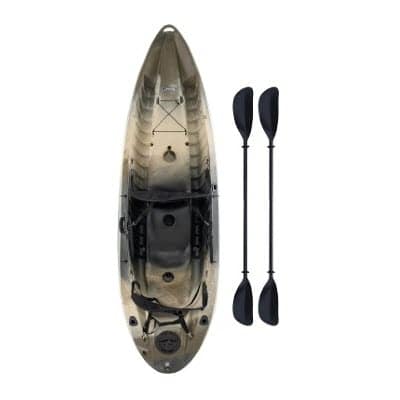 Are you looking for a kayak that would be ideal for fishing and still have ample space to accommodate your dog? If you are, you'll be hard-pressed to find anything better than the Lifetime Tandem Fishing Kayak, which is also my pick as the best tandem fishing kayak overall. Here are the features that make it unique:
Size
The moderate size of this kayak is one of its biggest selling points. Featuring a length of 10 feet, it's not too long to store in your home garage or workshop. This also makes it a little bit easier to transport by yourself.
Despite its compact structure, it still has plenty of space to accommodate you, your pup and all your fishing gear. It also helps that the vessel is rated for a maximum weight limit of 500 pounds.
Design
If you've gone kayak fishing before, then you know that you could end up being in the water for several hours.
Finding a suitable fishing spot and catching fish requires a ton of patience. Fortunately, the Lifetime Sport Fisher is thoughtfully designed so as to make your fishing experience a success. To be a little more specific, it has a tunnel hull design.
What this means is that it has two individual hulls placed parallel to each other and a solid section in the middle. This creates an ultra-stable platform where you can stand without worrying about tipping.
This is a really important feature for anglers as it allows them to fish from a standing position, giving them a better view of the water below. Your pooch will also feel safer sitting on a more stable deck.
This kayak also has an array of accessories that are useful to anglers. For instance, it has three fishing rod holders – ideal for keeping your fishing rods safe when they're not in use. The Lifetime kayak also has a big hatch in the rear for storing extra fishing gear.
LIFETIME 10 FOOT FISHING KAYAK SPECIFICATIONS
| | |
| --- | --- |
| Type | Hard-shell |
| Length | 10 ft. |
| Width | 36 in. |
| Carrying Capacity | 500 lbs. |
Tunnel hull provides maximum stability for fishing activities
Equipped with up to three fishing rod holders
Big rear hatch provides ample storage space
More compact than other yaks; hence, easy to store and transport
Doesn't track in a straight line
Paddles could be longer
Most Important Take-Away: If you like to go kayak fishing with your dog, the Lifetime Fishing Kayak is perfect for you. It has a tunnel hull that provides excellent stability when fishing. And thanks to the large hatch in the rear, you'll have ample space for your fishing gear.
Where to Buy Lifetime Tandem Fishing Kayak
You can purchase this product at the following retailers:
---
Frequently Asked Questions About Buying Kayaks for Dogs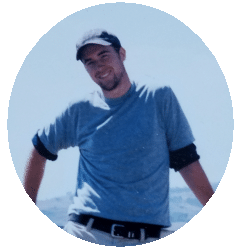 If you've been thinking about going kayaking with your dog, you probably have a couple of concerns. Is it even safe to kayak with your dog? If so, are there specific kayaks designed for dogs?
I have a lab, and the first time I tried to go fishing with him in the boat, he thought the first cast was an epic game of fetch and plunged into the water with typical Labrador Retriever gusto.
So yes, there are some things you can do to make sure your first experience (and every one thereafter) kayaking with your pup go smoothly and that you and your four-legged friend stay safe in the water.
To put your mind at ease, here are my thoughts and answers to some of the most commonly asked questions about kayaking with a dog in general, and more specifically about how to choose the best kayak for you and your pup.
What kayak is best for paddling with a dog?
If you're planning to kayak with your dog, you can't use just any kayak. The best yak should be roomy, comfortable and stable.
It should also be able to support your weight, your dog's weight and any extra gear you carry. I prefer sit-on-top kayaks when I take my dog, but a well-behaved or smaller dog may be comfortable in a recreational kayak with a storage hatch that offers sufficient room and a good level of comfort and security.
Is it safe to put my dog in a kayak?
Sure you can. But before you embark on your first kayaking trip, there are a couple of points you should keep in mind:
Practice on dry land
It took you a couple of trials to be comfortable kayaking. As such, you'll want to be patient with your dog as well.
Start by getting your dog familiarized with the 'yak while on dry land. Once your pooch feels comfortable, you can advance to water.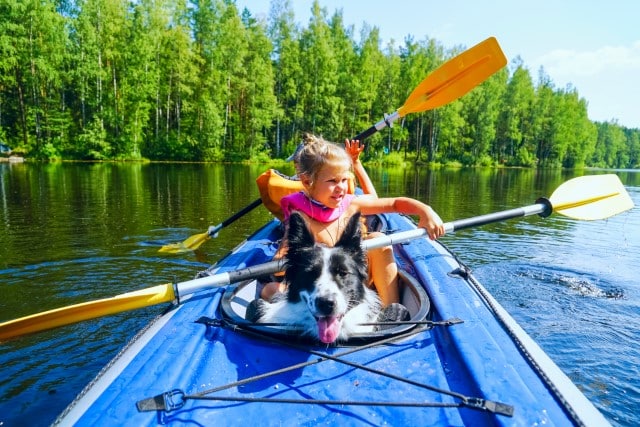 But even then, take the kayak to a pond or an area with still water before heading to open water.
Adhere to basic water safety
Kayaking is a thrilling activity. However, it can be equally risky if you ignore basic safety rules.
For instance, you should never go out on the water if there's a heavy downpour/ thunderstorm. And it goes without saying to never kayak under the influence.
Similarly, always keep an eye out of water boats and jet skis if you're kayaking in a multi-use water body. Last but not least, comply with both state and local regulations for paddling, fishing and using a dog leash.
Stock up on essentials
If you're planning to kayak with your dog, remember to carry all essential gear. You should have fresh drinking water for both you and your dog. For dogs that have light skin or short hair, sunscreen also comes in handy.
Also, don't forget to pack your dog's collar and leash. That said, this doesn't mean that you should tether your pup to the yak.
This can be catastrophic if the 'yak flips with your dog tether to it.
Are inflatable kayaks ok for dogs?
If you own an inflatable kayak, you might be wondering whether it's suitable for kayaking trips with dogs.
The answer is yes, if you have a high-quality modern inflatable kayak designed with durable materials. It needs to have excellent durability so it can withstand tearing and scratching from dogs' paws and toenails.
Besides, these types of kayaks tend to be more stable, comfortable and safe. These are some of the most important aspects to look for when buying a kayak for a dog.
What do I carry when kayaking with my dog?
If you're planning just a short kayaking trip, you don't need to carry a ton of gear.
In such cases, the most important items to pack are a bag of dog treats, life jacket, and fresh drinking water.
For longer trips, pack the following:
Lifejacket
Dog treats
Food in an airtight bowl
Dog leash
Waterproof dog toys
Bags for scooping
First Aid Kit
If you have a dog that loves to swim, make sure you take some time to get him or her into the water so he doesn't feel that he's missed out on all the fun.
Stop at a sand bar or beach and throw a ball or retrieving toy into the water. Not only will this make the trip fun for your pup, but it will tire him out for the ride home and he'll be better behaved.
How do I stop my dog from slipping on a kayak?
The easiest way to stop your dog from slipping on the kayak is by putting down a non-slip mat (I use and like this one on Amazon). Using a non-slip mat will make it much easier for your dog's paws to keep a good grip to the kayak floor.
It's also important to teach your dog basic commands before you even consider bringing them out onto the water. For example, you should teach your dog the "lay down" command.
You need to make sure that your dog will lie down on command for when the waters get a bit choppy. This will help stop them from slipping and potentially falling into the water, which can be a dangerous situation.
Can you take a small dog on a kayak?
Yes, you can take a small dog on a kayak. However, like with other dog sizes, it's crucial that you use safe practices when bringing your canine companion onto the water.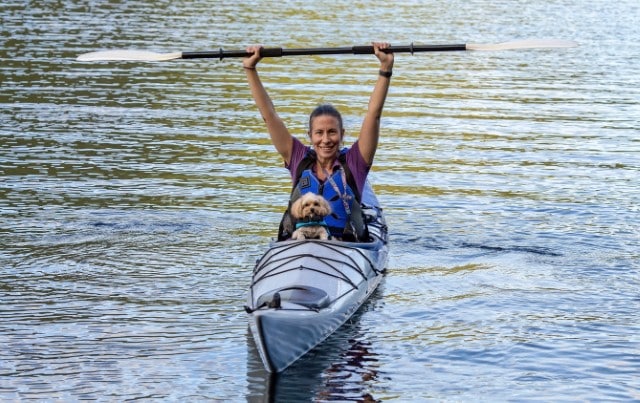 Of course, you must get an appropriately fitting PFD (personal floatation device) jacket for your dog. This is true for any size of dog, including a small dog.
You have to measure your dog to get the right measurements for their PFD. Check with your PFD retailer for the specific measurements they need.
You'll usually need to measure your dog's length, which extends between the shoulder blades and the base of the tail. Your dog's weight will also be important, so check out the chart on the manufacturer's site.
Of course, your pooch's girth will also be a key measurement.