Sea kayaking and river kayaking are two different activities that each require different qualities in a water craft. That is why there are kayaks designed specifically for each sport. When deciding on whether you want to get a sea kayak vs river kayak, you will need to know the characteristics of each.
It is important to learn which one will be best for you and to know how you plan to use your kayak. In this article, I'll compare sea kayaks vs river kayaks to help you determine which type of kayak is best for you.
Comparing Sea Kayaking to River Kayaking
Let's begin by taking a look at the different styles of paddling on oceans and rivers, and how the crafts differ to account for the different needs of each water environment.
What is River Kayaking?
River kayaking, of course, involves kayaking on a river. When you kayak on a river, you get the help of the flow of the water. This means that you won't have to paddle as much as you would if you were sea kayaking.
Be aware, though, that river kayaking is more challenging in another way. For example, if the river you're on has rapids, then the adrenaline is certain to start pumping. This is why you need to be a bit of an adventure seeker if you want to go river kayaking.
When river kayaking, you probably won't have to worry about all the water being rapids all the time. Usually there are stretches where the water is quite calm and you will have the opportunity to get a bit of relaxation.
What are River Kayaks Like?
A river kayak has a flatter and shorter hull than a sea kayak. This means that they are better able to move in a responsive and efficient way. When turning a river kayak, the weight distribution in the craft is very significant.
The maneuver of "edging" is less challenging in a river kayak than it is in a sea kayak. This is because you only have to lean into whatever direction you want to travel. Your river kayak should follow your movement.
It will probably take you longer to figure out how to properly distribute your weight and move effectively with river kayaks than with sea kayaks. It just takes practice, so give it time.
What are Sea Kayaks Like?
A sea kayak is longer and significantly narrower. This is what lets them track optimally. Oceans will typically have larger waves and strong tidal currents. Sea kayaks are meant to travel in a straight line to make paddling in these conditions easier.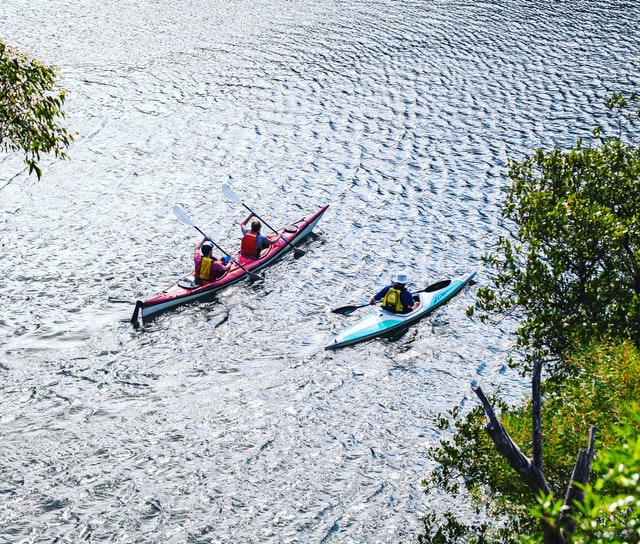 However, that straight track through the water is why they're more challenging to turn than river kayaks. You will travel faster when in a sea kayak but be aware that you may have to depend more on the movement of the waves and the wind.
While it may seem like your sea kayak feels more prone to instability than a river kayak, this is only because they're designed to deal with choppy water more effectively. A sea kayak is actually less likely to capsize if there are significant waves.
Sea kayaks have skegs or rudders. The skeg or rudder helps you maintain a straight line even when there is high wind. It also makes it easier for you to correct course when necessary. This is an important feature which makes a huge difference when paddling these kayaks, as without it the craft would be exhausting to turn in choppy water.
Should You Go With a Sea Kayak vs River Kayak?
The type of kayaking you choose to experience depends on what kind of experience you hope to have on the water. Where you live will also play a big role in what type of kayaking you'll enjoy with your new boat (you won't have easy access to the ocean if you live in Kansas).
Of course you can use a river kayak in the ocean, or a sea kayak in a river, but the paddling conditions will determine whether that's a reasonable decision, or whether that's more trouble than it's worth.
Pros and Cons of River & Sea Kayaks
When river kayaking, you probably won't have the time to leisurely admire your surroundings as you would when sea kayaking. This is because of the attention you must pay to the rapids, logs, trees, and the changing features of the water in order to stay safe.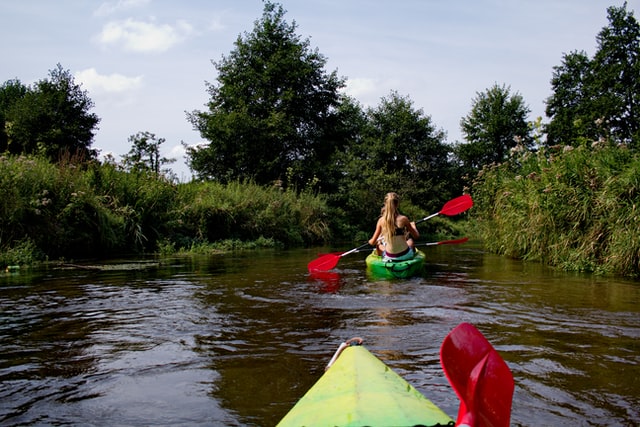 When you go sea kayaking, you have more of a chance to admire the surrounding landscape. You might even have the chance to see the wildlife that may be on the shore or in the water. Depending on where you are, you could come across marine life such as dolphins or even whales.
Another advantage of sea kayaking is the fact that you will probably have more of a chance to have breaks on quiet beaches where you can have a picnic and enjoy being with your companions.
If you love waterfalls and you're not afraid of turbulent waters (and you have the training to deal with them), then you will especially enjoy river kayaking on a variety of different rivers. Feeling yourself being guided with the flow of the river can be an almost transcendent experience, and paddling alone on a river can be extremely peaceful and meditative. It's something you can do almost anywhere.
Safety Concerns
There's some risk in any kayaking adventure. In the ocean you may be in deep water, far from land and that sea water may be cold. But in my experience going river kayaking means that you will have to keep up an especially high level of alertness. Obstructions, rapids, low-hanging branches and submerged tree limbs can all be dangerous.
No matter what kind of kayaking you choose to experience, whether it's sea kayaking vs river kayaking, you must ensure that you have the necessary training and take all the recommended safety precautions. Never take anything for granted, because kayaking can be dangerous if you're unprepared or unaware of your surroundings.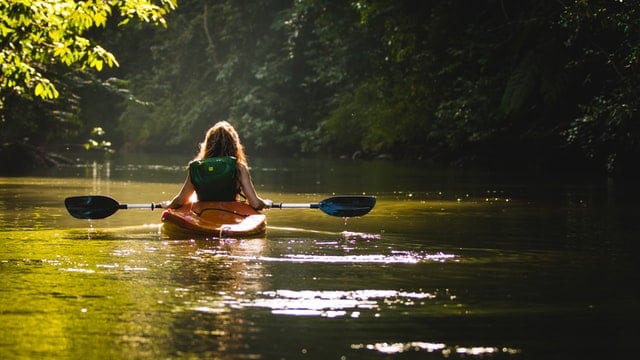 Ensure that you have all the necessary flotation devices and other equipment you will need in an emergency (for example, if you fall into the water). Ending up in the water can be especially hazardous in white water rapids, for obvious reasons, and in cold water due to hypothermia concerns. Even if you are an excellent swimmer, you could become trapped under the water or swept away from your kayak by the currents very quickly. Learn the kayak wet exit technique and practice it regularly in calm waters.  
If you're considering bringing the whole family on a kayaking adventure, taking all the recommended safety precautions becomes especially paramount.
Make sure that everyone is an excellent swimmer and has their life jacket / PFD on at all times. Do research on the additional safety tips for kids when kayaking. When kayaking with kids, it's best to stay on relatively calm waters.
The Life Jacket I Use and Recommend
In most states, wearing a life jacket or PFD is the law when you're out on the water.
If you're like me, you want a safe, effective PFD that doesn't limit your range of movement when paddling. That's why I highly recommend this one from Onyx. 
It offers great range of motion, can keep me afloat in the water (I'm 6'2″), and it is very comfortable.
PeacefulPaddle.com is reader supported. If you make a purchase after clicking a link, I may earn a commission at no additional cost to you.
My Experience
My first experience with a kayak was in a tandem sea kayak. I took part in a 21 day trip as a teenager which tracked along the coast of Maine, camping on uninhabited islands along the coast. It was a great way to paddle and explore a part of Maine I'd never seen up close and offered a unique understanding of the shoreline of the state where I'd grown up.
Since then I've used both solo sea kayaks and river kayaks, and if I had to buy one I'd probably choose a longer river kayak with foot peddles and a rudder. I have no desire to paddle in the open ocean waters, and feel that if I chose the right kayak from a reputable brand, with a hull design I'd have the option of kayaking the protected ocean bays here in Maine or the beautiful lakes and rivers. And once you've paddled with a skud, it's hard to go back.
Find Lessons with an Instructor or Guide
Before venturing out on the water with a sea kayak vs river kayak, make sure that you take some lessons with an instructor or guide so that you know how to paddle your kayak correctly and control your vessel.