Canoe trips are a wonderful way to experience the great outdoors. Even just a day or weekend trip can restore your peace of mind and help you feel more grounded and reconnected to the natural world. But a day in a canoe is more enjoyable if you're prepared and have packed everything you'll need. Here, I'll break down everything you need so you know exactly what to take on a day canoe trip.
What You Need for a One Day Canoe Trip
Beyond your sense of adventure, you'll need the basics. These include your canoe, paddles, life jacket, and other essential gear to keep you comfortable, safe, hydrated, and prepared for any spontaneous fun that may come your way.
Canoe and Paddle
As you probably already know, canoes are open, lightweight, and narrow boats with sharp ends that you maneuver by paddling. You'll need a canoe and paddles, but what's the best canoe for novice paddlers, and what sort of paddles should you plan on bringing?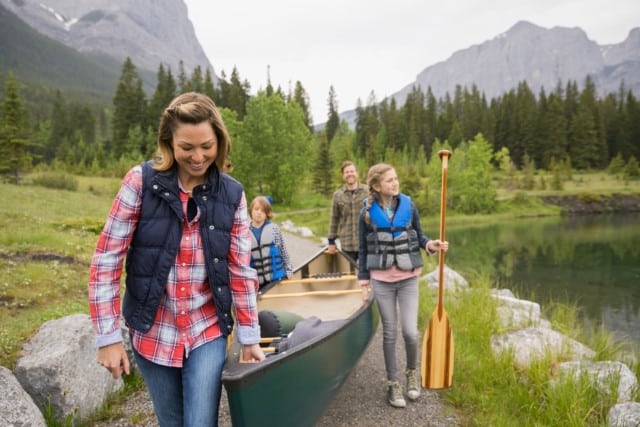 Every canoe tends to look the same for a beginner. But there are actually significant differences.
If you have limited space, every little thing you take counts.
There are numerous factors to think about when canoe shopping. Obviously, a major one is price.
Cheaper canoes will be heavy and harder to transport. They also aren't as easy to steer and maneuver in the water. As you move up in the price range, the canoes will be lighter and more durable, made of premium materials. 
Beginners should usually choose a wider and longer canoe, as it can carry large amounts of gear and other items. It also glides quite well compared to shorter ones.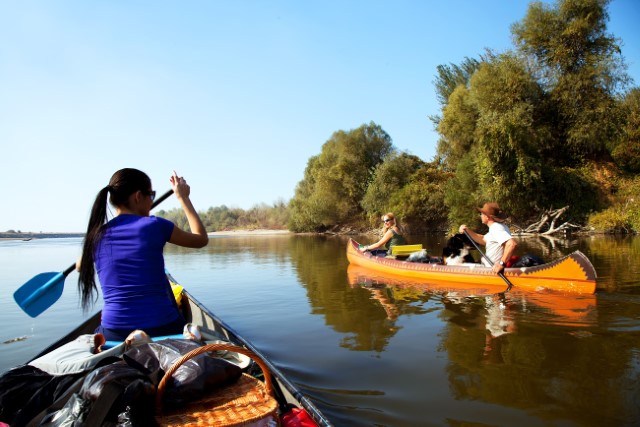 You will also want to make sure that you have secured an extra paddle, in case of an emergency.
I can remember taking a canoe trip with my family as a teenager and my dad dropped his paddle while entering some rapids. He was glad that he had another one on board as he was in the stern and was responsible for steering the canoe between rocks.
I prefer a wood, beaver-tail paddle, but for kids and beginners, a good aluminum and plastic paddle will be tough, lightweight, and work just fine.
Appropriate Clothing
You don't need the most expensive gear to have an awesome canoe day trip. The one thing that you should keep in mind when buying gear is that canoeing is a water sport.
Be prepared to get wet.
Since canoeing is wet, whatever you will take may also get wet. You should wear water-repellent and quick-drying clothing. Wearing layers of clothing allows you to easily adapt to changes in weather conditions. 
Fabric blends of at least 70% wool and polyester give at least 30+ protection UPF value. These types of clothing are waterproof and can protect you from ultraviolet rays that can damage your skin.
For your feet, choose sturdy water shoes because you will be spending a lot of time in the water and rocks. An old pair of sneakers will do, just make sure it's a pair that you won't mind getting dirty.
Be sure to bring an extra sweatshirt, windbreaker, pair of socks, and even a raincoat or poncho in case of heavy rain. A lot of the time, you will be faced with unexpected chills or heavy rainfall and you want to be well prepared.
Safety Gear
Aside from the proper clothing, you will also want to make sure your safety needs are met. This means securing life jackets and other equipment to the canoe itself.
Personal Floating Device (PFD)
Your PFD is essential. This can be a life jacket, or a life preserver in your canoe. It is illegal in many places to paddle without a PFD.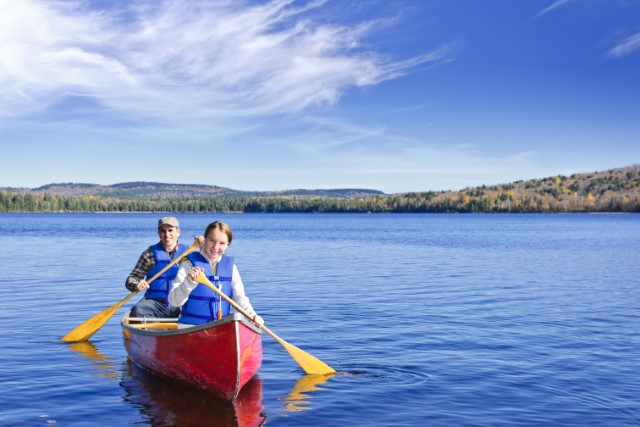 Make sure that you take enough PFDs to accommodate each person in the canoe. There are 5 classifications of PFD's, so make sure you have the right type for the type of activity you will be taking on.
The Life Jacket I Use and Recommend
In most states, wearing a life jacket or PFD is the law when you're out on the water.
If you're like me, you want a safe, effective PFD that doesn't limit your range of movement when paddling. That's why I highly recommend this one from Onyx. 
It offers great range of motion, can keep me afloat in the water (I'm 6'2″), and it is very comfortable.
PeacefulPaddle.com is reader supported. If you make a purchase after clicking a link, I may earn a commission at no additional cost to you.
Float Bags
Float bags are only required for white water canoes, and even then they're considered optional unless you're doing something super hardcore.
These bags are tied securely in place in the bow and stern and prevent the boat from sinking and flipping over. This is the same concept as with helmets, they are just required for white water canoes, and you probably only need them for extreme white water rapids classes.
Other Items You Should Take on a Day Trip in a Canoe
Let's talk about some other items you'll need for a pleasant day on the water.
Dry Bags
Since the odds of getting wet on a canoe day trip is high, make sure that you pack your things in some durable dry bags.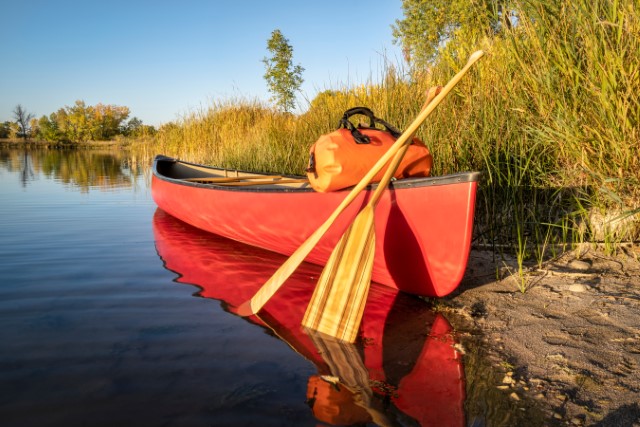 Dry bags have roll-top systems, meaning you need to fold the mouth of the bag and secure it with buckles. Don't fill them too full and roll the top down at least three times to make sure that the flaps are all nicely lined up.
Use different colors and sizes so that you can identify the bags separately. For example, your blue bag is for clothing, yellow is for the toiletries, and the red bag is for the first aid kit.
Don't forget to bring your signaling devices (like your whistle, mirror, or flares). You should also have a basic first aid kit, as well as an emergency floating throwline in case you run into any issues on the water.
Sun Protection
Safety also includes sun protection. Not protecting yourself from the sun's UV rays can have many negative effects in the long run. Here are the items that will help protect your from the sun:
Sunglasses
Sunglasses are essential for eye care and should be worn when taking on any and all activities under the sun. They help reduce glare and eyestrain, provide 100% UVA and UVB protection, improve comfort, give clearer sight and increase visibility through reflective surfaces.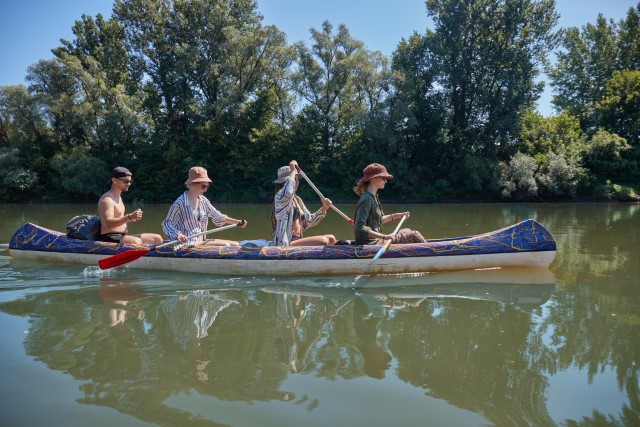 The last thing you want on a canoe trip is to have an unexpected collision because the sun got in your eyes.
Sun Hat
Wear a sun hat for extra protection around your face and neck. The most recommended sun hats are ones that are built with UPF 50 sun protection technology.
It will shield your skin from UVA and UVB rays.
SPF and Skin Protection
Sunblock will help you avoid sunburn, skin aging and skin cancer. This item will filter out ultraviolet rays.
An effective sunscreen protects our skin against both UVA and UVB radiation. Sunblock with SPF +15 or higher is the recommended minimum range to use.
Another way to protect your skin is by insect repellant. Nothing ruins a trip down the river faster than mosquitoes feasting on your flesh.
Mosquitoes can also be carriers of waterborne disease, so it is important to protect yourself in any way you can.
Food and Water
Packing food on your canoe day trip can be a challenge. Keeping food that can withstand the water and conditions is crucial.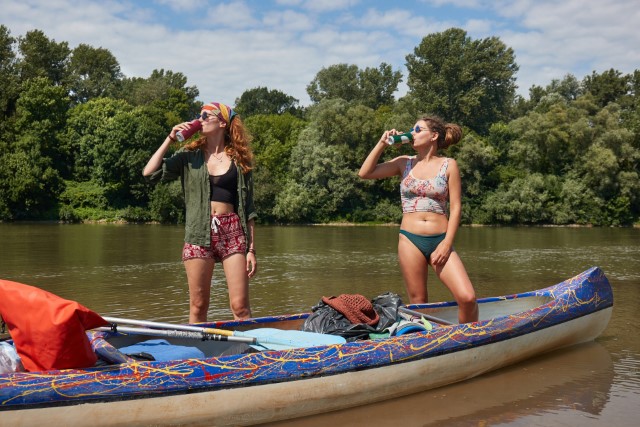 Bring foods that can stand up well to splashes. Examples are:
Bottled water
Individually wrapped snacks
Fruits and vegetables
If you'd like to bring foods like bread and crackers, put them in a dry bag to keep them safe on your trip.
Prepare for more meals instead of only one meal in the event of an unforeseen delay. This shouldn't take up much more space in your canoe.
Rental Equipment and Guides
If you are new to canoeing, you're probably going to consider renting a canoe and gear from a guide or an outfitter.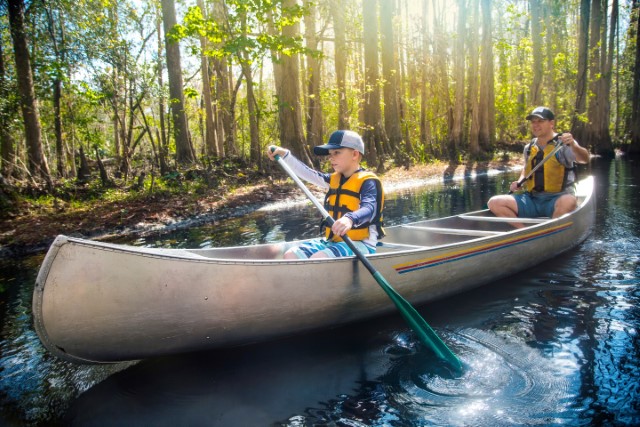 You can also enjoy your trip with a guide that offers packages. Packages often include items such as:
A professional guide
Travel permits
Necessary gear and equipment
Certain packages also include the meals that you need for a half-day trip or full day trip.
Gear can be found on a budget at thrift stores and outdoor gear swaps. It will cost you less than buying everything you need until you decide you are committed to a canoe-camping trip experience.
Final Thoughts on What to Take on a Day Canoe Trip
I know it sounds boring, but preparation is the most important part of your canoe trip.
If you're like me, you are keen to get out on the water!
But take it from someone who's learned the hard way: if you're not prepared, you won't have a good time. Even more significantly, you won't be safe.
You've learned about:
The right canoes and paddles
The clothing you should wear for canoeing
Safety gear to have so you stay secure
Other items to bring on your trip
Review what I've outlined here as you plan your canoeing adventure.
So, there you go! Enjoy the beauty of the sparkling water and great outdoors, and enjoy some bonding time with family and friends.