Paddle boarding is one of the fastest growing outdoor activities. However, many beginners have misconceptions about the sport. For example, they believe stand up paddle boarding is a purely summer activity for scorching days on waters that are warm. But as you gain experience you'll learn that no two days on the water are the same. Knowing what to wear paddle boarding in various weather conditions on different bodies of water is important.
If you're looking for recommendations on paddle boarding apparel, and what equipment you need to take and wear on a SUP in different weather conditions, I've got you covered.
In this article I'll answer those questions about clothing and gear recommendations for the various types of weather you might encounter while on a paddle board.
Needless to say, a windy and rainy day will quickly ruin your day out paddle boarding if you are in shorts and a t-shirt. Being prepared is your best defense against changing conditions and locations. Having the proper clothing is essential.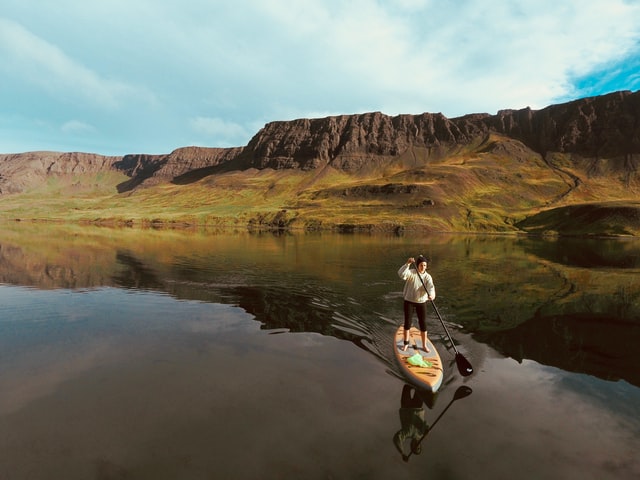 Yes, enjoying your SUP is a year-round activity (believe me, boarding on a mountain lake in cold fall conditions is a joy). If you want to get the best experience out of stand-up paddle boarding, you will need apparel for cold and hot weather.
Below is a list of clothes you should have, and the different outfits I recommend you bring for your next adventure on a SUP:
My Recommendations: What to Wear Paddle Boarding
Let's start with the basics and a must-have item:
Life Jackets are Essential!
Please ignore the people you see on beaches paddle boarding without a life jacket. Whether they are willing to accept it or not, they are putting their lives in danger. A proper USCG-approved life jacket is the most fundamental piece of equipment for the paddle boarder. It is also a legal requirement to have a life jacket because paddle boards are recognized as water going vessels by the US Coast Guard.
Let's be clear. A life jacket is something you may never need. But when you do need it, it's often the difference between life and death. Many types of life jackets are available, including inflatable options that are not as restrictive as standard vests. You will also be surprised by how streamlined and outright fashionable SUP life jackets have become in recent years.
Hot Weather Clothes for Paddle Boarding
For most people, and especially beginners, paddle boarding will be for those amazing hot summer days on the lake or beach. These are the days when the water is hot, and boarding seems without any dangers.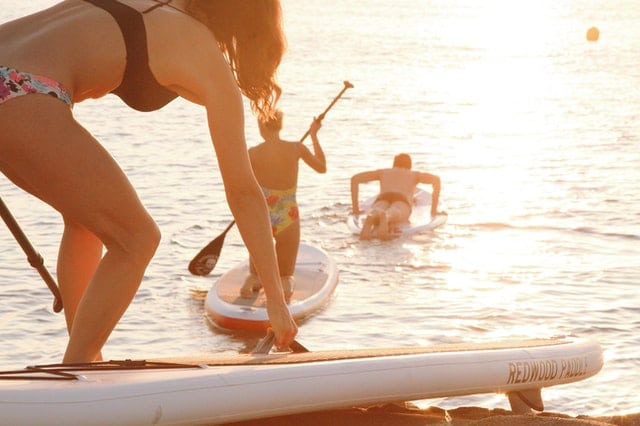 However, paddle boarding in the sun brings some clear risks. It's amazing that we all know that big ball of heat in the sky is dangerous, but so many of us choose to ignore it.
Firstly, clothing for paddle boarding in warm weather is meant to keep you as dry as possible without compromising movement. Thanks to the sun, a simple pair of board shorts or swimsuits for guys and gals, alongside a t-shirt, bikini, or rash vest is enough.
Avoid wearing any street clothes. They quickly become waterlogged and make your boarding a miserable experience.
Protect Yourself From the Sun
Everyone likes to top up their tan, but that sun beating down on you will soon destroy your skin. Sun burn is no fun, and you should always protect your skin from the heat of the sun. Waterproof sunscreen is hugely important when paddle boarding in the sun, and you should apply it liberally, including on your lips.
It is worth noting it does not need to be a hot day for the sun to do damage. Any conditions, hot or cold, windy, or calm, where the sun is out, you should apply waterproof sunscreen.
Footwear and Other Items
Footwear is something of a controversial subject in the world of paddle boarding. Some will say to always wear water shoes in any conditions. However, paddle boarding involves using the feel of your feet to stay upright and get the best experience. During summer months and on bodies of water that have safe bottoms, I recommend going barefoot. If you disagree, there is available footwear for paddle boarding in hot weather.
Lastly, you may want to carry some basic gear with you, such as your electronic devices, car keys, a sweater for when the sun goes down, and sunscreen. A dry bag is a cost-effective and functional way of keeping your gear dry. It's also incredibly easy to carry a dry bag with you.
Summer paddle board clothing basics for men
Boardshorts
Boardshorts combined with a t-shirt or rash vest
Sun hat
Sunglasses
Summer paddle board clothing basics for women
Bathing suit (bikini or one piece)
Waterproof shorts with a t-shirt or rash guard
Sun hat
Sunglasses
Cold Weather Clothes for Paddle Boarding
As mentioned, paddle boarding is an all-year activity that is just as enjoyable in the fall and winter. You may be heading to the lakes and seas for different reasons but paddling during cold weather is amazing if you find the right location. Needless to say, boarding during colder months brings some unique challenges compared to the summer.
Here's the deal, the colder the weather is, the thicker your wetsuit will need to be.
Yes, a wet suit.
If you are unfamiliar with wetsuits, they are surprisingly ingenious items of apparel. They trap a small layer of water between the outer layer of the suit and your skin. Your body heat will naturally warm this layer of water, keeping your body warm and stopping the cold water outside from entering.
For boarding in the summer, you don't really need to use a wet suit unless you want to. In the fall and winter, a wet suit is the most essential clothing to wear paddle boarding after the life jacket. Wet suit thickness shows how the suit stands up to cold conditions. The thicker the wetsuit the better it is at insulating you in colder waters and weather.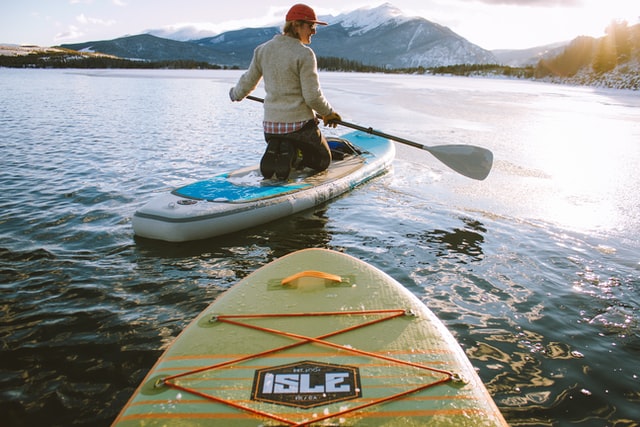 Because of this functionality, having a wetsuit that fits properly is an absolute must. If your wetsuit is too big and loose, water will enter through your sleeves, neckline, and other areas. Once the cold water is inside the suit and below the protective layer, you will be cold and have no way of warming back up… Your day of cold weather paddle boarding will be over.
Wetsuits are designed to trap a small portion of water between your skin and the inside of your suit. Your body heat warms this thin layer of cold water keeping you surprisingly warm even in the coldest water.
Wetsuits are available in 5 thickness levels. For the winters, you will need a wetsuit that is 6 mm thick and no thinner than 4 mm. It is worth remembering the thicker the suit the less movement you will have, but it's a compromise worth making. Of course, you can boost your protection against the cold by also using neoprene gloves and booties.
Other items from the summer list, such as sunglasses, sunscreen, a hat, and dry bag should also be a part of your cold weather gear.