Are you a new stand-up paddle board owner? If so, you are probably wondering how to store paddle boards securely to avoid damaging your new board. In this article, we will explore the most effective ways to store your paddle board and whether there are any specific concerns that you need to keep in mind about the storage of your new piece of equipment.
It's especially important to store your paddle board properly if you've made the investment into a higher quality board.
You will want to protect it from getting damaged, but there are a few different things you need to keep in mind that many new SUP owners overlook.
Remember that it's common for rigid stand-up paddle boards to be between 10 and 12 feet in length or even longer. This means that it's often best to plan how you will store your board before you buy it.
Paddle boards often weigh more than 20 pounds, and if you have young children you'll want a storage option that keeps your board secure to avoid injury (as well as board damage).
3 Key Reasons Your Paddle Board Needs Secure Storage
But why do you need to protect your paddle board? What do you need to protect it from?
Here are the three most common reasons paddle boards are damaged when stored improperly:
Moisture: Storing your paddle board in a wet environment could lead to mildew and mold. Your board's shell material could also be damaged.
Sunlight: Being constantly exposed to sunlight in its storage location can lead to discoloration of your board and damage to the shell.
Extreme heat: If you store your board somewhere that is very hot this could cause damage to the board's shell and the core materials.
Should You Store Your Paddle Board Indoors or Outdoors?
Whether you choose to store your paddle board indoors or outdoors depends on your preferences.
There are certain considerations to take into account with each option.
Let's go over those here:
How to Store Paddle Boards Outdoors
If you don't have any indoor space to store your paddle board, then you can store your equipment outside. If you do this, however, you must take specific precautions in order to keep your board protected. You could consider keeping it beneath a tarp that is strung up, under a roof's eaves, or beneath a deck.
When deciding on the outdoor storage space for your paddle board, you also need to think about protection from moisture and direct sunshine. It's essential that you don't allow snow and rain to get directly on your board. If you've put your paddle board underneath a tarp, ensure that the tarp itself won't become full of rain or snow. The pressure from this weight could damage the board.
How to Store Paddle Boards Inside
The ideal situation is one in which you're able to store your paddle board indoors. For example, you could keep it in a shed or garage. Keeping your paddle board indoors will offer superior protection from heat, moisture, and sun exposure. Some avid paddle boarders incorporate their paddle board into their living space. You can even use it as decoration!
Whether you store indoors or outdoors, you will also need to figure out whether you want to store your paddle board by leaning it, suspending it, or putting it on a rack. Leaning involves just putting it up against a wall. When you do this, you may put the board down on its tail or side. It's important that you never put it down nose-first.
Add a bit of padding of some kind to buffer between the floor and the board. This will help protect your board. Also use a wooden peg or a strap on each side of the board to secure it, so it doesn't fall down and become damaged that way.
What Storage Rack Do I Recommend?
While you can certainly build your own effective paddle board rack, I like this one on Amazon, which costs less than $70 and has rave reviews from pretty much everyone who buys it. It's a suspension rack, which keeps your board clear of the rack itself to prevent dings, damage or warping. It's easy to install and use – mine's in my garage and it's awesome.
How to Store Inflatable Paddle Boards
Do you have an inflatable paddle board? If you do, you can store your board in a partially inflated state.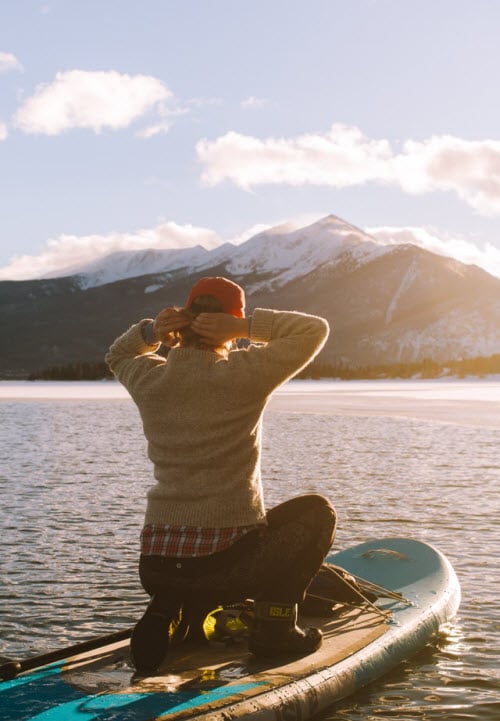 This should weigh about five pounds for every square inch. When you do this, you can store your inflatable paddle board in the same way you would store a rigid paddle board. This can also stop the inflatable board from ending up with deformations and creases you cannot smooth out.
If you're really short of space, you can completely deflate an inflatable paddle board. If you do this, follow the following tips:
How to Store an Inflatable Paddle Board Without Damaging It
Don't compress the board tightly (this means that you should roll it up loosely).
Ensure that the board is dry and clean.
Let the valve stay open.
Choose a dry and cool place for storage. An indoor location is the best choice.
Make sure the inflatable paddle board doesn't have any internal moisture.
Other Tips for Storing Your Paddle Board Safely
Below are some additional tips for how to store paddle boards:
Make Sure that Weight is Distributed Evenly
This is important because if there is uneven weight distribution, it can lead to the paddle board becoming deformed.
You need to keep the weight of the paddle board at points on its length to be supported properly. You can use wide nylon straps or a padded rack to accomplish this.
Provide Protection from UV Light
Spray a sun-protective solution on your paddle board. This will help to protect it from the damaging effects of sunlight while in storage and help your board to look great and last longer.
Make Sure Your Paddle Board is Clean Before Storing It
It's essential that your paddle board be pristine before you put it in storage.
To clean it, rinse it with some freshwater to get rid of grime, dirt, salt, and sand. You should cleanse your board with gentle soap and water twice a year. Never put strong chemicals or any kind of solvent on your board, as it could cause damage.
Your board should be completely dry before you store it.