Kayaking is an exhilarating sport which can also be incredible relaxing as well as a brilliant method of stress release! There are so many different variations and skill levels which make it impossible to get bored, and depending on your location in the world. You can even come in close contact with incredible wildlife such as seals and dolphins. If you are thinking about heading out on the water it's important to know what to wear kayaking and to pack smart so you stay comfortable and get the most out of your day.
Kayaking in Warm Weather
Most of us kayak during warmer weather, and there are a few pieces of clothing and equipment that are essential for comfort when paddling your kayak during the warm season.
These warm weather clothing items include:
PFD (Personal Floatation Device)
I know I sound like an over-protective parent here, but it has to be said. No matter how lovely the weather is or how shallow the water, you must always wear a life jacket.
Luckily for you, most water sports clubs that hire out equipment supply PFDs at no extra cost. If you're renting your kayak for the day, just ensure you call beforehand to confirm that they offer these services.
If you are buying one your own, the safest option is to ask a professional to help you. An ill-fitting life jacket can be almost as dangerous as not wearing one at all, so take the time to get this right. I use this one I ordered on Amazon. It offers great comfort and flotation, and runs true to size.
Lightweight Layers
If you don't own a wetsuit (don't sweat it, I don't either), then you ideally want to be dressed in lightweight, versatile layers that are quick-drying.
Avoid water-absorbing cotton at all costs and instead opt for nylon, fleece, polyester and neoprene blends. These cloth materials wick water away from your skin and dry quickly.
For example, you could wear a long sleeve polyester t-shirt under a lightweight fleece sweatshirt, with yoga pants or gym shorts. On your feet, wear sandals with adjustable straps to keep them secure in the event you capsize. Whatever layers you choose, only wear clothing you don't mind getting wet!
Finally, remember that no-matter how pleasant the weather is, the water is often icy cold (especially if you're sea kayaking) and if you happen to capsize, you are still at risk from hypothermia, even during the summer.
One of the most important safety tips I have is to be aware of your surroundings and if you think you could be in trouble in a given situation if the worst happens … avoid that situation.
Things can change quickly on the water, and your safety should always be top of mind.
UV Protection
We're all aware of the risks posed by harmful UV rays, but what novice paddlers often forget is that the reflection of UV rays from the water can significantly increase your chances of sun damage. It can also be blinding and severely impact your vision.
To avoid frying yourself alive, ALWAYS apply sunscreen to your face and any other areas of exposed skin, especially within the hours of 10am and 4pm when the sun is at its hottest. Often we apply sunscreen our face, the back of our neck, and our upper arms, but when you're kayaking you need to get the underside of your chin, arms, and other areas you might normally ignore safely. That reflection off the water can be a killer, so if you have exposed skin, cover it up — you'll be glad you did.
I also reccomend that you invest in polarized sunglasses. When my old fishing glasses broke I bought these cheap ones and they've lasted for years. I recommend them if you aren't sure what to buy.
Finally, I recommend that you wear a sun hat or polo cap. In a pinch a baseball cap will do.
Change of Clothes
It's a great idea to bring towels, a change of underwear, and dry comfortable clothes to warm your body up quickly after you get out of the water.
My personal choice of attire is athletic pants or loose fitting shorts, an over-sized baggy polyester t-shirt, and flip-flops. That way I'm dry and comfortable on the trip home.
Kayaking in Cold Weather
Kayaking in the colder months does have its own advantages, including avoiding the busy crowds at the beach and having the water practically all to yourself.
However, as the temperature drops, the risks rise, and knowing what to wear kayaking in cold waters is critically important.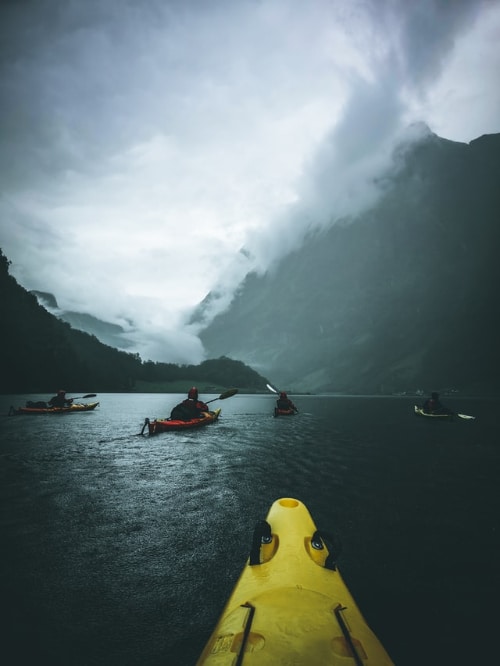 For this reason, I would only recommend participating in water sports during the winter if you are accompanied with an experienced instructor and you are dressed in the right gear.
To keep you and your loved ones safe, pack all of the items previously mentioned in the summer checklist, whilst also adding these essential pieces:
Wetsuit vs Drysuit
Due to the increased risk of cold shock and hypothermia, it is highly recommended that you purchase a wetsuit or drysuit to wear kayaking during the winter months.
There are a lot of mixed opinions surrounding which suit is most effective in harsh weather conditions. The decision really comes down to personal preference, how you style each item, where you live, and the activities you intend to get involved in.
To aid you in making an informed decision before you splash the cash – I have curated this list of advantages and disadvantages of each:
Wetsuit
Drysuit
Advantages
– Insulates your body by trapping a thin layer of water between the suit and your skin, maintaining the water at body temperature.
– Best for paddleboarding and wakesurfing.
– Skin-tight for better agility if you capsize into the water.
– More affordable than the dry suit.
– You guessed it – the drysuit is completely waterproof.
– Best for kayaking and whitewater kayaking.
– Low maintenance to store safely.
– Can be worn all year round in both warm weather and cold temperatures.
Disadvantages
– Less buoyancy than the drysuit and can feel weighted when wet.
– Unable to wear clothing underneath for added warmth.
– Takes a long time to dry and can thin with age.
– Thin material which is not insulating and must be worn with layers underneath.
– Restricts movement.
– High quality drysuits are expensive.
Hand Protection and Footwear
If you don't keep your hands warm, not only will you lose your grip, but it will become practically impossible to be out in the water for any length of time without your hands going numb.
You may also experience painful chafing caused by the friction between your hands and the paddle, which will eventually result in a nasty bunch of blisters.
To prevent this from occurring, I strongly recommend that you invest in a pair of specialized kayak gloves or pogies. What on earth is a pogie, I hear you ask? These are basically a thicker, fuzzier version of the classic mitten, and will keep your fingers as snug as a bug in a rug!
In terms of footwear, layer thick thermal socks under neoprene boots or river shoes for optimum comfort and warmth. Remember to avoid cotton for wool or synthetic fabrics.
What to Wear Kayaking (in short)
Layers – When in doubt, layering up can prevent being stuck in uncomfortable clothing and take the guesswork out of what to wear kayaking. Whether you need to shed layers in warmer weather or add layers back on in cooler temperatures, you'll be set. A dry bag can help to keep extra layers dry as well.
Stay hydrated – Kayaking can be an extremely fast-paced and physically demanding sport, so it is vital that you are drinking enough water to keep your mind and body healthy. This is especially important in hot weather when you are perspiring at an increased rate.
Check the weather forecast – Always check the weather forecast before you decide to head out so that you can be prepared. Here in bonnie Scotland, there can be a heatwave one minute, then hail and snow the next. Therefore I always expect the unexpected and tend to over-pack.
Trust your gut – If you begin to feel unwell, unsafe, or you're asked to do something you're not completely comfortable with – be sure to let your instructors or peers know. Pushing yourself too far will only knock your confidence back and make it difficult to get back in the water next time.
My Final Tip: Have Fun!
Enjoy the ride by observing the beautiful scenery and wildlife, competing with your friends, and getting an upper-body workout all at the same time!
Understanding what to wear kayaking to stay comfortable is critical to having a pleasant time out on the water. Major props to you for doing your homework before setting off!