You're excited about starting on your kayaking adventures but there's just one problem: you don't know how to get the craft onto the J-rack of your car! Luckily, even if you think you're not strong enough or are too short, there's a way to do it (and do it safely). In this article I'll share how to load a kayak on J Rack by yourself without hurting your back, damaging your car, or dropping your craft.
Let's get started!
Do You Really Want that J Rack?
You have a couple of different options for transporting your kayak.
If you already own a J Rack, don't worry – there are ways to load a kayak on a J Rack by yourself, and I'm going to go over those below.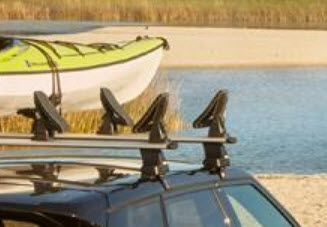 But if you're still on the fence, think about getting a saddle roof rack for your kayak like the excellent one Thule makes (Amazon link).
In my experience, this kind of roof rack makes the process of loading boats onto your car much easier, even if you're doing it by yourself. They're better for short people, or older folks who may lack the upper body strength to lift a heavy kayak onto their car (or just don't want to).
J Racks are popular because they're less expensive, and they're sturdy, but I really prefer the saddle roof rack if your kayak feels heavy to you.
I'm 6'2, healthy, and don't have back problems, so I personally don't struggle to load and unload my kayaks from any kind of roof rack, but if you're concerned (and you probably are if you're reading this article), consider returning your J Rack and getting the saddle variety. You'll thank me later.
My Recommended Kayak Loading Upgrade
If you struggle to load or unload your kayak, you should consider buying the Seattle Sports Suction Cup Boat Roller on Amazon. This thing will change your life.
It easily attaches to the roof or back windshield of any vehicle, and allows one person to effortlessly slide their kayak onto the roof of their car.
It works best with a saddle style roof rack, but it'll work with any kayak roof rack system. Here's their product video so you can see what I mean:
How to Load a Kayak on a J Rack by Yourself
A J-shaped cradle roof rack is an excellent option for your rack if you want to transport more than one kayak – especially if you have a smaller car.
The J-cradle is meant to secure the boat on its side. This means that you will have more space on your roof for storing other things.
To load a kayak onto a J-shaped cradle, start the process by standing and having the kayak on the ground with its edge against your shins. The cockpit should face outwards. Make sure that you bend at the knees (to avoid injury) and hold onto the front part of the cockpit with one hand. Your other hand should hold the back of the cockpit.
Use a sliding motion to bring the kayak onto your thighs. Your knees must remain bent. Lift up one of your knees to give the kayak support, and then smoothly bring the kayak to over your head and put it on top of the cradles. Tie it down after that.
With lifting a kayak, practice makes perfect. There are also special techniques that you can use to make the process easier.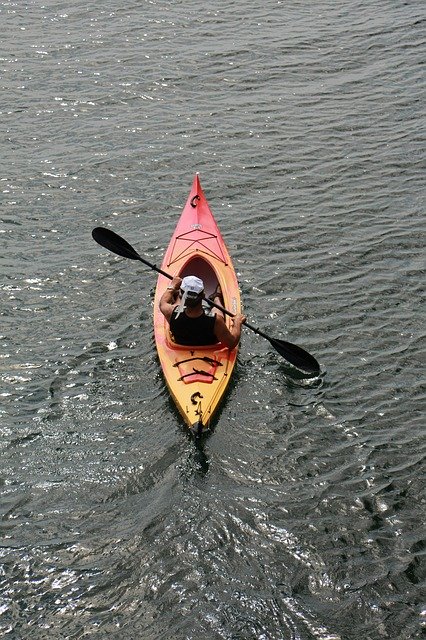 How Heavy are Kayaks?
Kayaks tend to range between about 40 to 80 pounds.
If you have a kayak that is only for recreation, it will probably be lighter and smaller than a kayak made for touring or sea kayaks. This will make your craft easier to lift into the J Rack on your car by yourself.
What's the Best Way to Lift and Carry Your Kayak Solo
If you have a lighter and/or a shorter kayak, it's best to try picking up the craft and putting it onto one shoulder.
Start the process by standing with the kayak sitting on the ground in front of you. It should be up against your shins and the cockpit should be facing outwards. First bend at the knees and put both of your hands on the edge of the boat's cockpit. This should be the edge that is in closest proximity to your chest.
Use a sliding motion to bring the kayak up on your thighs. Your knees must be bent this whole time. After you've brought the kayak to rest on your thighs, use your right hand and hold onto the cockpit rim's opposite side. Lift the right side of the cockpit rim as you stand back up, and put it onto your shoulder. Allow the rim to rest on your shoulder.
Make sure that the kayak is positioned on your shoulder in a comfortable way. It should have a balanced feeling and you must make sure that the boat doesn't hit the ground as you walk.
How to Protect Your Back While Carrying a Kayak
There are certain tips you must keep in mind in order to protect your back while lifting your kayak.
Always bend at the knees and never the waist as you prepare to lift and carry your kayak. Improper form can result in an injury, even if the kayak doesn't feel heavy to you.
You can wear your PFD while carrying the kayak. I recommend doing this – it's fewer trips to the water, and its shoulder strap will help to cushion your shoulder and make carrying your kayak more comfortable.
The bow of the kayak should face forward when you pick it up. This will make the process of carrying it easier. It seems like it won't make much of a difference, but trust me it does.
Related: Kayak Paddling Technique – A Beginner's Guide
What if Your Kayak is on the Longer Side or Sit-On Style?
Some kayaks are significantly longer and might be too difficult to carry on one person's shoulder.
If you have a sit-on-top kayak, you will probably also find this hard to carry. That's because they lack the cockpit rim that you can rest on your shoulder.
In these cases, try to find a friend who can lift and carry the kayak with you.
With a two-person carry, you and the other person will lift together. Each person will hold one of the grab-loops or toggle hand-holds that are found at the boat's bow and stern.
Ensure that you bend at the knees and continually communicate with the other person throughout the process to avoid injury. Make sure to synchronize all the movements for safety.
If you always kayak alone and have a kayak that is difficult to transport to and from the water by yourself, you could invest in a kayak cart: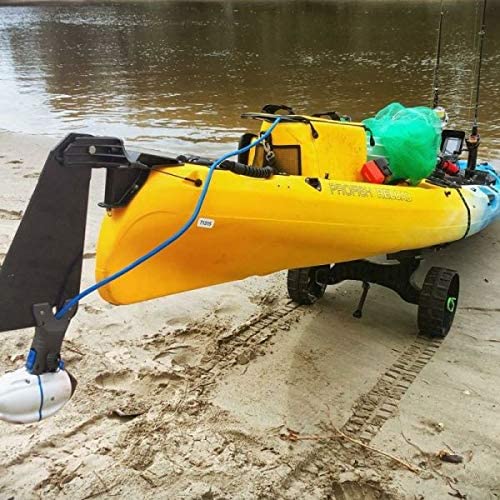 These work sort of like a wheelbarrow, and attach under one end of the kayak so you can carry the other end and roll your craft to and from the water.
I don't personally have one, but a friend of mine owns the C-TUG and loves it. Folds up into her storage hatch so she can take it in the boat with her. You can check it out on Amazon right here.
Other Ways to Get Your Kayak from the Car to the Water
If you have a plastic kayak, you can always employ the tried and true method of transportation that every kayaker worth his salt has used at one point in his or her career.
You can simply drag your kayak.
You can do this by gripping onto the grab-loop or toggle hold found at the bow of the boat.
Plastic kayaks are going to get scratched up anyway, and if you have cheap one from Dick's Sporting Goods or something, don't be afraid to bang it around or drag it over some sand.
It builds character.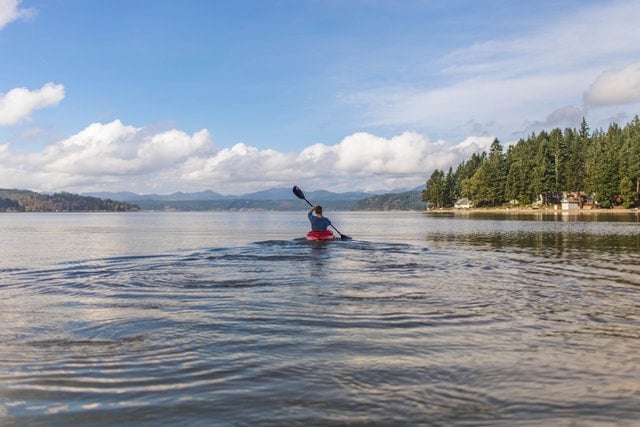 Of course, you should never drag a fiberglass or composite boat. If you do, you'll probably end up with significant damage that will cost a fortune to repair.
If you have an expensive fiberglass or composite kayak that you cannot carry and load by yourself, definitely use a kayak cart and invest in a quality suction roller that will allow you to smoothly glide your boat onto your roof rack.
Enjoy Your Kayak, and Don't Be Afraid to Ask for Help
Now that you know how to pick up a kayak and load it onto a J-rack without help, you're ready to go on lots of memorable kayaking adventures.
Just remember to have fun and think about bringing some friends with you, too. And if there are lots of folks around the launch, don't be afraid to ask someone for a hand getting your kayak to and from the water, or onto your car.
After all, we're all in this together!
Recommended: How to Make a Kayak More Stable
The Life Jacket I Use and Recommend
In most states, wearing a life jacket or PFD is the law when you're out on the water.
If you're like me, you want a safe, effective PFD that doesn't limit your range of movement when paddling. That's why I highly recommend this one from Onyx. 
It offers great range of motion, can keep me afloat in the water (I'm 6'2″), and it is very comfortable.
PeacefulPaddle.com is reader supported. If you make a purchase after clicking a link, I may earn a commission at no additional cost to you.