Lightweight kayaks are the go-to vessel for kayaking beginners. You may be looking for a lightweight kayak that's easy to carry, store, load, and unload. Or you may want to try kayaking, without the commitment of investing in a large vessel that's cumbersome to move around. The best lightweight kayaks are a great place to start. The ease of transportation and carrying these vessels allows a lot of these enthusiasts to discover their love for water, removing the challenge that comes with the logistics of kayaking, and allowing you to focus on the joy of paddling once you're out on the waterway of your choice.
If you've been shopping for a light kayak, you've probably encountered dozens of options available. But my favorite, and what I recommend as the best lightweight kayak for most users is the Advanced Elements Lagoon 1 Kayak. This inflatable option checks in at just 23 pounds, and provides exceptional durability and water performance without compromising on weight.
It's not the cheapest option, and it also doesn't have the most bells and whistles, but it hits the sweet spot of price, features, and performance that make it a great boat, and a great buy. If you just need a quick recommendation, that's the one to buy.
But if you're looking for something cheaper, check out my full list of the best lightweight kayaks below. I've tried to put together a complete buying guide that not only lists good kayaks to buy, but also explains your options, with tips to guide you toward making the best choice for you.
---
My Favorite Lightweight Kayaks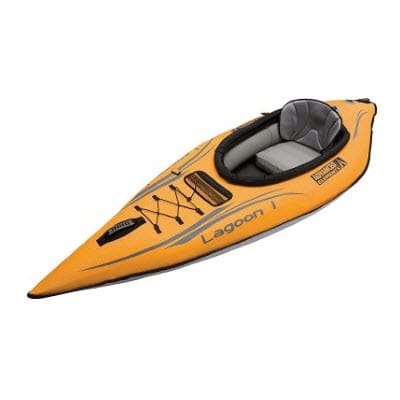 ADVANCED ELEMENTS Lagoon 1 Kayak
Made with a blend of rip-stop polyester and PVC tarpaulin, this kayak is very durable. It has nice features, including an inflatable seat, paddle holder, handle, mesh pocket, and more.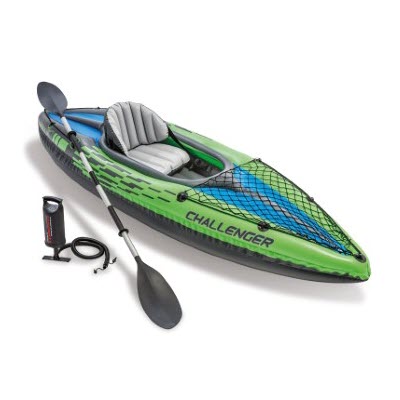 This lightweight and compact kayak is a fantastic choice for those shopping on a budget. Featuring a cargo net and roomy cockpit, it doesn't skimp on storage or comfort either.
Aquaglide Deschutes 110 Inflatable Kayak
Prefer a lightweight kayak that's also well-equipped? This one is a great pick. From adjustable footrests to a kayak seat, detachable fin, and paddle holders, this kayak has it all.
---
PeacefulPaddle.com is reader supported. If you make a purchase after clicking a link, I may earn a commission at no additional cost to you.
Guide for Buying a Lightweight Kayak
Every kayaker will have different needs. So a lightweight kayak that works for one person might not necessarily suit you. To help you make the right decision, there are other factors you should account for when shopping. Think of where you'll be paddling (in flat waters or river rapids), your level of experience, as well as who will be using the kayak. Below, you'll find a list of things to consider and mistakes to avoid when buying a lightweight kayak.
Things to Consider When Buying Lightweight Kayaks
The next time you're looking for a lightweight kayak, keep these points in mind:
Construction Material
The main thing that sets lightweight kayaks apart is the material used in their construction. Specifically, hardshell and inflatable kayaks are made from very different materials. Let's take a look:
Hard-Shell Kayak Materials
Rotomolded polyethylene
Polyethylene is one of the most durable and versatile materials. It's used to make an array of items, ranging from auto body panels to grocery bags and toys. It's also the go-to material for a lot of kayak manufacturers. This is because it's cheap to produce and widely available.
The manufacturing process of a polyethylene kayak is quite intriguing. The manufacturer starts by pouring plastic pellets into a hollow mold. The mold is then subjected to heat and spun in a gigantic oven before being allowed to cool. Once it's cooled, the mold is taken out, revealing a flawlessly cast, one-piece kayak.
This process results in a highly-durable kayak that can withstand multiple elements. Whether you plan to explore shallow rivers, kayak in rocky waters or haul it across the beach, this vessel can take a beating. That said, the durability of polyethylene material comes at the expense of weight. So if you don't mind using a kayak that's a tad heavy, this is it.
Composite
If you're looking for an incredibly light kayak, then your best bet is to look for one made of composite materials. Such kayaks are typically made of fiberglass, carbon fiber or aramid fiber. A couple of manufacturers also like to incorporate honeycomb or foam layers amidst the fabric layers.
What makes these kayak materials different is their balance between weight and price. Oftentimes, the lightest kayaks are also the priciest. Here's how the composite materials stack up against one another:
Fiberglass – fiberglass hits the sweet spot between weight and cost. It has a great strength-to-weight ratio and it's not too expensive. It's the most common material for making premium sea kayaks.
Aramid fiber – have you ever heard of the Kevlar material used to make bulletproof vests? If you have, then aramid fiber isn't a far cry from it. It's incredibly strong and rigid but lighter and more costly than fiberglass. If you want to enjoy the rigidity of Aramid fiber build without the hefty price tag, consider a fiberglass-Aramid blend.
Carbon fiber – this is the lightest but also the most expensive material. It's reserved for kayaks used in elite sporting events and racing. However, you may also encounter it on touring and recreational kayaks.
This composite construction offers several benefits. Kayaks made of these materials are aesthetically appealing and stiffer- a factor that improves their responsiveness in water.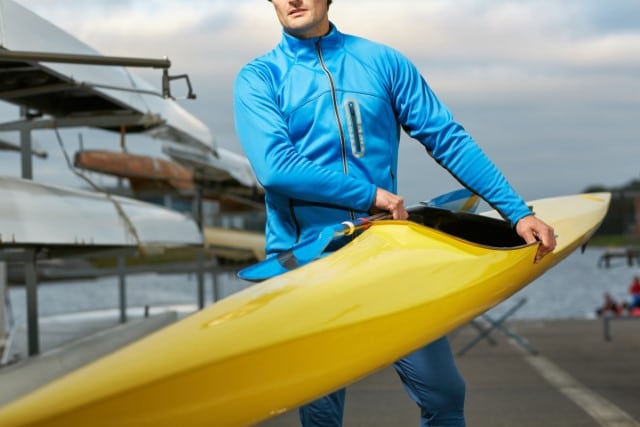 However, the biggest selling point of composite kayaks is their lightweight profile. But while these vessels will feel light on your back, they won't be light on your wallet. They're one of the more expensive hard-shell kayaks. Thankfully, they also have impressive durability. So once you buy one, you can rest easy knowing that it will last for the long haul.
Wooden kayaks
If you're keen on design, then a wooden kayak is the best choice for you. The vast majority of wooden kayaks are do-it-yourself projects done by boating enthusiasts. In fact, it's very rare to see this type of vessel being sold by big box retailers. The good news is that you don't necessarily have to be a woodworking expert to build one yourself.
Most wooden kayaks are designed using of two techniques:
Strip-built – this construction method is a bit sophisticated; hence, it's better suited for individuals with wood working experience. It entails binding multiple thin wooden strips together to make a high-performance kayak.
Stitch-and-glue – this method requires you to cut plywood into specific shapes. Next, you'll need to stitch these precut sections using a piece of wire before gluing the entire structure together using epoxy resin. What I like about this construction style is that it doesn't require any woodworking expertise.
Whether you use the strip-built or stitch and glue method, assembling the wooden frame is just half of the equation. The other half is coating the wood with layers of fiberglass and resin. This is meant to provide maximum protection against warping and moisture damage. While making a wooden kayak sounds like a ton of work, it offers several benefits.
First off, these wooden vessels have a natural beauty that's hard to achieve from other materials. Secondly, they're super light, making them easy to transport. Better yet, they offer the same speed and efficiency you get from composite kayaks.
Inflatable Kayaks
Most inflatable kayaks are constructed using rubber-like materials. This makes them flexible enough that they can be rolled and stored in a knapsack or duffel bag. The ease of inflating and deflating them makes them the perfect choice for kayakers with limited storage space. The main types of materials used to make inflatable kayaks are:
PVC
Polyvinyl chloride, abbreviated as PVC, is the most popular material used to make inflatable kayaks. This is because it's cheap, and widely available. In addition to this, PVC is fairly light and quite flexible. It can be combined with other materials – such as nylon – to improve its tear resistance.
On the flip-side, PVC doesn't hold up well against UV rays. It's also quite harmful to the environment as it releases toxic chemicals throughout its lifecycle.
Nitrylon
If you're searching for a more eco-friendly option, then nitrylon is a great choice. This material is a blend of 1200-denier polyester and synthetic nitrile rubber.
Unfortunately, kayaks made of nitrylon are rather heavy; making them ill-fitted for buyers who want super-light kayaks. On the plus side, they offer better resistance to abrasion and puncture. This explains why they last longer than their PVC counterparts.
Polyurethane
This material is more popularly known as TPU (thermoplastic polyurethane) or simply urethane. Featuring a rugged texture, polyurethane combines the best features of plastic and synthetic rubbers. More specifically it strikes a great balance between strength and weight while offering exceptional resistance to UV rays, abrasion and even mildew.
But what I love most about polyurethane inflatable kayaks is that they're also environmentally friendly. Their production doesn't result in the emission of any toxic chemicals and these kayaks can be easily recycled in the end.
Sit-In vs Sit-on-Top
The material used for construction certainly contributes a lot to the kayak's weight. However, it's not the only thing you should consider. So the next factor you'll want to think about is the design, specifically, choosing between sit-inside and sit-on-top kayaks. Here's a detailed breakdown of each:
Sit-In Kayaks
This is the traditional design of a kayak. A sit-inside (SIS) consists of an open cockpit, allowing the kayaker to climb in and sit inside the hull. The greatest advantage offered by this design is that it shelters your lower body from external elements; be it water splashes or extreme UV rays.
Also crucial to note is that this vessel sits lower in the water, which results in a lower center of gravity. The good thing about this is that it improves the kayak's secondary stability. Put simply; this is the ability of a kayak to maintain stability when tipped on its side. This makes the SIS well-suited for tackling rough or choppy waters.
Most sit-inside kayaks also have narrow decks, which enables them to travel at faster speeds than sit-on-top models. And thanks to their lower center of gravity, they can be paddled with short paddles that require less effort.
But before you rush to buy a lightweight sit-inside kayak, familiarize yourself with its disadvantages. One demerit is that you'll feel confined sitting inside the cockpit. This can be a deal breaker for paddlers who are claustrophobic. Even if you're okay with small spaces, you'll find these kayaks harder to enter and exit.
Sit-on-Top Kayaks
This is exactly what it sounds like- a kayak where the user sits directly on top of the deck. Unlike the sit-inside variety, this one doesn't have a designated interior space for the cockpit. This then means that everything from the kayak seat to the footrests and storage area are located on the deck.
A big disadvantage of paddling a sit-on-top (SOT) kayak is that you're almost guaranteed of getting wet. Since there's no cocoon where you can hide you legs, feet and most of your lower body, there's a higher chance of water splashing on you. Due to this, SOTs are used either in tropical areas or the warm season. In fact, they're the go-to vessel in summer because they make it easy to get into the water and go for a quick swim.
Most people also like the ease of climbing onto and out of these kayaks. This feature makes the vessel particularly attractive to inexperienced kayakers scared of getting trapped in case the kayak capsizes.
Besides, sit-on-top models offer better stability than their sit-inside counterparts. These kayaks have a higher center of gravity, which significantly improves their stability in flat waters. This explains why a lot of anglers are fond of SOTs as they provide a stable platform for casting and reeling. If you are a taller or bigger user, you may also find an SOT to be more comfortable. You won't be forced to squeeze into a tiny cockpit opening and paddle from an uncomfortable position.
That said, SOTs are not without fault. In addition to exposing you to water and weather elements, they're also quite slow. Most of these kayaks have wider decks so they can provide ample stability. The downside to this is that they move through water slowly. And since they sit higher on water, they require a longer paddle. This then forces you to put in more effort when paddling the kayak.
My List of the Best Lightweight Kayaks In 2023
There are dozens of lightweight kayaks available. This can make picking one a little bit daunting. To help you choose wisely, I scoured the web and compiled a list of the top lightweight kayaks. You'll find kayaks that meet all kinds of needs; from fishing kayaks to sit-on-top designs and those great for seniors.
And here's a quick table comparing the weight and carrying capacity of the best lightweight kayaks: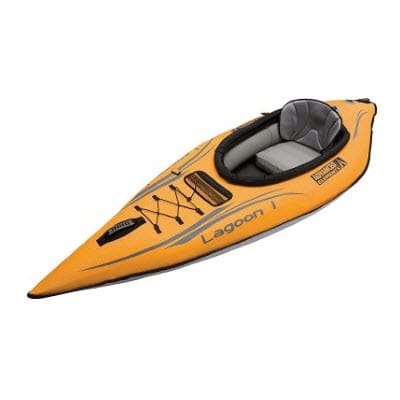 When it comes to kayaks, it's rare to find a one-size-fits-all kind of vessel. So choosing the best lightweight kayak overall was no mean feat. That said, I feel pretty confident crowning the Lagoon 1 Kayak with this title. It's lightweight, compact, durable, stylish, and offers a generous carrying capacity. Here's a closer look at its features:
Size & Carrying Capacity
Right off the bat, you'll notice that the Lagoon 1 Kayak is pretty light and compact. It has a length of 8 feet 4 inches and a width of 34 inches.
What I like about its size is the fact that most of its length is in the front section. This translates to a lot of legroom enhancing the paddler's comfort. Plus, the 34-inch width makes it more stable than conventional kayaks.
But where the Advanced Elements vessel truly shines is its weight. Weighing a measly 22 lbs., this kayak is incredibly easy to carry around. Whether you're carrying it to your car or the water entry point, you can rest easy knowing that it won't weigh you down.
Despite the light profile, this kayak offers an impressive carrying capacity of 250 lbs. This may not seem like much. But, it's better than the 220-pound weight limit offered by other lightweight kayaks.
Design
It's evident that the Lagoon 1 kayak is designed with durability in mind. It includes inflatable tube covers that you add to the interior to enhance the kayak's stiffness and resistance to abrasion. Secondly, the rip-stop fabric and landing plate do an excellent job of protecting the kayak from hard impact.
Plus, the kayak has rigid panels integrated into the bow and stern. These panels define the vessel's shape, which boosts its tracking in extreme weather conditions. The tracking fin at the back makes this even better as it keeps the kayak from drifting in the direction of the wind.
Comfort
Are you big on comfort features? If you are, you'll be pleased with the Lagoon 1 Kayak as it has loads of them. For starters, the cockpit area is elevated to prevent water from splashing in and drenching you. Secondly, the detachable seat has an inflatable cushion to provide maximum user comfort. Besides, the floor is made of foam material so you can rest your legs comfortably.
ADVANCED ELEMENTS LAGOON 1 KAYAK SPECIFICATIONS
| | |
| --- | --- |
| Size | 8.3′ x 2.8′ |
| Weight | 23 lbs. |
| Carrying Capacity | 250 lbs. |
Rear tracking fin, rigid stern & bow for optimal water performance
It's longer at the front to maximize leg room
Seat contains an inflatable cushion to increase comfort
Backed by a 1-year warranty
Not the cheapest of the bunch
Most Important Take-Away: While it's not the cheapest option available, this kayak checks most of the boxes for what you'd want in a lightweight kayak. Despite weighing just 22 pounds, it has a modest carrying capacity of 220 pounds, ample leg room and a very comfortable kayak seat.
Where to Buy the Advanced Elements Lagoon 1 Kayak
You can purchase this product at the following retailers:
---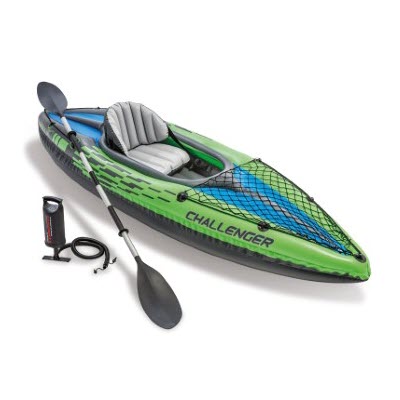 The popularity of kayaking has increased steadily in the past few years. The rising interest has resulted in the availability of pocket-friendly, lightweight kayaks and the Intex Challenger K1 Kayak is a good case in point. Here's a more in-depth review of this vessel:
Size and Weight
The Intex Challenger is one of the lightest and most compact kayaks that you'll ever encounter. It's 108 inches long, 30 inches wide and weighs 25 pounds. These dimensions make it fairly easy to carry around whether you're trekking to a lake or carrying it to your car.
Now, you might be a tad worried about your kayak being pushed off course because it's so light. However, you need not worry as it comes with a rear fin that helps to track in a straight line.
This kayak also boasts a big, open cockpit that makes it easy to enter and exit. To add to this, it has two gigantic air chambers running along the kayak's perimeter. This allows the hull to conform to the shape of the water that it's floating on – a factor that aids with stability.
For the most part, the Intex Challenger's design features work really well. My only gripe is its shallow depth. Combined with the massive open cockpit, this heightens the risk of swamping when paddling in rough water conditions. For these reasons, this kayak is best used in calm and serene conditions.
Construction
Given how affordable it is, you might be slightly concerned about its construction quality. Thankfully, the Intex Challenger provides a modest amount of durability. The vinyl plastic build and welded seams make the kayak fairly durable and impact-resistant. However, it's an inflatable model so you'll want to be careful when handling sharp objects like fishing hooks around it.
Comfort and Ease of Use
Another thing I love about the Intex Challenger K1 is its wide range of comfort features. First off, the seat is quite large to provide a sizable sitting area. And since it's inflatable, you can adjust how soft or firm it gets. You'll also have the freedom to adjust the backrest angle for optimal comfort.
In addition to comfort, you'll find this kayak to be very user-friendly. It has a spacious cargo section at the front, handy for keeping accessories, shoes and other kayaking gear. If your cargo doesn't fit at the front, you can use the deck lines at the rear to secure them. These deck ropes can also be used for reentry.
besides, this kayak also comes with a carry bag and a 3-piece paddle that saves on storage space.
INTEX CHALLENGER K1 KAYAK SPECIFICATIONS
| | |
| --- | --- |
| Size | 9′ x 2.5′ x 1.1′ |
| Weight | 24 pounds |
| Carrying Capacity | 220 pounds |
Lightweight and portable; hence, ideal for exploration
Detachable fin to help with tracking
Inflatable and adjustable seat enhances the rider's comfort
Ample storage space onboard
Not fit for open waters or extreme weather conditions
Most Important Take-Away: If you've been searching for a lightweight kayak that won't break your bank, the Intex Challenger K1 is a fantastic choice. The 25-pound vessel has a large, open cockpit for easy entry and exit. And, the inflatable seat provides the paddler with maximum comfort.
Where to Buy Intex Challenger K1 Kayak
You can purchase this product at the following retailers:
---
Don't mind splurging on a lightweight kayak that has all the bells and whistles? If you don't, the Aquaglide Deschutes 110 Inflatable Kayak is a great choice. Here's what to expect from it:
Size
The first thing I noticed about this lightweight kayak is the fact that it comes in three sizes.
The Deschutes 110 that I'm reviewing here is 11 feet long and weighs about about 18.1 pounds; hence, perfect for solo kayakers. This lightweight profile, combined with the carry handles, make it easy to transport.
Although this is the smallest of the three options available, it's important to note that 11 feet is a reasonable length. In fact, it's longer than most of the kayaks in this review.
Meanwhile, the Deschutes 130 is a 13-foot long kayak that weighs 22 pounds. These specs also make it suitable for solo applications as well. However, you'll have more legroom – which can be beneficial if you're taller. The fact that it's longer also makes it the best choice for long-distance paddling.
The biggest size is the Deschutes 145, which is a whopping 14 feet long. Interestingly, it's still very light, tipping the scales at just 25 pounds. This one offers enough space to accommodate two paddlers. Its maximum weight limit is rated at 600 lbs. which is twice the carrying capacity offered by the 110 variant.
Design
As mentioned earlier, the Deschutes 110 is one of the more expensive lightweight kayaks. Fortunately, it's a vessel that gives you maximum value for your money. One thing that I like is its ease of assembly. Even if you don't have a ton of experience with kayaks, you can set this one up within a few minutes and get into the water. Simply inflate the three chambers you'll find in the package, adjust the seat and you're good to go.
The Aquaglide kayak takes comfort to a whole new level. Its seat not only has padded cushioning but also a high backrest providing ample lumbar support. And like the Intex Challenger K1, this one also has an open cockpit providing easy entry and exit.
Performance
The Aquaglide Deschutes 110 is not your average inflatable kayak. It boasts a low rocker profile and streamlined shape that significantly boost its efficiency. So unlike other kayaks that tend to be slow, this vessel moves at a remarkable speed; helping you cover long distances within a short time. These design features also make the kayak suitable to paddle in an ocean or sea.
Other features that set this kayak apart include the built-in bow splash-guard and internal drain plugs. The splash-guard does a fantastic job of deflecting water; hence, keeping you dry. On the other hand, the drain plugs make quick work of draining water from the kayak once you're back on dry land.
AQUAGLIDE DESCHUTES 110 KAYAK SPECIFICATIONS
| | |
| --- | --- |
| Size | 11′ x 3′ x 0.8′ |
| Weight | 19 lbs. |
| Carrying Capacity | 300 lbs. |
Open cockpit allows paddlers to get in/out easily
Seat has thick cushion and high back for optimal comfort
One of the easiest kayaks to set up
Lightweight profile and carry handles make for easy transportation
Most Important Take-Away: The Aquaglide Deschutes 110 is a lightweight beast with a remarkable weight limit of 300 pounds. It boasts premium features such as internal drain plugs, a splash guard, high-end kayak seat, and a low rocker profile for optimal speed.
Where to Buy Aquaglide Deschutes 110
You can purchase this product at the following retailers:
---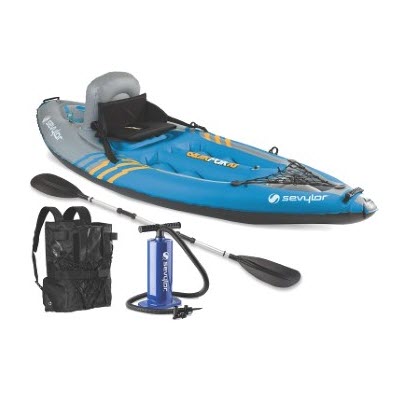 Do you prefer sit-on-top to sit-in kayaks? If you do, the Sevylor Quikpak K1 is exactly what you need. Coming in at under $200, it's also one of the cheapest kayaks available. Here's what you can expect from this watercraft:
Design
One of the biggest highlights of the Sevylor Quikpak kayak is its foldable profile. Once you're done kayaking, all you have to do is deflate it and pack it in the provided backpack.
This knapsack contains padded shoulder straps to provide maximum comfort when transporting it. What's more impressive though is how this backpack later converts into a kayak seat.
This sit-on-top kayak comes in an average size, measuring 8′ 7″ long and 3′ wide. This gives you a decent amount of space to stretch your legs, arms and back; hence, paddle comfortably. The Quikpak K1 even comes with a cargo net, where you can pack your kayaking gear, food and drinks.
Construction
Another thing I love about this kayak is its solid build. It's constructed using 21-gauge PVC, resulting in an extremely durable vessel.
Better yet, the base is made of a tarpaulin-like material; further protecting the kayak from punctures. Even if it gets punctured, you don't have to worry about the kayak deflating immediately. It's ingeniously designed with multiple air chambers, meaning there'll be another chamber that remains inflated.
Ease of inflation
Inflatable kayaks can sometimes be taxing to set up because they have to be inflated to the recommended psi. Sevylor has made this process easy by equipping the QuikPak K1 with Mini Double Lock Fast Valves and Double Lock Fast Valves. These make quick work of inflating the vessel to full capacity. Once inflated, this kayak can support up to 400 pounds – the highest carrying capacity in our review.
Accessories
Sevylor Quikpak doesn't have the widest range of accessories. But for the price, it's a decent offering. In addition to the backpack, you also get a high-pressure manual pump and a paddle that breaks down to minimize storage space.
SEVYLOR QUIKPAK K1 SPECIFICATIONS
| | |
| --- | --- |
| Size | 8.6′ x 3′ |
| Weight | 20.28 lbs. |
| Carrying Capacity | 400 lbs. |
Multi-functional backpack that doubles up as a kayak seat
Spacious, providing enough space for your legs and arms
Has a cargo net for extra storage
Double Lock Fast valves for easy inflation and deflation
Has several air chambers; reducing the risk of sinking
400-pound weight limit makes it suitable for heavy users
Sit-on-top design reduces the storage space available
Most Important Take-Away: For paddlers who prefer sit-on-top kayaks, you can't go wrong with the Sevylor Quikpak K1. Boasting a 21-gauge PVC build and tarpaulin base, it can accommodate weights of up to 400 pounds.
Where to Buy Sevylor Quikpak K1 Kayak
You can purchase this product at the following retailers:
---
Have you been searching for a kayak that's not only light but also suitable for fishing activities? If you have, look no further than the Intex Excursion Pro Kayak.
Ease of Assembly
One thing that impressed me from the get-go was the ease of setting it up. Since it's an inflatable kayak, each side is fitted with high-pressure valves.
Factor in the high output hand pump and you'll find it incredibly easy to inflate to the stipulated PSI. The entire process won't take you more than 10 minutes. The best part is that once you're done, you can just as easily deflate it then fold into a more compact size.
Range of Accessories
While I love the ease of assembly, it's the kayak's selection of accessories that makes it suitable for fishing. For starters, it comes with two detachable fins that significantly improve its tracking and stability. Thanks to this, you can cast your fishing rod and reel it back in without worrying that the vessel will tip over.
If you've been fishing for a while, you've probably encountered a situation where you accidentally dropped your fishing rod in the lake or sea. This not only leads to massive inconvenience but also a lost investment considering how much you spent purchasing that rod. Intex understands how challenging it can be, which is why they equip this kayak with two fishing rod holders. So once you're done fishing, simply put the rods in the holders for safekeeping.
Another accessory that comes in handy is the mounting bar, which you can use to hold your fish finders. There's also a GoPro camera mount in case you want to record your fishing expeditions.
Construction
The Intex Excursion Pro is a kayak built with durability in mind. More specifically, it's constructed using 30 gauge vinyl, which is then laminated with a polyester core. The kind of polyester used here provides superb protection against abrasion, excessive sunlight and hard impact. Generally, you can rely on this kayak to serve you for the long haul.
INTEX EXCURSION PRO KAYAK SPECIFICATIONS
| | |
| --- | --- |
| Size | 10′ x 3′ x 1.5′ |
| Weight | 37 pounds |
| Carrying Capacity | 220 pounds |
The laminate material and polyester core make for excellent durability
Two fishing rod holders and a fish finder mount make it fit for fishing
Detachable kegs enhance the kayak's tracking
Backed by a 1-year limited warranty
Slightly heavier than other lightweight kayaks
Most Important Take-Away: If you're looking for a high-end fishing kayak, the Intex Excursion Pro is a great pick. Starting with PVC laminate and a polyester core, the kayak offers exceptional resistance to abrasion and impact. This allows you to go as far as you want when looking for fish. Moreover, it has detachable kegs for straighter tracking and stability as well as fishing rod holders and a fish finder mount.
Where to Buy Intex Excursion Pro Kayak
You can purchase this product at the following retailers:
---
Frequently Asked Questions About Lightweight Kayaks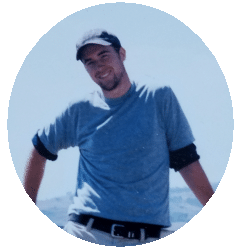 Whether you're buying lightweight kayaks for the first time or just need a replacement, you probably still have some questions.
Below, I try to answer some of the most commonly asked questions that people have before purchasing a lightweight kayak, including whether the trade-off between how easy these small kayaks are to transport and how durable they are over the long term make them worth it.
In most cases, the answer is yes – buying an inexpensive lightweight kayak that is easy to store, load, unload, and transport is a good investment for many paddlers.
I hope these frequently asked questions (and answers) are helpful as you make your purchase decision.
What is the most lightweight kayak?
The lightest kayak on my list is the Aquaglide Deschutes 110, which weighs just 19 pounds. Interestingly, it has a higher weight limit as it can comfortably hold up to 300 pounds. And with a length of 11 feet, it provides ample leg room so you won't feel overly confined.
Are lighter kayaks better?
They are better in some ways, and not as good in others. If you don't have much physical strength, you'll appreciate how easy it is to carry these kayaks and load them for transport to and from the water. Lightweight kayaks also gain speed quite easily, making them ideal for racing events. Besides, these vessels allow you to carry more cargo since the kayak's weight only accounts for a small portion of the total weight.
That said, lighter kayaks may not track as well in the water, and they may not be quite as durable as some heavier boats with thicker walls. In general – if you're concerned about carrying a kayak by yourself, a lighter boat is worth buying because owning it will make it easier to use (and you'll get out and paddle it more as a result).
What are the lightest kayaks made of?
The lightest kayaks are those made of composite materials, specifically, carbon fiber. That said, carbon fiber kayaks come with hefty price tags. So if you have a limited budget, you can opt for alternative composite materials like Aramid fiber, fiberglass or (my choice for most beginners) an inflatable kayak.
What is considered a lightweight kayak?
On average, a recreational kayak weighs 35 pounds, a tandem kayak weighs 65 pounds while a fishing kayak can reach up to 120 pounds+. Based on this, it's safe to conclude that any kayak that weighs 35 pounds or less is lightweight.
Are fiberglass kayaks lighter than plastics?
Yes, they are. Fiberglass kayaks are much lighter than those made of PVC or polyurethane. The downside to using fiberglass is that it increases the production cost, causing them to be more expensive.
Which type of kayak is most stable?
A sit-in kayak offers better stability than a sit-on-top model. With a sit-inside kayak, you get to sit lower in the water meaning your center of gravity is low. This makes it easier to maintain balance and enjoy ample stability.
Conversely, a sit-on-top kayak has you sitting higher in the water. This leads to a higher center of gravity and with it, reduced balance and stability.
How does the weight of the kayaks you're recommending compare?
As you'll see below, the Aquaglide Deschutes 110 Inflatable Kayak is the lightest kayak on my list at only 19 pounds, and the Intex Excursion Pro Kayak is the heaviest at 37 pounds.
The Sevylor Quickpak K1 Kayak has the largest carrying capacity and is rated to support 400 pounds of weight, making it the best lightweight kayak for big guys and gals.
The two Intex kayaks on my list are less expensive than most other options, but they are also the heaviest models and support the least amount of weight, so they may not work for everyone.